For more photos from this event by Rick Nation, go here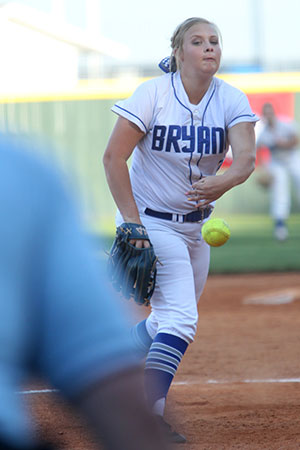 The Bryant Lady Hornets celebrated seniors Shelby Stuckey and Macey Jaramillo on Tuesday night with a 13-2 romp over the Fort Smith Southside Lady Mavericks.
Jaramillo went 2 for 2, driving in a pair, and Stuckey closed out the victory with an inning of relief in the pitcher's circle.
It was the Lady Hornets' 12th consecutive win as they improved to 24-3 overall and 10-0 in the 7A-Central Conference but the Cabot Lady Panthers kept pace improving to 9-1 in league play with a 5-0 win over Little Rock Central.
Those games set up a first-place showdown between the Lady Hornets and the Lady Panthers this Thursday at Cabot. Bryant won the first meeting between the two teams, 3-1, on April 4.
Tuesday's win over Southside featured 15 hits for the Lady Hornets including three each from Regan Ryan and Maddie Stephens. Gianni Hulett had two hits and drove in five. Sarah Evans clubbed a pair of doubles.
Hulett also started the game in the circle and worked around a two-out single by Piper Morgan and a walk to Hailey Hogue. She struck out Reagan Graham to end the inning.
Ryan beat out an infield single to start the bottom of the inning. She stole second then Hulett sacrificed her to third. Meagan Chism yanked a base hit to left to make it 1-0.
Evans followed with a shot to left for an RBI double then Jaramillo singled up the middle and it was suddenly 3-0.
Hulett proceeded to strike out the side in the top of the second and the Lady Hornets tacked on in the home half.
This time, Stephens instigated the uprising with a knock to left. Ryan followed suit and, moments later, a pair of wild pitches allowed Stephens to come around and score. Ryan crossed the plate when Hulett grounded out to third.
With two down, Evans cracked her second double and scored on Jaramillo's second single to make it 6-0.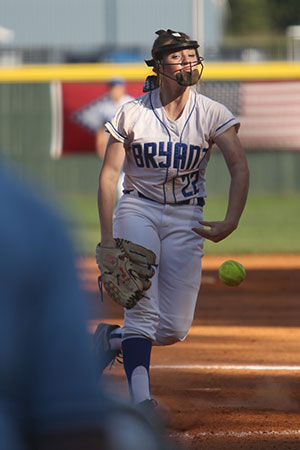 Raven Loveless took her turn in the circle in the top of the third and fanned two while setting down the side in order. In Bryant's third, Aly Bowers drew a one-out walk and Stephens beat out a bunt single. Both runners advanced on Ryan's tap that was fielded by Southside pitcher Bailee Sexton who got the out at first. That brought up Hulett who lined a single to center, driving in both Bowers and Stephens to make it 8-0.
The Lady Mavs were retired 1-2-3 again in the fourth as Morgan popped to Loveless, Hogue tapped out to Brooklyn Trammell at first and Graham struck out.
In turn, the Lady Hornets capped off their scoring in the bottom of the fourth. A one-out walk to Jaramillo got things started. Loveless grounded a single up the middle then Trammell got a bunt down that she beat out for a hit, drawing a throw to first that allowed Jaramillo to hustle home.
With two away, a wild pitch moved Loveless to third and Trammell to second. Stephens' third hit, a bouncer up the middle, plated them both as the lead ballooned to 11-0.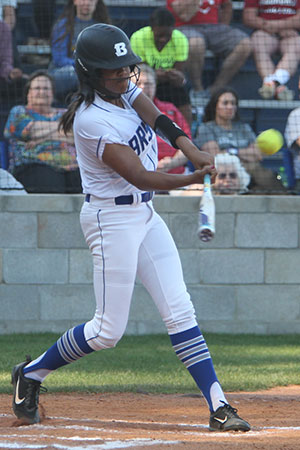 Ryan beat out a bunt hit then followed Stephens home on Hulett's  double to right.
The Lady Mavericks got their two runs in the top of the fifth when Lauren Gonzalez doubled and Caitlyn Bagby homers but Stuckey settled in after that and struck out the next two before Kylie Eveld grounded out to Bowers at short to end the game.