Late runs, McEntire's pitching lift Sox into World Series semifinals
EDITOR'S NOTE: Because the look back at each day in Bryant athletic history has been so favorably received during the time when there was no sports during the COVID-19 shutdown, BryantDaily.com will continueposting past stories of Bryant athletics either posted on BryantDaily.com (from 2009 to the present) or published in the Bryant Times (from 1998 to 2008).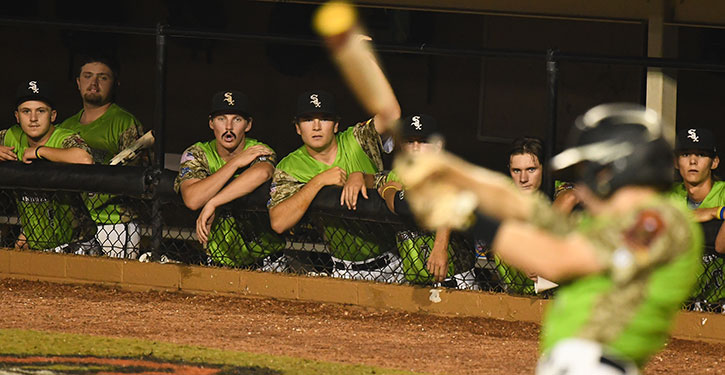 Photos by Matt Roth/The American Legion
SHELBY, N.C. — On the night of opening ceremonies for the Bryant Athletic Association summer season in 2011, 10-year-old Will McEntire was rushed to Children's Hospital in Little Rock. During a game of home-run derby, a line drive he never saw struck him three or four inches above his right ear. He was diagnosed with a skull fracture.
He had a headache, of course, but he also lost some feeling in the fingers of his left hand and suffered a little blurry vision.
He missed that summer of baseball (and cried when he got that news) but, in answer to plenty of prayers, he recovered fully.
And he was able to continue playing baseball later that summer, helping the Bryant 10's reach the Cal Ripken World Series.
Fast forward to 2017. The Bryant Black Sox faced a do-or-die game at the American Legion World Series. To advance to the final four of the tournament and keep their hopes alive for a National championship, they had to beat one of the favorites to win the title, Randolph County, N.C.
All but a host team for the Series and drawing crowds of over 8,000 every night at Keeter Stadium, Randolph County had whipped through their State and Regional Tournaments undefeated. They'd allowed just 10 runs in the Southeast Regional.
With another crowd of over 8,000 on hand plus a national television audience on ESPNU, who did Black Sox manager Darren Hurt call on to start on the mound?
That same Will McEntire.
And did he come through.
Just 16, playing on and against teams that included 19-year-old college freshmen, McEntire coolly whipped up a three-hit shutout against the (previously) hot-hitting North Carolina team, quieting the partisan crowd, as he dueled Randolph County's Bobby Weary.
Bryant, after missing opportunities early, came through with three runs in the sixth and two more in the seventh to earn a pressure-packed 5-0 victory.
The Sox thus earned the No. 1 seed from the Stars Division and will play Henderson, Nev., the Western Regional champions and No. 2 seed from the Stripes Division, in the first of Monday's two semifinal games at 2 p.m., Central Daylight Time. Creighton Prep of Omaha, Neb., the only team that went through its division undefeated, will take on Randolph County at 6:30 p.m., in the other semifinal. The survivors will play for the World Series championship on Tuesday night at 6.
"That kid is going to be the real deal, 16-year-old kid and he's got a really bright future," Bryant manager Darren Hurt told the American Legion's Jeremy Field. "He's been doing that, he threw for us like that in the state tournament and the regional and now here; the moment's never too big for him. What he's shown us is the bigger the situation the bigger he is for us."​
When the Black Sox have struggled this season, it's been because they were unable to hit the clutch. The latest example was the Series opener, a 4-0 loss to Lewiston, Idaho. But that was just the team's eighth loss in over 50 games now.
It looked for a while like Sunday night's game might be another example. The game was scoreless through five innings and Bryant had produced the best chances to score only to be denied.
In the second inning, Dylan Hurt led off with the game's first hit, a solid single to left. He stole second and Alex Shurtleff walked. A free pass to Jake Wright loaded the bases with no one out.
But Weary bowed up and retired the next three batters, forcing the Sox to strand three.
In the fourth, Hurt drew a lead-off walk and, on a wild pickoff throw to first, he sprinted to third with two away. Again, however, Weary and Randolph County wriggled off the hook.
And, in the fifth, Scott Schmidt drew a lead-off walk, advanced to second on Coby Greiner's sacrifice, to third on a balk and no further.
All of that was just prelude to the game-breaking sixth, which started with Seth Tucker being plunked by a 1-2 breaking pitch that didn't break. Hurt smacked his second hit, a single to center on the very next pitch.
After struggling to get a sacrifice bunt down, Alex Shurtleff chopped a 3-2 pitch on the infield that got them over anyway. An intentional walk to Alex Wright followed as Randolph County strategized to try to escape again, setting up a force at every base.
Aaron Orender worked the count to 2-1 and hardly squared it up but his roller to the right side left second baseman Peyton Williams only one play, a throw to first to get Orender as Tucker scored the first run of the night.
That brought up Schmidt who didn't make solid contact either but his bloop to center fell in and, with two outs, both Hurt and Wright were running on contact. They scored and it was 3-0.
Weak contact was about all Randolph County was getting off McEntire as well. He gave up an infield hit by Williams with one out in the second and a one-out knock to left by Cam Morrison in the fourth.
Probably North Carolina's best chance to score came on one of the few solid shots, opening the bottom of the fifth. Williams hit a slicing liner to right that just evaded the outstretched glove of Shurtleff, running full tilt towards the line. Shurtleff hustled after the ball, scrambling to his feet after sliding down. He fired a throw to Tucker, the cut-off man, and Tucker whipped a strike to Schmidt at third. With a diving tag, Schmidt got Williams before he got to the bag for the out.
A walk to Trevor Marsh followed but McEntire got Austin Curry to ground out to Schmidt then induced a bouncer to Orender at first by Parker Clayton to end the inning.
After the Sox took the lead in the top of the sixth, McEntire pitched around a one-out walk in the bottom of the inning.
A pair of insurance runs helped take some of the pressure off the final inning. Logan Allen and Jake East each singled. Tucker got a sacrifice bunt down but relief pitcher Jaxon Snider fielded it and made a wild throw to first that allowed Tucker and East to score as Tucker sprinted to third.
McEntire set down the side in order in the bottom of the seventh to complete the shutout, getting the final out on his 91st pitch.
He pocketed the ball as he was being congratulated by his teammates and bear-hugged by his coach. That night in the hospital had to seem like a lifetime ago.