For more photos from this event by Kevin Nagle, go here
For the second match in a row, the Bryant Hornets soccer team challenged one of the co-leaders in the 7A-Central Conference standings on Tuesday night. The Catholic Rockets kept pace with the Fort Smith Northside Grizzlies, however, by eking out a 2-0 win.
Catholic and Northside are both 8-1 in league play. The Hornets, who came in tied for third at 4-4 slip a game behind Conway and Fort Smith Southside at 4-5. They'll have the opportunity to pass those two teams with matches against them in the final three weeks of the season.
Bryant had won four in a row before running into the league leaders. The Hornets will try to get back on a roll this Friday when they travel to Little Rock Central.
"We played well throughout the game and dominated possession," said Bryant coach Richard Friday of Tuesday's contest. "We made an early mistake and scored an own goal because of a mix up with the goalkeeper and the defender.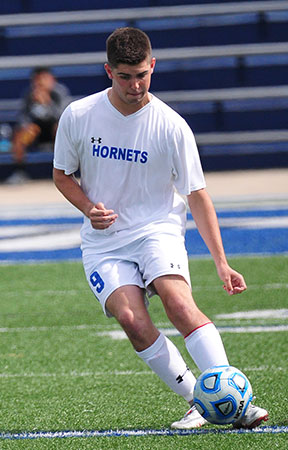 "We struggled breaking down their defense and creating good opportunities," he noted. "We missed a deflection off the keeper late in the second half to equalize."
Catholic added a goal after that.
"It was a set piece that we should have defended," Friday said.
"I was pleased with how we played," he noted. "We just have to stop shooting ourselves in the foot early on and we have to do more in the final third to win the game."