By Rob Patrick
Photo by Kevin Nagle
NORTH LITTLE ROCK — Over the last week, the North Little Rock Lady Charging Wildcats had a couple of wins by[more] narrow margins — well, relatively narrow. They only beat Mount St. Mary by 10 and only got past Little Rock Central by 11.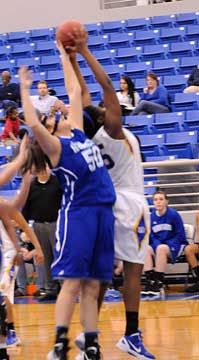 For a team that's dominated the 7A/6A-Central Conference over the last several years, those are unusually close calls.
So, head coach Daryl Fimple was looking for a return to the team's customary dominance on Tuesday night when the Bryant Lady Hornets came to visit.
For a quarter, the trend actually continued. The Lady Cats only led 9-6 going into the final few seconds of the first quarter and Bryant had a chance to get closer. But Sandy Jackson made a steal and a layup with :09 to go to make it a 5-point game.
Still, the Lady Hornets were right there, with thoughts of competing and maybe upsetting the conference's last unbeaten team.
Unfortunately, North Little Rock went on to a breakout night in a game which was infinitely forgettable for Bryant. The Lady Hornets managed just one field goal and only 9 points the rest of the game as North Little Rock improved to 18-2 overall and 6-0 in league play with a 54-15 win.
Bryant, now 11-9 overall and 3-3 in conference play will host Little Rock Central this Friday in a game key to the Lady Hornets' hopes of qualifying for the Class 7A State Tournament.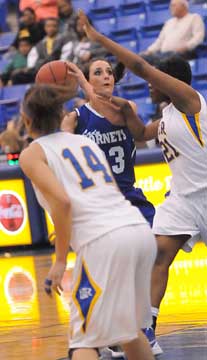 Jackson's basket started a 13-3 run that was interrupted only by free throws from Bryant's Kiara Moore and Taneasha Rhode. A basket by Dezerea Duckworth off a feed from Peyton Weaver with 1:03 left in the half cut the margin to 22-11 but North Little Rock'sDajha Hardamon answered with a 3 to make it a 14-point game at the half.
Still not too bad.
But the Lady Hornets scored just 4 points in the second half — on free throws by Rhode and Aubree Allen — and North Little Rock had 10 different players score on the way to the rout.
It's the last time (at least for awhile) that the Lady Hornets will make a trip to North Little Rock, a welcome fact for the Bryant faithful. With the new alignment starting next season, Bryant will be in the South and North Little Rock will be in the East conference.
Now, about that first quarter:
Sasha Giles put North Little Rock on the board to start the game then all-everything senior post, Lexus Williams added a free throw and a short jumper to make it 5-0.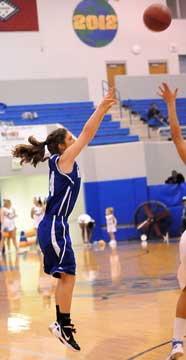 Two free throws by Courtney Davidson broke the ice for Bryant with 5:37 left in the period. Williams hit the offensive glass for a basket but then Rhode answered. Williams scored again, then Moore posted up for a basket to make it 9-6 with 2:16 showing.
Kaprecia Slocum missed a 3 for North Little Rock to give the Lady Hornets a chance to cut the lead to 1 or to tie with a 3. Moore couldn't get her shot to go off a drive but Whitney Meyer who had four rebounds in the period, gathered the carom but a turnover ensued.
The Lady Hornets got another chance when Jackson missed two free throws with :55 left but another turnover cost them. North Little Rock's Tashika Harris misfired but, on the way up the court looking for a last shot, the Lady Hornets lost the ball to Jackson who drove to the other end for the basket.
Williams finished with 11 points and nine rebounds in the game. Jackson added 10 points. Bryant was paced by Rhode's 6 points and seven boards.