Photos by Kevin Nagle
Each eighth grade team had a long run or two and the seventh grade teams got their feet wet in front of a large crowd as the teams from Bryant Middle School (Bryant White) and Bethel Middle School (Bryant Blue) scrimmaged each other Friday night as a pair of the annual Hornet Fan Fair.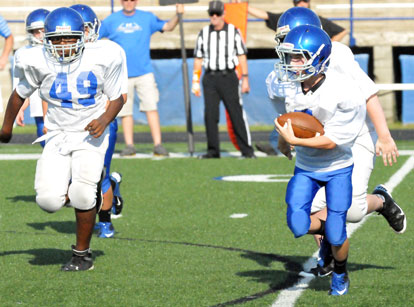 Bryant White eighth grade is preparing to open the season on Thursday, Sept. 5, at Hot Springs Lakeside with the seventh grade playing Sept. 10 against Bethel. Bryant Blue will play the first game of the season among any of the Bryant teams. On Sept. 3, they'll host Pulaski Heights for a seventh grade game at 5:30 p.m., followed by an eighth grade contest.
"We just wanted to run some of our base plays and stuff, to get to block somebody other than our scout team," said Bryant White coach Brad Smotherman. "I literally have two offensive lines. I've got first team and second team and that is it. I've got 10 offensive linemen. So it's hard in practice. But we were able to go against some live competition and actually tackle to the ground. That was good.
"It's going to be go time soon," acknowledged Bryant Blue coach Dale Jones. "It was good to go live against somebody else and get ready.
"I thought our kids played really hard," Jones added. "We looked really good up front. Coach Smotherman and I scrimmaged about a week ago and we looked okay up front but we looked a lot better today, I thought. We moved the ball well.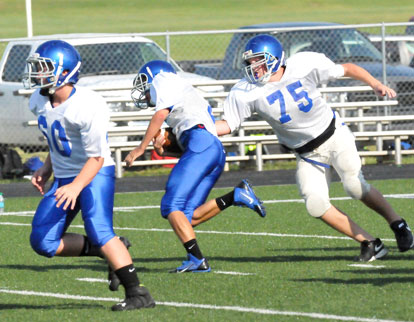 "We ran the ball really well," he continued. "We threw it quite a bit a week ago but, tonight, we mostly ran the ball. I really wanted to make an effort to run the football. I was pleased that we got a little push and we were able to run it."
Noted Smotherman, "We had a couple of long runs, had some good catches and, you know, good things and bad things but I think we got out of it what we needed to get out of it.
"Plus," he mentioned, "just getting them on the field in front of a bunch of people. We were able to do what we needed to do and get used to, 'Oh my goodness, somebody's watching us play a game.' Some of them didn't play last year so that was the first time they'd ever been out there. They were really wide-eyed.
"All the seventh graders got to go out there and just go crazy and drive me crazy but, you know, they got out there and they understand what we're trying to tell them now," Smotherman pointed out.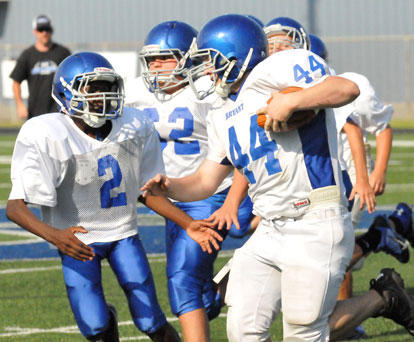 "We didn't play real well defensively the last time and we did give up a long run tonight but, other than that, I thought we played a whole lot better defensively than the first time," Jones said. "We're a week closer to playing a real game so I wanted to look a lot better and we did. The kids got after it pretty good. Overall, I'm pretty pleased. We've got a couple of guys out there that are good leaders for us."
Looking ahead, he added, "We're going to concentrate on not putting the ball on the ground. The second group was rolling it around a little bit and I wasn't happy with that. And we're going to concentrate on special teams.
"One good thing about it is, Pulaski Heights is probably going to play the exact same defense so that'll be a little less to prepare for as far as getting ready to block that odd front," Jones mentioned. "We've been blocking the odd front for three or four weeks now and our first three or four games that's probably what we'll see. That'll be good."
The main thing for both coaches was to come through the workout injury free.
"We had a couple of dents and dings but nothing major," Smotherman said. "We came through it okay."