Former Republican Party of Arkansas Chairman and Saline County Circuit Clerk Dennis Milligan[more] announced Wednesday that he is officially entering the race for Arkansas State Treasurer in 2014.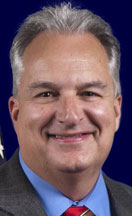 "As a small businessman I know how hard it is to earn a dollar. I also know how easy it is for the government to take that dollar in taxes. I'm running for Arkansas State Treasurer because I know that every dollar I earn the state in interest as your Treasurer is a dollar that doesn't have to come out of the taxpayer's pocket," said Milligan, a small businessman from Bryant.
Milligan had formed an exploratory committee earlier this year with former Gov. Mike Huckabee as his committee chairman.
"Since forming the exploratory committee, I've traveled the state seeing if people want me to run for Treasurer. From Paragould to Bentonville to El Dorado to Lewisville, the answer I've received has been a resounding "yes," Milligan said.
He is the first announced candidate for the Treasurer's race.
"I began to look at this race in the fall of 2011 because I saw signs that this office was not being managed properly," Milligan said. "I am not being opportunistic because of recent events involving the Treasurer's Office."
There are five ways Milligan plans to improve the operation of the Treasurer's Office.
"We need to be conducting the people's business in the daylight. It is just common sense that the best way to do that is use the Internet," Milligan said.
Lt. Gov. Mark Darr was successful in putting Arkansas' check book online. Milligan said the state Treasurer basically manages the state's saving account.
"I want to put the Arkansas savings account online. That way people would know where their money is invested and the name of the broker doing the investing for the state," Milligan said. "When all our state investments are easily accessible to the public, people can have confidence that there are no backroom deals being made with their money."
Milligan also wants to get more people to use the Arkansas GIFT Plan, a Section 529 college savings plan administered by the Treasurer's office.
Under the Arkansas GIFT Plan, parents, grandparents and others are able to give tax-exempt gifts to a child's college education plan.
"The Arkansas GIFT Plan has not been well advertised. People should not have to search for how to get in the plan. We should be giving this information out in hospitals when a child is born and when they enter pre-kindergarten," Milligan said. "It is just common sense that rather than wait for people to come to us, the Treasurer's office should take this program to the people most likely to benefit from it."
Another plan Milligan has for the office is using successful ideas from other states.
The National Association of State Treasurers has best practices information from programs that have been successful in other states. Milligan said he plans to examine those best practices and see what would work in Arkansas.
"There is no use in reinventing the wheel. If another state has something that will make our Treasurer's office work better, we adapt it to Arkansas' needs. That's just common sense" Milligan said.
Earlier this year, the Legislature passed Act 1088, which will cause changes in the Treasurer's office and require the Treasurer to work closer with the State Board of Finance.
Milligan said he wants to work closely with the newly-expanded Board of Finance to make sure the Treasurer's office maintains the highest standards.
"I want to put the minutes from each State Board of Finance meeting on the Treasurer's website," Milligan said.
Milligan also promises that he will do something in the Treasurer's Office he has done as circuit clerk.
"On my first day in public office as circuit clerk, I began to look for more efficient ways to do business. As a small businessman I know you must always look for better ways to serve your customers. You must also constantly find new ways to be efficient," Milligan said. "A businessman who doesn't do this goes out of business. A public office holder who doesn't do this should be voted out of office.
In my first two years as circuit clerk I made 24 improvements in that office. Some were small, but one was so significant that I was nominated for a national award for jury innovation.
"Every time I wanted to make a change, I heard a familiar answer 'But that's the way we've always done it.' I don't accept that in my business, I don't accept it as circuit clerk, and I won't accept it if you elect me as Treasurer."
In 2012, Milligan was one of 12 nominees for the prestigious G.Thomas Munsterman Award for Jury Innovation from the National Center for State Courts in Williamsburg, Va.
The Munsterman Award recognizes states, local courts, organizations or individuals that have made significant improvements or innovations in jury procedures, operations and practices.
Milligan was nominated for his jury notification system. That system replaces a method that required jury panel members to call a recorded message each week to find out if they were needed for jury service. Milligan's system notifies jurors by calls to their cell or home phone, an e-mail and text message.
"Changing jury notification from being the responsibility of potential jurors to know when to come to court to the responsibility of the circuit clerk was just common sense," Milligan said. "I want to bring common sense to the Treasurer's office."
Milligan is the first Arkansan ever nominated for the Munsterman Award.
"Arkansas deserves to have the best State Treasurer's office in the nation. My goal is to give them nothing less than the best," said Milligan.