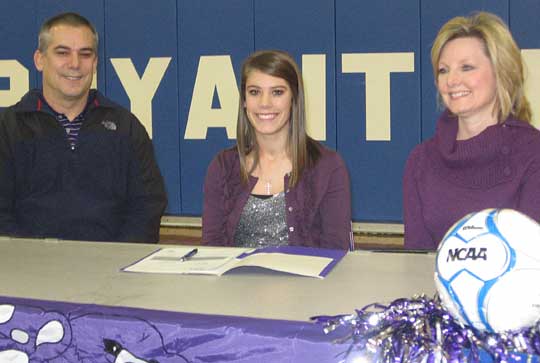 By Rob Patrick
As good as Haley Montgomery is as the point guard for the Bryant Lady Hornets basketball team — and she's a key ingredient in their 19-3 season so far this year — she's an even better soccer player.
A two-time all-State selection for the Bryant Lady Hornets soccer team, she's been a member of one of the most successful club teams around, the Arkansas Soccer Club Cougars, for several years.
And, on Wednesday, Feb. 10, she became the newest member of the University of Central Arkansas women's soccer team, signing a letter of intent at a ceremony at the Bryant High School gym.[more]
"I thought about a few other schools but I always wanted UCA really," said Haley, the daughter of Lance and Dixie Montgomery. "I kind of had my mind set on UCA. I knew the coach (Tina Banham). I go to O.D.P. (Olympic Development Program) and she's my soccer coach there. I didn't want to go too far from home and that's just kind of perfect, where I'm away but not too far away."
Once basketball season is over, Montgomery will begin play for the Lady Hornets under new head coach Julie Long. In the meantime, she continues to play for the Cougars on the weekend.
She said she's been playing club soccer since she was about 12.
"We've won state every single year, gone to Regionals since the first year we could, and got past the first round at Regionals last year, which is pretty good for an Arkansas team," she related. "We've worked really hard. We've done a lot of stuff together and it's really ended up all coming together."
The Cougars include players from several 7A-Central Conference schools.
"We've got a real good group of girls and what's been amazing, what I've really enjoyed about them being the newest one on the club team, they get along like sisters," said Cougars coach Donnie Bridges, who previously had coached the Mount St. Mary Belles to a State high school title. "So far, we have eight out of 12 players on the team signing to play in college. So we're very excited about them. We have five going to UCA so Haley will be with some friends but, like I told her, this time next year will tell who put out the effort and who's still on the team and those that can just say they signed for college. There's a big difference whether you play or you're just on the team. And I think if Haley wants to play, she can start and play any place she wants to."
That versatility, of course, makes her even more valuable to her teams.
"It's fun," Montgomery asserted. "Even though it's a lot of running around, it's fun. It might be boring to other people but it's fun. I like it. I can play wherever they need me."She added with a laugh, "I like to play wing or forward mostly but when I'm being lazy I like to play defense. I like attacking. I like beating people. I've always been real competitive, probably got that from my dad."
Speed, she said, has been her biggest asset. "With my speed, I can go by people."
"Haley's a little package of dynamite," Bridges stated. "She's short in stature. She's fast and very quick. We use her mostly on the club team as a defensive player but I know at high school she plays up front and plays the wing.
"I think Tina and UCA are getting a surprise," he continued. "She's rough, tough and tumble, so to speak. She takes on any opponent no matter how big or how little they are. She's got a lot of work cut out for her but I think she'll do extremely well. She leads by the way she plays and practices. She doesn't just talk a good game, she plays well on the field. She'll do whatever you want her to do, very coachable.
"I know on the club team that she came from, which I helped coach with Greg Hess, they've been to Regionals like five times," Bridges added. "Hopefully, this will be their sixth year. It's an honor in itself to go one year (to Regionals) from Arkansas. They've won numerous tournaments and played in premier league and done well in that. So, she's got a good background. It's how she applies herself now that's really going to tell the tale."
Asked about her academic plans, Montgomery said, "I'm going to try to be a nurse then a nurse anesthetist after that."