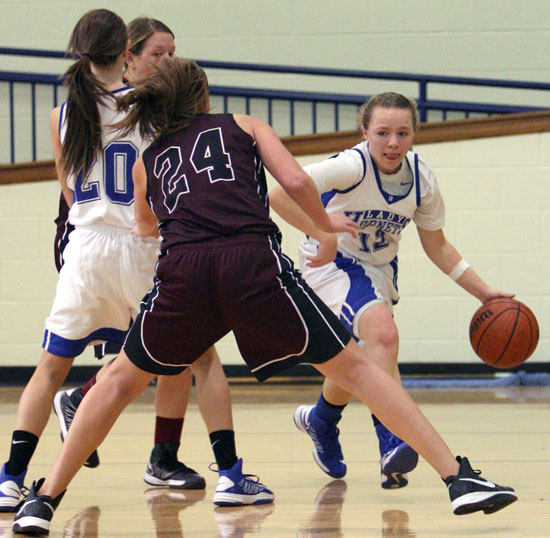 Photos by Rick Nation and Kevin Nagle
By Rob Patrick
Against a 3-2 zone, the best place to find open shots is what they call the short corner. It's down[more] the baseline, off the ball side and if a team works the ball around the perimeter or off the high post, they can usually get an open shot from 10 feet and out.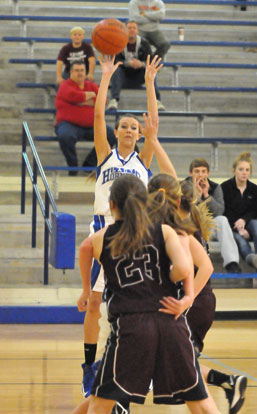 Of course, you have to have somebody that can make that shot to take advantage of it.
On Tuesday night, in the winners bracket semifinal of the Bryant Invitational Tournament, Kailey Nagle was in that spot for the hosting Lady Hornets freshman team against the 3-2 deployed by the rival Benton Lady Panthers. And she not only knocked down enough of those shots to score a team-high 9 points, she drained one with :10.9 left to lift her team to a tense 24-23 win that allowed them to advance to the championship game of the tournament.
Bryant will take on Conway White on Thursday at 6:05 p.m., at the Bryant Middle School gym for the title. Conway White advanced with a 41-26 win over Lake Hamilton.
In consolation bracket action, Pulaski Academy defeated Hot Springs Lakeside 28-15 and North Little Rock downed Hot Springs, 45-28.
So, along with the title game on Thursday, North Little Rock will take on Pulaski Academy at the Bryant High School at 7:10 in the consolation final. At 5, Benton and Lake Hamilton will play at BHS in the third-place game.
Nagle's clutch basket capped off a furious 6-0 run in the final 30 seconds by the Lady Hornets, who trailed 23-18 with less than a minute left.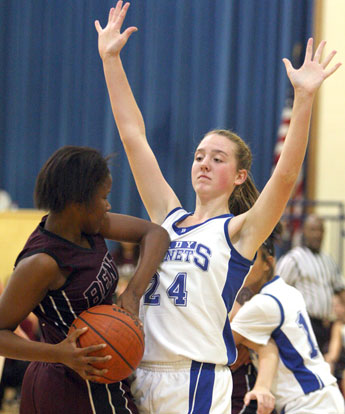 Bryant forced a turnover with :36.4 to play and, after a timeout, Anna Lowery was fouled trying a 3-point shot from the top of the key. She went to the line and converted twice to trim the lead to 3.
Lowery then forced a held ball and, on the alternating possessions, the Lady Hornets had the ball back.
With :16.8 showing, Nagle was fouled and, though she was unable to get either free throw to go, teammate Britney Sahlmann maneuvered to grab the rebound and score, cutting the lead to 23-22.
Bryant took a timeout with :12.9 to go as head coach Nathan Castaldi set up his team's press. And it worked. The Lady Panthers had to call a timeout because they couldn't get the ball in. And even after the timeout, no one could shake free, resulting in a five-second violation that returned possession to Bryant.
The Lady Hornets inbounded the ball and Nagle got her look and knocked it down to put them ahead.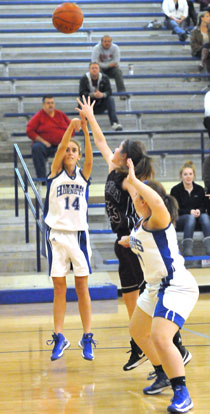 Benton took its last timeout with :08.8 showing. This time, the Lady Panthers were able to inbounds the ball but the Bryant press made them use up too much time getting the ball into the front court and they were unable to get a good look at a last shot.
"Defensively, they make you work for everything," Castaldi said of Benton. "They're well coached and it's tough. We were getting some open looks. We just weren't finishing. But we pulled it out.
"We decided to get up and pressure, which we hadn't done because we wanted to make them work offensively too," he added regarding the last-minute strategy. "We did a real good job of switching screens and denying the ball and not letting them get it in. That got us the ball back with an opportunity to win."
On free throws by Abby Clay and Tia Brazell, the Lady Panthers forged a 15-14 edge at the end of the third quarter. Two free throws by Sahlmann put Bryant back up early in the third quarter then Clay tied it at the line. A basket inside by Anna Turpin gave the Lady Hornets an 18-16 edge and Nagle made a steal to produce an opportunity to extend the lead. But a missed shot resulted.
At the other end, Oglesby drained a 3-pointer to start what looked like it might be a winning run by the Lady Panthers. She added a drive for a hoop and, with 1:22 left, Clay hit the offensive boards for a basket to increase the advantage to 23-18.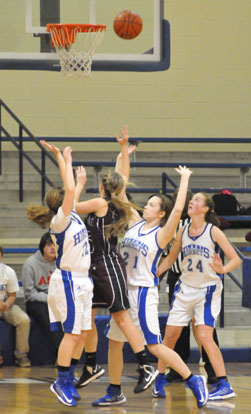 But, as it turned out, that was the last of Benton's scoring. Clay, who finished with 6 points to go with Oglesby's 9, had scored the first bucket of the game. Bryant's Skylar Davis answered with a 3 then Nagle pulled down an offensive rebound off a missed free throw by Sahlmann and, moments later, she scored and was fouled.
The three-point play gave the Lady Hornets what would prove to be their largest lead of the night at 6-2. Jazmine Rodgers of Benton and Bryant's Rachel Miller traded baskets and it was 8-4 going into the second quarter.
Benton held Bryant without a point in the quarter until the final moments. The Lady Panthers pulled ahead 10-8 and had chances to increase that. In the final seconds, Sahlmann made a steal and feed AnneMarie Keith for a layup that made it a tie game at the break.
Nagle had both of Bryant's baskets in the third quarter. Oglesby scored for Benton to tie it at 12 then Clay and Brazell hit the free throws in the final minute to give the Lady Panthers the edge going into the fourth quarter.
Castaldi called it a significant win for his team.
"It's going to give us a big confidence boost going into Thursday night and for the season," he said. "Something we've said all year, we break every huddle with, 'Finish'. We want to make sure we play all 24 minutes and tonight it took all 24 minutes but we finished."
LADY HORNETS 24, LADY PANTHERS 23
Score by quarters
Benton 4 6 5 8 — 23
BRYANT 8 2 4 10 — 24
LADY PANTHERS 23
Oglesby 4-8 0-0 9, Pointer 0-1 0-0 0, Landreth 0-0 0-0 0, Clay 2-3 2-4 6, Brazell 0-3 4-8 4, Rodgers 2-2 0-0 4, Brown 0-1 0-0 0, Gardner 0-0 0-0 0. Totals 8-18 6-12 23
LADY HORNETS 24
Davis 1-7 0-0 3, Keith 1-4 0-0 2, Nagle 4-8 1-4 9, Turpin 1-2 0-0 2, Sahlmann 1-6 2-4 4, Lowery 0-5 2-3 2, Miller 1-1 0-0 2, Patton 0-2 0-0 0, Reeves 0-0 0-0 0. Totals 9-35 5-11 24.
Three-point field goals: Benton 1-1 (Oglesby 1-1), Bryant 1-8 (Davis 1-6, Keith 0-1, Patton 0-1). Rebounds: Benton 16 (Rodgers 4), Bryant 26 (Sahlmann 8, Nagle 4). Turnovers: Benton 14, Bryant 9. Team fouls: Benton 12, Bryant 13.