Editor's note: Tonight's game will be streamed live at https://www.youtube.com/user/mjohnsonproductions/live
File photo by Kevin Nagle
In their first two ballgames of 2019, the defending Class 7A champion Bryant Hornets "mercy-ruled" their opponents. Against Benton in the Salt Bowl, the lead grew to 35 early in the second half and, in accordance with the "mercy-rule" or sportsmanship rule, the game proceeded with a running clock. Last Friday against Bentonville West, the Hornets rushed to a 35-0 lead by halftime and the running clock was in effect from the start of the third quarter.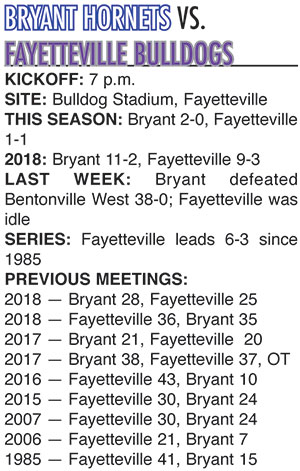 So, this week, it was posed to Hornets head coach Buck James that, perhaps, he might ready to have his team challenged a little more and that the third-ranked Fayetteville Bulldogs were probably a pretty good candidate to do that.
"If I really gave you my true answer," James chuckled, "I'd like to mercy-rule these guys too."
Well, of course, but what about the big picture?
James acknowledged that it might be beneficial in the long run.
"It tests your character," he said. "Adversity is a good thing this time of year because you have a chance to correct it. You have a chance to fix it.
"Last year, we went adversity two or three times and we didn't quite get it fixed during the game, but we got it fixed during the week," the coach noted. "Then we forgot what adversity was again then we had to come back and re-find it.
"Youth is wasted on the young sometimes, but I think these guys understand the process," he continued. "The thing about it is, we have over 80-something juniors and seniors. These guys have been through the fires, both on the practice field and on the game field. Not a lot will surprise them at this point. They understand the trials and tribulations that go along with being a good football team. I think ever since these guys have been here, we've been ranked as one of the top two or three teams in the state. So, you go out there and play."
It's been a close series of late.
"The last four times we've played, it's less than 10 points difference," James mentioned and that's a combined difference. Bryant beat the Bulldogs in the State semifinals last year 28-25 when Jakob Neel blocked a last-second field goal attempt. During the regular season, Fayetteville won at Bryant 36-35. In the 2017 playoffs, Bryant won 21-20 after winning in the regular season at Fayetteville, 38-37, in overtime.
And James added, "This will be our first time to have a true road game. There's a possibility of rain.
"But the mentality that we've sort of coached our kids is, we'll play on the parking lot or we'll play when it's hot, when it's cold, play in the rain — hopefully, we can do that. You know, it's easy to talk about it but to do it's a whole different ball of wax."
Like every night out this year, the Hornets will be getting a team's best shot. The State title puts a bull's eye on a team's back. Plus, they're ranked number one in the state again.
But the Hornets, particularly the skill players, learned about that the hard way during the summer when they traveled to North Carolina for a national 7-on-7 tournament. They dominated the first day and were the top seeded team going into the second day. And it didn't go as well.
"We got to see it live from Hollywood," James quipped. "It wasn't like we woke up in a fantasy world that next day. People were getting after our britches. We learned really fast, even the teams that weren't very good played us extremely hard. The teams that we beat the day before were totally different looking teams the next day. With that comes a lot of learning especially when you get it handed to you — really, from such a long ways away, in a situation where we had a chance to win the tournament.
"The thing about it was it was pass-catch," he noted. "It wasn't football. There's not a lot you can do about it in pass-catch but, in football, physically, it's going to be a different game. Our guys have got to understand, there's going to be a hammer and there's going to be a nail. Your choice is which one you want to be."
The Bulldogs return six starters on offense and six starters on defense for new head coach Casey Dick, the former Razorback. A key difference, however, is at quarterback where Hank Gibbs is the starter instead of Darius Bowers. Gibbs is probably a better thrower, but Bowers was a big play threat on his feet as well.
Connor Flannigan, a record-setter receiver, returns as does running back Jacob Sharits who splits time with elusive junior Kameron Ingram.
"They're very athletic," James acknowledged. "I think they've got speed. I think, if we were in a track meet with them, they would probably win. They're running away from the people we've seen on film. Now, how fast that is, we'll find out. But they look like they can really run.
"They throw the ball pretty good," he continued. "They catch it pretty good. They run the ball well, they just don't run it a lot. They look like they're well-coached. They're where they're supposed to be, and they do what they're supposed to do.
"Really, this is supposed to be their year," the coach said. "They have more returning starters than just about anybody in the state in 7A off a team that was really just a field goal away from being in the state championship game. This is going to be a tough test for our football team.
"Our kids are up against a big challenge. This is really why you practice. You've got number one versus number three. That's what high school football is supposed to be about. You want to play good people.
"We played a good team last week. We played well. We played a good team the first week. We played very well. So, if we play well, we take care of our own business. If we don't play well then, we have to reap the consequences."