For more photos of this event by Kevin Nagle, go here
It's the nature of the 7A-Central Conference that any one of the top teams could, at any point, go on a losing streak over a week or two. It's just that tough a league.
Unfortunately for the Bryant Hornets, at the end of the first round of the league schedule, it's them.
On Tuesday night, the Hornets fell for the third game in a row — their second at home — as the Fort Smith Northside Grizzlies rode a second-quarter surge to a 56-46 victory.
Point guard Tevin Brewer scored a game-high 17 points including 10 during final 2:30 of the first half to turn a 17-14 Bryant lead into a 24-17 Grizzlies' advantage.
As has been the procedure during the previous two losses — to Conway (by 6) and North Little Rock (by 2) — the Hornets rallied in the second half.
A goal-tending call against Bryant with 1:28 left in the third quarter gave Tyrell Perry a basket and the Grizzlies a 42-30 advantage.
Bryant's resurgence began with Romen Martin drilling a 15-foot jumper from just inside the top of the key off an assist from Calvin Allen. A disputed turnover resulted in a timeout by Northside coach Eric Burnett to argue the call but, after a conference among the officials, the Hornets retained possession. As the quarter came to a close, Allen drove for a layup to make it 42-34 going into the final eight minutes.
Both teams missed chances to add to their respective totals in the first minute of the fourth quarter before Allen drove for another bucket to trim the lead to 6.
Perry missed twice at the other end, but the Hornets turned the ball over. They got it back when the Grizzlies were cited for an illegal screen. Though Braylen Steen missed, the Hornets again forced a turnover. This time, Allen forced a five-second call while guarding Brewer closely.
And, this time, the Hornets took advantage as Allen fed Marvin Moody for a bucket. And, after Isaiah Joe missed a 3 for Northside, Lowell Washington banked in a shot from close range and, suddenly, that 12-point lead was down to 42-40.
Burnett called a timeout and, to their credit, the Grizzlies regained the momentum with a quick 6 points including offensive-rebound buckets by Joe and Perry.
Down 8, Steen came through with a three-point play with 2:15 left. The Hornets got a break when Northside's Jackson Forsey launched an ill-advised 3 from the corner and missed but twice the Hornets got looks from inside and couldn't get them to fall.
Joe converted both ends of a one-and-one with 1:39 to go and, after a Bryant miss, Brewer drained a pair from the stripe.
Allen gave the Hornets hope with a basket off an offensive rebound. He was fouled on the play but couldn't get the free throw to go.
Bryant was just 6 of 13 from the line while Northside converted 11 of 12.
Perry got behind the Bryant press and hit a layup to make it a 9-point game with :50 left. The Hornets missed twice but then seemed to catch a break when Brewer missed the front end of a one-and-one with :22.9 left.
There just wasn't enough time to make up the difference. Allen hit a free throw with :07.3 left then Perry beat the buzzer with a layup to make it a 10-point margin, which could play into a tiebreaker regarding for seeding to State down the line.
The Hornets aren't thinking about State right now, however. They need a win. Their next chance will have to be at Northside in a rematch on Friday.
Perry finished with 14 points for the Grizzlies on Tuesday. Joe had 9 and sophomore Anthony Travis Jr., came off the bench to added 9 including a pair of 3's in the second quarter.
Martin led the Hornets with 10 points. Steen and Moody scored 9 each and Washington 8, Allen 7.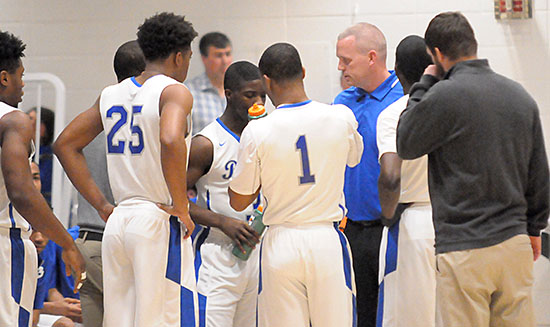 Though it took a while for either team to get on the scoreboard at the start of the game, Moody scored inside two minutes in to break the ice. Turner fed Washington for a basket to make it 4-0.
Northside didn't break through until the 4:43 mark when Perry hit two free throws. Steen got those back at the other end before Brewer drove for his first basket to make it 6-4.
Late in the period, the Hornets got it going again. Martin scored off a feed from Rodney Lambert. Though they missed opportunities to add on off steals by Washington and Turner, Martin closed out the quarter with a 3 to make 11-4.
That's when Travis entered the game. He hit a 3 to open the second period. The Hornets came up empty on a trip to the line then off a steal by Steen before Forsey hit a reverse layup.
Steen added a free throw and, moments later, both Martin and Allen picked up second fouls and went to the bench for the final six minutes of the half.
Travis' second 3 tied the game at 12 but Washington posted up for a pair. A layup by DeMichael Whitfield off a dish from Brewer tied it at 14 but Bryant's Sam Chumley splashed a 3 to make it 17-14.
That's when Brewer took over. A pull-up jumper off a drive up the baseline was followed by a pair of free throws. The Hornets missed two chances to answer then Brewer bombed in a 3. A miss at the other end led to a buzzer-beating three-point play by the Northside point guard that produced the 24-17 halftime advantage.
And when the second half started with a three-point play by Forsey, the Grizzlies had their first double-digit lead.
Steen answered with a three-point play but then Travis produced one too. Moody sank a 3 off a kickout from Washington and, off a Northside turnover, Washington scored down low to trim the margin to 30-25.
It was 35-30 after Martin's triple with 2:41 left in the quarter. Joe countered with a triple and Perry drove for a layup. Allen missed on a 3-point try and, at the other end, the goal-tending call produced Northside's 12-point advantage, setting up the Hornets' rally, which fell just short.
GRIZZLIES 56, HORNETS 46
Score by quarters
FS Northside 4 20 18 14 — 56
BRYANT 11 6 17 12 — 46
GRIZZLIES (14-6, 5-2) 56
Brewer 5-15 5-6 17, Norwood 0-5 0-0 0, Joe 3-9 2-2 9, Perry 6-12 2-2 14, Forsey 2-4 1-1 5, Taylor 0-0 0-0 0, Whitfield 1-1 0-0 2, Travis 3-4 1-1 9. Totals 20-50 (40%) 11-12 (92%) 56.
HORNETS (14-6, 3-4) 46
Martin 4-13 0-0 10, Turner 0-4 0-0 0, Allen 3-10 1-4 7, Moody 4-7 0-0 9, Washington 4-9 0-1 8, Steen 2-6 5-6 9, Lambert 0-1 0-2 0, Chumley 1-1 0-0 3, McIntosh 0-0 0-0 0, Canada 0-0 0-0 0. Totals 18-51 (35%) 6-13 (46%) 46.
Three-point field goals: Bryant 4-17 (Martin 2-8, Moody 1-1, Chumley 1-1, Allen 0-3, Turner 0-2, Steen 0-1, Lambert 0-1), FS Northside 5-18 (Brewer 2-9, Travis 2-2, Joe 1-5, Norwood 0-1, Forsey 0-1). Turnovers: Bryant 13, FS Northside 12. Rebounds: Bryant 15-19 34 (Washington 2-7 9, Steen 4-4 8, Moody 2-3 5, Martin 1-2 3, Allen 2-1 3, Turner 1-0 1, Canada 1-0 1, team 2-2 4), FS Northside 12-23 35 (Norwood 2-5 7, Forsey 2-5 7, Perry 3-3 6, Joe 1-5 6, Brewer 1-2 3, Taylor 0-2 2, Travis 2-0 2, Whitfield 1-0 1, team 0-1 1). Team fouls: Bryant 16, FS Northside 16.