Trevino reaches 1,000 yards as Jr. Hornets roll over Blue
EDITOR'S NOTE: Because the look back at each day in Bryant athletic history has been so favorably received during the time when there was no sports during the COVID-19 shutdown, BryantDaily.com will continueposting past stories of Bryant athletics either posted on BryantDaily.com (from 2009 to the present) or published in the Bryant Times (from 1998 to 2008).
By ROB PATRICK
BRYANT TIMES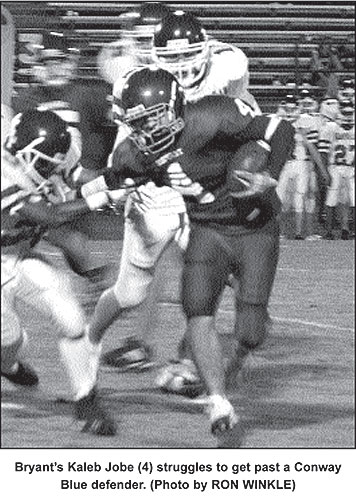 Though the record book before the mid-1990's is pretty sketchy or even non-existent, as best as can be figured, Aspen Trevino set a new single-season rushing record for Bryant Junior High with his fifth carry of the team's 28-0 win over the Conway Blue Wampus Kittens on Thursday, Oct. 13.
But, for one scary moment, it seemed like he wouldn't get that far.
Trevino came into the game with 876 yards rushing on 96 carries. In recent times, that was second only to Nick Suggs, who in 2004, rushed for 896 yards to break a record set by Matt White in 1998 (796 yards). On Bryant's first possession of the game, Trevino rushed for 6 yards then carried for 3 more. But, after the second tote, he didn't get up. As the pile cleared he was left with one hand clutching his leg.
Though he was helped off the field at the time, it was "just" a thigh bruise. He returned on Bryant's next possession and wound up rushing for 176 yards to put him over the 1,000 yard mark on the season with three more games to go.
Trevino also scored twice to give him a record 13 touchdowns on the season.
To go with Trevino's work, quarterback Ethan Powell and receiver Tim Floyd teamed up on a pair of touchdown passes while the Bryant defense notched their third shutout of the season. (They've allowed more than 6 points in a game only twice this season).
The win improved the Hornets to 6-1 overall, 2-1 in the South Division of the Central Arkansas Conference with a showdown with undefeated Sheridan on the road set for Thursday, Oct. 20. A win over Sheridan and another over Benton on Nov. 1, coupled with a Sheridan win over Lake Hamilton that night, would create a three-way tie for the championship of the division for the second year in a row involving Lake Hamilton, Sheridan and Bryant.
"It always comes down to Sheridan, no matter what," stated Bryant head coach Jason Hay. "And I think in six years, we've beat them once, tied them once and lost the rest. My first year here, it cost us a conference championship with a tie and they've beat us a couple of times and ruined it for us. (Former Junior Hornets' Coach (Terry) Harper is the only one to beat them since I've been here. (Sheridan) Coach (Mike) Moore always has them ready. They always get up for us. It's time for a little payback, hopefully.
"The defense is playing real good and that's what it takes," he added. "Hopefully, we can beat Sheridan then root for them the next week when they play Lake Hamilton."
Despite Trevino's injury, the Hornets went on to score on that opening possession. The defense had forced a Conway punt to set up the dive. Jacob Moran, Tad Drennan and Dylan Chism converged on quarterback Grant Blodgett for a loss to nine early in the series and the Kittens never recovered.
And when Jeremy Jordan returned the short punt 27 yards, the Hornets had picked up a couple of yards in the exchange.
On a third-and-1 at the Conway 34, Powell connected with Kaleb Jobe for 16 yards and a first down at the 19. Chism, in for Trevino, then crashed 11 yards to the 8.
"When he went down, I was real proud of the way Dylan came in," Hay said. "He doesn't get a ton of snaps (at running back) in practice but we just continued on doing what we needed to do. We're not one dimensional. Aspen's real great to have but we've got other guys that can run the ball too. Usually, you only have one guy but we're fortunate to have probably three legit running backs."
After a holding penalty pushed the Hornets back to the 20, Powell and Floyd hitched up for the first time with the lanky receiver reaching up and making a splendid grab while getting a foot down inbounds in the back of the end zone.
Austin Bradley's extra point made it 7-0 with 3:05 left in the first quarter.
Bryant's second score was set up by a Conway fumble. Moran blasted Blodgett on a first-and-10 at the Bryant 39 and Austin Humbard pounced on the loose ball at the 45.
Trevino's 18-yard run got the Hornets into Conway territory. He later scored from the 14 and Bradley kicked it to 14-0 with 2:56 left in the half.
It wasn't long before Conway had to kick again. Moran and Aaron Schrock sacked Blodgett for a loss of 10 that foiled a third-and-3 play from midfield.
On the kick, the Kittens punter Jake Goode, who had been chasing down bad snaps on earlier efforts, couldn't recover in time. He was dropped for a loss of 16 and even a 15-yard late hit penalty couldn't bail the Kittens out.
Bryant took over at the Conway 39. A play later, Powell handed to Trevino who flipped it back to Powell. He found Floyd open deep for a 35-yard touchdown pass with 32 seconds left in the half.
A last ditch effort to get on the board by the Kittens ended when Ryan McKnight picked off a Blodgett pass at the Bryant 42.
The Hornets put the finishing touches on the scoring with the opening possession of the second half. Trevino set up the score with a scintillating 66-yard jaunt to the Conway 11. That run put him over the 1,000-yard mark for the season. Four plays later, he scored from the 2.
Despite Bryant's substitutions, Conway managed just one first down the rest of the game. And on that play, running back Wayne Dickerson was separated from the ball. Colton Girlinghouse recovered for Bryant.
Behind quarterback Austin Queck and the running of Chism, the Hornets drove to the Conway 45 where, on a fourth-and-1, Chism appeared to pick up more than enough for a first down only to have a holding penalty negate the run.
Humbard punted but Conway's Terrell Heard couldn't hold on when the Hornets' Tim Ezel buried him with a bit hit on the tackle. Bradley recovered and the Hornets ate up the final 1:42.
Blue dropped to 2-5 overall and 0-3 in the South Division.