Photos courtesy of Paul Dotson
Trailing 36-34 with four minutes left to play, the Bryant Hornets had two chances at the free-throw line to tie the game and take the lead. But only one of the fourth free throws went down and the rival Benton Panthers took advantage, spreading the floor and shooting free throws on the way to a 44-42 victory in the second round of the Bryant Invitational Tournament Tuesday night.
The Panthers, maintaining that lead after the Hornets were unable to knock down those free throws, spread the floor. Bryant, unwilling to come out of its zone because of the individual prowess of eighth grade phenom Cameron Harris, were left to chase. They made enough plays to stay close.
With :34 left, Jalen Montgomery scored to trim the margin to 41-39. At the other end, Myles Aldridge made a steal. But both Aldridge and Montgomery missed shots and, with :11.4 left, Benton's Chase Ramsey knocked down a pair of clinching free throws.
Aiden Adams, who led the Hornets with 14 points, hit his fourth 3-pointer of the game in the closing seconds to set the final score.
Harris was limited to 14 points and eight rebounds but Ramsey added 11. Austin Schroeder had 7 for Bryant.
For all intents, the game was lost in the first half when, after Schroeder scored the first basket of the game, Benton went on a 13-1 run. The Panthers led 10-3 after the quarter and, when the second started, Russ Hooks hit a 3 to make it 13-3.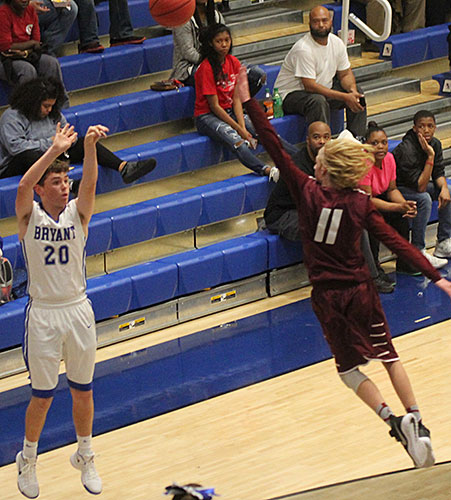 From that point on, Bryant outscored Benton 39-31.
They got back into the game when Montgomery scored, Braylon Walker hit the offensive glass for a bucket and Braden Godwin knocked down a 3. Montgomery made a steal but misfired and Benton got back on track.
The Panthers led 19-11 with a minute left in the half before Ryan Riggs drained a 3, made a steal and scored as he was being fouled. Though he missed the free throw, the Hornets were back within 3 points at the half.
Adams and Harris traded baskets to start the third quarter. Though Riggs missed on a 3-point try, he set up and took a charge on a Harris drive. Adams cashed in with a 3 to even the scored at 21.
Aldridge and Schroeder combined on a steal that resulted in a layup for Schroeder and a 23-21 lead for Bryant. Another Panther turnover set up Schroeder's 3. Harris drove for a basket only to have Adams counter with another triple and a 29-23 lead.
But Harris led a rally that had Benton ahead 30-29. Two free throws by Bryant's Gavin Brunson put the Hornets up 31-30 going into the fourth quarter.
And that final stanza opened with Adams canning another trey. But a drought hit Bryant after that. Between that basket and Schrader's free throw with 3:22 left, they got nothing. And between Schrader's free throw and their next field goal, a short jumper by Aldridge with 1:13 left in the game, they came up empty.
Benton's lead grew to 41-35 before Aldridge's basket. Harris hit a free throw to make it 42-37 with 1:05 left. The Hornets turned the ball over but Brunson took a charge to get them another opportunity.
Head coach Tyler Posey called a timeout with :43.1 left and, when play resumed, Montgomery scored on a floater in the lane to make it 42-39.
Bryant shot just 31 percent from the floor (15 of 47) and converted just 5 of 11 from the free-throw line while the Panthers finished 14 of 18 at the stripe.
The Hornets will play in the third-place game on Thursday at 6:05 p.m., against Conway White. Benton will take on North Little Rock for the tourney championship at 7:10.
PANTHERS 44, HORNETS 42
Score by quarters
Benton            10        9          11        14 — 44
Bryant             3          13        15        11 — 42
PANTHERS 44
Bell 1-3 5-5 7, Ramsey 3-9 2-2 11, Harris 5-10 4-9 14, Payne 0-0 0-0 0, Hooks 2-5 0-0 5, Eason 2-3 3-4 7, Kyle 0-0 0-0 0, Farley 0-0 0-0 0. Totals 13-30 14-18 44.
HORNETS 42
Riggs 2-6 0-1 5, Schroeder 3-5 0-0 7, Adams 5-8 0-0 14, Aldridge 1-5 0-0 2, Schrader 0-8 3-6 3, Montgomery 2-8 0-2 4, Brunson 0-1 2-2 2, Walker 1-4 0-0 2, Godwin 1-2 0-0 3. Totals 15-47 5-11 42.
Three-point field goals: Bryant 7-17 (Adams 4-6, Riggs 1-4, Schroeder 1-3, Godwin 1-1, Montgomery 0-1, Aldridge 0-1, Walker 0-1), Benton 4-11 (Ramsey 3-8, Hooks 1-2, Harris 0-1). Turnovers: Bryant 13, Benton 15. Rebounds: Bryant 13-15 28 (Aldridge 3-6 9, Schrader 3-4 7, Brunson 2-3 5, Walker 2-2 4, Schroeder 0-1 1, team 3-0 3), Benton 8-21 29 (Harris 3-5 8, Ramsey 0-5 5, Eason 3-2 5, Hooks 1-3 4, Payne 0-1 1, Farley 0-1 1, team 1-4 5). Team fouls: Bryant 18, Benton 12. Fouled out: Bryant, Aldridge, Schrader.