Photos by Kevin Nagle
The annual Salt Bowl pre-game press conference was held at the press level of War Memorial Stadium in Little Rock on Monday. Here's most of what was said:
Shane Broadway:"Thank you to everyone for coming out this afternoon for the coaches' and players' press conference. I want to thank Recycle Saline for their sponsorship of this event and for their support, and all of our sponsors for Salt Bowl 2018.
"Obviously, everybody's excited about this weekend so we're going to go right to the coaches and players and their comments about Saturday's game.
"There's a lot of activities the rest of the week. We appreciate these guys. They do a lot during game week. They're going to speak at the Benton Chamber luncheon tomorrow. Friday morning, the Buzz is going to be at Big Red on South Street. Channel 7's going to be out there. We may have a couple of other TV stations out there as well. We appreciate those guys.
"Saturday, you want to get here early. We've got Petit Jean hot dogs this year. We've upgraded our hot-dog game. Welcome to Petit Jean hot dogs as a sponsor.
"Also, if you are a Benton fan this year, Benton radio is 106.7 The Ride. If you want to listen to the Bryant broadcast, it's on Fox Sports Arkansas 99.3 and AM 690. Then the neutral broadcast will be on the Buzz, 103.7, if you want to listen to that.
"Since Benton is the visitors, we'll let Bryant go last. We are excited today to have Coach (Brad) Harris and Coach (Buck) James both with us. For Benton, Coach Harris has brought with him senior wide receiver Michael Allison and senior center Joshua George. Coach James has brought with him cornerback Andrew Hayes and quarterback Ren Hefley.
"Coach Harris, I'm going to turn it over to you to talk about this year's game and anything else you want to talk about."
Harris:"I'm excited to be here. Coming to the Salt Bowl press conference is a big deal because it represents the start of football season for us. We've been getting after it all off-season, all summer and everything. All the work that we do is going into this week.
"The scrimmage game was all good, Maroon-Gray game, things like that. But this is the big deal.
"This is just a great showing of two communities that come together and, when you can pour 35,000, 36,000 — I know this year, the goal is maybe 40,000 — it's just a great tribute to the Benton and Bryant communities, Saline County.
"We're just happy to be representing the Benton Panthers. We feel like we've got a great opportunity this year to have a very successful season. We've got a really strong senior class with the two gentlemen that I brought, with 27, total. It's a big senior class for us.
"But, I'm extremely excited about the 2018 season. We know we have our work cut out for us because Bryant is a very good opponent. Look at them and Coach James has done a tremendous job over the last few years with them. They've got a lot of talent over there. Those two gentlemen sitting beside him, a tremendous defensive player and a good quarterback there.
"It's going to be a heck of a ballgame. We look forward to it Saturday. We get an extra day to prepare for them, which is a good thing for us, we think. We need all the work that we can get, still, after our Friday night scrimmage.
"If there are any questions, I'll entertain them in just a few minutes. But I'd like for our two guys to come up. To me, the Salt Bowl is about the football players. Coach James and I get enough time to talk. I think you'd agree, with all the different radio stations and broadcasts and stuff.
"I'm going to turn it over to senior Michael Allison. He plays receiver for us. He's a three-year player for us, very solid the last two years and we're looking for a great senior year out of him.
"Then, we're going to let Josh George, senior offensive lineman. He's going to start out at center, but he may play some guard, may play some tackle, wherever we need him. He's a three-year starter for us also.
"So, I'm going to let these two guys talk about what Salt Bowl is for them."
Allison:"First off, I'd just like to say that the Salt Bowl is something that I've always — when I was a kid, I'd look up, watch the players and just kind of idolize them. It's something I've always wanted to be a part of for the Benton community and the Benton Panthers.
"It's been really cool to grow up and be a part of this experience, the Salt Bowl. No other experience in the state of Arkansas and, really, many other places in the country. It's kind of a testament to the communities that come behind us and support us the way that they do.
"I've really enjoyed my time. The last three years have just sped by. But I'm glad I've had the opportunity to do something productive and I feel like I've had a pretty good two years and I'm just looking forward to senior year and this Saturday especially."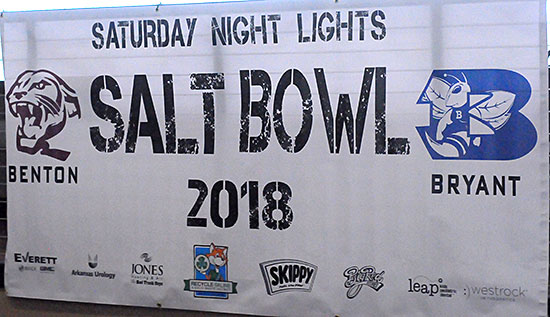 George:"First off, my name's Joshua George. Like Coach Harris said, I play the offensive line for Benton. Growing up in the city of Benton, it's always been a dream of mine to be a senior and run out into War Memorial with 'Benton' across my chest. It's humbling but also very traumatic to think that this is my last year to wear 'Benton' across my chest and represent my school, my family and my community.
"Like Michael said, there's not many places in the nation, let along in Arkansas, that a high school team can run out in front of 35,000 people and get to compete against a crosstown rival. That's really special and I don't think you'll find that anywhere else in the nation.
"I'm really honored to represent my team and my community for this special game."
James:"Well, I'm excited. This is really a great opportunity for the Bryant Hornets to be able to go out and compete in really one heck of a contest. I've been around football, this is my 32ndyear, and I've never seen anything like it.
"This, in a way, rivals a State championship-caliber week. Without a doubt, the meaning of the game, what it means to both communities, is a tremendous effort for Shane Broadway and his crew of guys that do this thing to put it together.
"I would guess that any high school program would like to have this game. You get to play against your next-door neighbors, your friends, your cousins or whatever the case may be. We have all that I think.
"It's an opportunity for two great communities to showcase, not only their school, their football program, their band, cheerleading and pom squads. It's a tremendous opportunity and we don't take it lightly.
"Our off-season program starts with this at the end. A lot of hard work goes into playing a game like this, especially this caliber in the first week of the season. And our football team really takes a lot of pride in what they do to play this game and to try to play at a high level, just like Benton does.
"This game is the first game of the year and to have this magnitude of people and expectations, it's good for the kids, it's good for the communities. It showcases Saline County. At the end of the day, Saline County is a winner after this ballgame is played.
"People are trying to mimic it and duplicate it and I don't think it can be done. I think it's a diamond. It's a jewel of high school football.
"You know, we went to North Carolina and Texas the last couple of years and played 7-on-7 and a lot of those places have heard of the Salt Bowl and knew the caliber of game that it was for both communities.
"So, it's a tremendous opportunity to be able to coach in it. I feel blessed that we get a chance to do this. It's a heck of a way to make a living. I enjoy the competition. Benton's always a very good football team, very well coached. They play extremely hard.
"I was talking to (Greenwood head coach) Rick Jones the other day and we were talking about when he used to play Alma. He said, 'You know, I got a different Alma that anybody else got.' I said, you know, we get a different Benton than everybody else too. Benton is a heck of an opponent.
"It's a great opportunity for one of the communities, to play one good football game, with the opportunity to win a Salt Bowl trophy. That's what the kids want and that's what they work for.
"Today, I brought Andrew Hayes. He's a three-year starter for us at cornerback. He's received multiple offers and has been very blessed. He's an extremely hard worker. He's a good student and very diligent in the weight room. He really does the work off the field as well as he does on the field. I'm proud of him and that's why he's representing our defense today.
"Ren Hefley is a guy that came to us a few years ago from Pulaski Academy and has just won over the whole community. He's the student-council president. He's got over a 4-point grade point average. And he takes coaching. He always says, yes sir, and, no sir. It's hard to be the quarterback and he does a tremendous job of leading our football team, our school and our community. He's a great ambassador for our whole program.
Hefley:"Like Coach James said, I came from Pulaski Academy, so I have a little bit different perspective on the Salt Bowl. My first Salt Bowl to attend or just to go to be at a Salt Bowl, I was going through the tunnel. You hear it's different with 30-, 35-thousand people. Prepare yourself. I was like, ah, you know, I've been to War Memorial before. I've seen the stadium. But, walking out from the field, it's very different. They were right. It just knocks your breath out.
"When you kind of step back and, as you feel a little more comfortable, you start to realize all the blue that's there. And it's a little more comforting just to see all the people that actually came and care to see you play. Then, you really appreciate it. It's a little scary but I appreciate all the people that come out.
"It's really all we've been working for since last November, since we played our last football game last November. It gives you a goal throughout the whole off season. Starting in January, every single person I run into. Hey, I'm coming to the Salt Bowl and I'm bringing these people. The headcount gets bigger and bigger. All the people that you know are coming to sit in your section.
"We've been working for it. We're excited to play and we're grateful for the opportunity. I'm honored to be invited to the press conference. I've been seeing all the seniors go since I was a sophomore. And I'm excited to play."
Hayes:"Ren hit it pretty head on when he said that it's such a different experience from being a fan to actually being in front of those 30-thousand-plus people and showcasing what your team has been working for and what you can do as a player yourself.
"Really, as a fan, the Salt Bowl is a huge event. It's not even a game, almost. It's a day of itself because, usually, you mark on your calendar, Salt Bowl day. You got to many events. You go out with your friends and have a fun time and watch football. It's a great family thing and it's a great thing for Saline County.
"I love playing in the Salt Bowl. There's no other rush like it, I feel like, because it's so competitive and it's so important to all the fans. It's a huge rivalry. You look on one side and it's a sea of red and you look on the other side and it's an ocean of blue. It's one of my favorite games. I don't think there's anything else like it."
Broadway:"Questions for them?"
Q:"Obviously, Peyton (Hudgens) is out. Are there any other big injuries? Starters out?"
Harris:"We've got normal bumps and bruises of a football team from going through the first three, four weeks of practice. We've got a couple of guys with a nagging shoulder or knee or something like that. That's just kind of typical stuff.
"Hudgens is the only one that we've got that is out-out. Unfortunately for him, he broke the same collarbone that he broke last year. He's had surgery. He actually tore is AC joint when he did it. He had the collarbone fixed and also had his AC joint, the ligament in there repaired also.
"Unfortunately for him, like I said, it ended his junior year. The kid's had a tough break. As a sophomore, he was in the running to be our starting quarterback. He and (Colen) Morrow had a great competition going.
"The think that we're going to miss about Peyton the most is that he's a very versatile guy. He was going to play some quarterback for us, but he was also going to play receiver. So, he'll be missed. It leaves a hole and we've got to have the other guys step up, just like last year.
"Last year, we had — I've never seen it in 20 years, as many injuries as we had. It was just one week after another, somebody ended up stepping up and tried to answer the call for us. Our guys will respond and, hopefully, we'll play well for Peyton. Unfortunately, he won't be able to be here with the injury. He hasn't been back to school since. He's having some difficulty with it. You guys keep him in your thoughts and prayers and everything.
"We will miss him. He's the only one that's definitely out for us right now."
Q:"Same question."
James:"Jakob Neel, our linebacker, he tore his ACL early in the summer and, right now, he's the only guy that looks like won't play. But we expect him back sometime in early October.
"In the long run, it probably makes us a better football team. You know, last year, we lost him to a back injury right before we played Bentonville and we really couldn't get ready to play without him.
"The guy has a chance to be the school's all-time leading tackler and really brings a presence to our defense.
"This gives us a chance to work on it while he's not here and I think it'll be a big boost when we get him back."
Q:"This is the earliest start of the game for the Salt Bowl with zero week in Arkansas, Aug. 25. Any concern with playing this game earlier than usual, especially with the weather the way it's been?"
James:"I'd say, heck yeah. It's been a lot different. Really, we scrimmaged last year the same time we're playing the Salt Bowl. So, just trying to get ready.
"You think you're ready when you come out of summer, doing team camps and 7-on-7's but, when you put the pads on, it's a different dimension. We feel like we're always a day behind, especially with everything that goes on with the start of school and different things this week brings. You feel like you lose a day here and there.
"I've felt more rushed this year than I ever have in my coaching career. You know, sometimes you're ready for the season to start but I would like for it to be backed up a bit now. I didn't realize it would be this much of a sense of urgency at this time, trying to get all the guys lined up and doing what they need to do and doing it the way they need to do it."