By Rob Patrick
Photos by Rick Nation
LITTLE ROCK — There are times when the Bryant Hornets look so good. They're downright[more] impressive.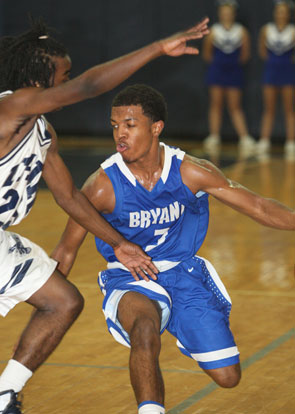 But, as with many inexperienced teams, consistency is the most difficult thing to accomplish. There are stretches in which the Hornets struggle — a few possessions in a row on offense, here; a couple of breakdowns on defense, there.
It's improving though. The struggles were fewer and shorter against the Little Rock J.A. Fair War Eagles Friday night than there were on Tuesday in a loss at Pine Bluff when there were fewer than against Benton to open 7A/6A-South Conference play before that.
Unfortunately, the results have been the same in the end and the Hornets are 0-3 in the league after a 55-50 loss to a Fair team buoyed by the addition of four previously ineligible players this week. Both teams came into the game desperately seeking their first conference win.
Now 10-6 overall, Bryant hosts Sheridan on Tuesday in hopes of gaining that first conference victory against a team that is 1-2 in the league with back-to-back losses to El Dorado and Benton after winning nine in a row.
"We play well and we're where we're supposed to be defensively," observed Hornets coach Mike Abrahamson reflecting on Friday's contest. "We're taking things away and making it difficult on our opponent to score then we just have breakdowns. Where we've been doing it for two quarters or a quarter and a half or three quarters then we have a stretch of four plays in a row where we're not where we're supposed to be. We're late or we're just watching instead of using our feet or anticipating our next spot.
"The effort that we have to give because of our (lack of) size, our inexperience — I don't think (the players) can comprehend it, for 32 minutes, for us to win games in this league," he asserted. "It's a tough conference.
"We're getting there," the coach stated. "I think it's getting better. You know, as coaches, you want things to change overnight. They just don't do that."
A high energy, nip-and-tuck contest from the outset, the Hornets led 26-25 with 2:45 left in the third quarter. But a 9-2 run by the War Eagles created enough separation that the Hornets could never quite overcome. Bryant would trail by as much as 9 in the fourth quarter then rallied within 4 with :43 left and 3 at the :04 mark.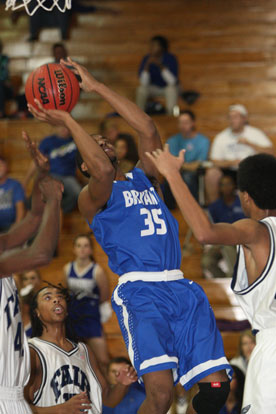 Fair wound up maintaining the lead against the Bryant press by driving and dishing. The recipient of a plethora of those "dishes", was Sean Jackson, who camped out on the block, watched as a guard drew the defender on the back of the Hornets' press and fed him for an easy deuce.
Jackson had scored just 2 points before the fourth quarter when, benefitting from his teammates drawing the defense away, he cashed in with 14 points in the fourth quarter.
One of those guards, Alex Barnard led the War Eagles with 18 points. Allante Plant added 14 including 9 in the final stanza.
"At times, we struggled at the back of our press," Abrahamson acknowledged. "We're doing a much better job in our front but we're struggling in the back with those guys buying time for the front guys to recover back.
"I just feel like, at times, we just didn't anticipate well enough, not necessarily to get steals, just to be in our next spot," he explained. "I don't know if they're not confortable enough or they were tired. We're trying to come back and I'm trying to leave my best players out there. It's a tough thing to balance."
K.J. Hill, despite foul trouble that limited him to just two-and-a-half minutes in the first half, paced Bryant with 18 points, 16 of which came in the second half. C.J. Rainey added 15 including all 13 of the Hornets' points in the second quarter.
"He played really well," Abrahamson said of Rainey. "He's capable of doing that. I just wonder if he was gassed at the end. He had to carry us there in the first half and he did. But he was tired. The kid's giving us what he has. It's something I have to figure out. It's not completely on them. It's on me, as everything is."
Rainey scored the last basket of the first half then opened the second half with a driving jumper that found the bottom of the net, giving Bryant a 21-16 lead, it's largest of the game.
Barnard led a rally, scoring a quick 7 points. A pair of layups tied the game at 22. Rainey then fed Brian Reed for a basket to put the Hornets back on top. Barnard, however, drained a 3 to put his team ahead.
Both teams had opportunities to change the 25-24 edge. When Reed made a steal and Hill drove for a layup despite being fouled, the Hornets had the advantage again.
A Fair turnover gave Bryant a chance to extend the lead and Hill took it to the rack only to be called for a charge, one of eight that were called in the game.
Reed turned around a blocked a shot by Jerrico Cole but the ball went out of bounds with the War Eagles retaining possession. Plant took advantage with an offensive-rebound basket that put them up for good.
It was that basket, too, that started the War Eagles' brief take-charge spree capped off by Barnard's 3 with 6:42 left in the game, moments after Hill had cut into the lead with a pull-up jumper off a drive into the paint.
With the Hornets deployed in a press, Jackson began his roll. A three-point play by Plant helped too.
The Hornets kept answering. Greyson Giles scored off a drive, Hill followed his own miss for a basket, Rainey fed Reed.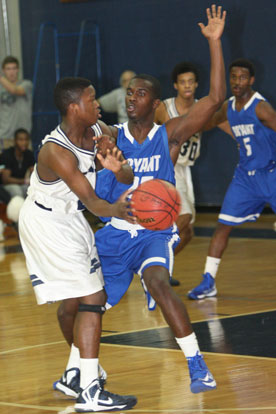 It was 47-38 with 3:08 to play. After a War Eagles timeout, Giles hit a pair of free throws then made a steal and a layup to trim it to 5. Plant hit a short jumper and Hill answered with a pair from the line to trim it to 49-44.
When Cole missed the front end of a one-and-one with :49 left, Hill was fouled and made one of his two shots pulling the Hornets within 49-45.
Jackson made himself a target for fouls by missing at the line. He missed four in a row including the front end of a bonus chance. The Hornets, however, were unable to take advantage.
With :26 to go, Plant knocked down a pair of free throws to make it 51-45. After Giles couldn't get a 3 to go, Jackson was fouled with :16 left and missed twice at the line.
Two free throws by Hill got the Hornets back within 4 and when Plant hit 1 of 2 shots at the line, Bryant's Tyler Simmons gunned in a 3 to make it 53-50.
Abrahamson called a timeout with :03 left and, when play resumed, Jackson was fouled immediately. This time, however, he converted both shots putting the game out of reach.
"They're good. Give them some credit," Abrahamson said of Fair. "They played really well. They shot the ball well, took charges. They executed their stuff. They turned us over, for sure — eighteen times. Foul trouble hurt us early and all throughout the first half and we still had the lead."
Indeed Bryant, after trailing 8-6 at the end of the first quarter, turned a 14-8 deficit into a 17-16 lead behind Rainey, whose 3 gave the Hornets their first lead of the game with 1:38 left in the half.
Skylar McKissock took a charge to give the Hornets a chance to extend the advantage. Rainey came through again with a jump hook in the lane, making it 19-16 going into the second half.
The Hornets welcomed teammate Caleb Strain who attended his first game since being severely injured in an auto accicent early on the morning of Nov. 21. Strain has spent most of the time since that night in the hospital.
LITTLE ROCK J.A. FAIR 55, BRYANT 50
Score by quarters
BRYANT 6 13 7 24 — 50
LR Fair 8 8 13 23 — 55
HORNETS (10-6, 0-3) 50
Player fg-fga ft-fta reb fls pts
o-d-t
Rainey 7-10 0-1 2-1 3 3 15
Hill 4-7 10-13 1-2 3 4 18
Simmons 1-5 0-0 0-2 2 1 3
Giles 2-4 3-6 2-3 5 3 7
Reed 3-5 1-1 0-5 5 4 7
Cambron 0-0 0-1 0-1 1 4 0
McKissock0-2 0-0 0-0 0 0 0
Rayburn 0-0 0-0 0-0 0 0 0
Davis 0-1 0-0 2-0 2 1 0
Team 1-1 2
Totals 17-34 14-22 8-15 23 20 50
WAR EAGLES (5-9, 1-2) 55

Player fg-fga ft-fta reb fls pts
o-d-t
Barnard 7-9 1-1 0-0 0 3 18
Houston 0-1 0-0 0-0 0 1 0
Cole 1-6 0-2 0-0 0 2 2
Plant 4-7 6-7 2-3 5 3 14
Wesley 0-0 0-0 0-0 0 0 0
Robinson 1-1 1-2 0-3 3 4 3
Miller 0-1 0-0 1-2 3 4 0
Summons 1-2 0-0 0-1 1 1 2
Sims 0-0 0-0 0-0 0 2 0
Jackson 7-7 2-6 0-3 3 2 16
Pointer 0-0 0-0 0-0 0 0 0
Team 2-1 3
Totals 21-34 10-18 5-13 18 22 55
Three-point field goals: Bryant 2-11 (Simmons 1-5, Rainey 1-1, McKissock 0-2, Davis 0-1, Giles 0-1, Hill 0-1), Little Rock Fair 3-5 (Barnard 3-3, Houston 0-1, Cole 0-1). Turnovers: Bryant 20, Little Rock Fair 17.