By Rob Patrick
Photos by Kevin Nagle
So, it's down to this for the Bryant Hornets:
They need to beat the Little Rock Central Tigers tonight and hope[more] the West Memphis Blue Devils don't pull an upset at Little Rock Parkview.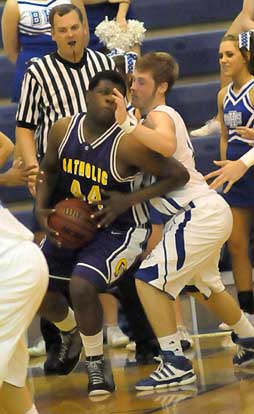 That's the scenario that could put the Hornets in the Class 7A State Tournament in Rogers next week. A Bryant loss and/or a West Memphis win would result in the Blue Devils becoming the sixth seed from the Central conference.
The Hornets had a chance to all but secure a spot and keep their hopes alive for moving up to a fifth seed but, on Thursday night, playing their third game in four days, they suffered a 72-68 loss at home to the Little Rock Catholic Rockets.
The win sewed up no worse than the 5 seed for the Rockets who finish the regular season against Conway tonight.
Considering all the high-powered offensive teams the Hornets have played this season, they came into the game having given up no more in any single contest than they had to Lake Hamilton back on Dec. 13, 2010. Not to take anything away from the Wolves but they're not Conway or Van Buren or North Little Rock or 7A-West leading Fort Smith Southside, all teams that the Hornets have played and kept under the 69 points that Lake Hamilton scored.
It was just a night where, defensively, the Hornets didn't have it.
Now, Catholic has eclipsed that total, beating Bryant on a night when the Hornets set a season-high offensive output.
"Tonight reminded me of the Lake Hamilton game," acknowledged Hornets coach Mike Abrahamson. "We had a nice bounce to our step offensively but, defensively, it didn't matter if we were zone, man-to-man, fronting the post, playing behind the post, half-court trap. It didn't matter what we did, nothing worked. (Catholic) got what they wanted. Our guys were very slow, didn't anticipate, were late to their assignments.
"I don't know why it was that way tonight," he continued. "We certainly could make a lot of excuses but we're not going to do that. We expect to play better than that. We pride ourselves on defense and tonight our defensive effort was nothing to be proud of."
The Rockets scorched the net at a 62 percent clip from the floor (24 of 39), only turned the ball over eight times and out-rebounded Bryant 25-25. With a lead, the Rockets started eating clock in a spread offense in the opening moments of the fourth quarter, forcing Bryant to foul. As a result, Catholic shot 21 free throws in just the fourth quarter, 33 in the game. The Rockets made just enough to preserve a win but missed enough to give the Hornets hope. Hope, however, that was ultimately dashed. Bryant rallied to within 67-62 with :45 left. But they could get no closer until a buzzer-beating 3 by Jordan Griffin set the final score.
Griffin, by the way, scored a game-high 26 points despite being held scoreless in the first quarter. Brantley Cozart, despite sitting much of the first half with foul trouble, added 20. Marcus Wilson had 11. That trio accounted for 12 of Bryant's 13 3-pointers in the game (Houston Garner had the other). But the Hornets shot just 11 free throws, though they made nine.
The Rockets were paced by guard Alex Cope with 25. He was 10 of 13 from the floor including 4 of 5 from 3-point range. Beefy post player Matt Morris added 17 points and 11 rebounds.
"Catholic is very well coached and they're very good at doing what they do," Abrahamson stated. "(Morris) is a load and (Cope) had a great game. I really like his game. I think he's a really good player and he played really well tonight.
"They were ready for us," he added. "We weren't ready for them, at least on the defensive end of the floor."
The Hornets got in a hole early. Quinton Motto scored the game's first basket off a nice feed from Cozart but then the Rockets reeled off a 13-0 run during which Cozart picked up his first two fouls. The first came when he tried to draw a charge on Cope's drive to the rack. The second was a frustration foul after he and the Rockets' Stuart Johnson were engaged in a little hand-to-hand. To start the game, Johnson was assigned to try to deny the Hornets' guard the ball, face-guarding him tightly all over the floor.
A 3-pointer by Wilson ended Bryant's offensive silence. Still, they trailed 17-5 before Eric Moore banked a jump hook in to beat the buzzer for Bryant.
Griffin got going in the second quarter but only after the lead reached 21-7. He hit a 3 and, after Morris scored inside, he came through with a three-point play that trimmed the lead to 10.
Catholic's Evan James missed a pair of free throws so when Cozart fed Griffin for another triple, the Hornets had knocked the advantage under double digits.
It was 29-20 with 1:31 left. Griffin converted a pair of free throws and, after a Rockets turnover, Wilson drained another trey. Cope misfired and, with :25.5 left, Wilson was fouled grabbing the rebound. Shooting a one-and-one, he converted twice and the Catholic lead was down to 29-27.
The Rockets missed and Wilson almost saved the rebound as it was going out of bounds under the basket but he was ruled out and the Rockets got another chance at the last shot. Using what appeared to be a moving screen, Cope got an open look from the corner and hit a 3 to turn 29-27 into 32-27 at the half.
Abrahamson protested vehemently to no avail.
"I'm not the one that gets to make the call," he said after the game. "I thought it was (an illegal screen). The officials thought it wasn't. So that's the way it goes. It was a big play. We dug ourselves a hole. We fought back and I'm very proud of our team for doing that. But that (call) doesn't have anything to do with the offensive rebounds we gave up or all the layups we gave up. The game didn't come down to that one play, that's for sure."
The second half didn't start much better as Motto was called for a charge and Cope drove for a basket. Houston Garner answered inside but a three-point play by Morris increased the lead to 8.
It got to 9, 41-32 before Cozart hit a 3 and was fouled with 2:55 left in the quarter. He converted the four-point play but the Rockets went on to build the lead back to 10. Cozart dropped in a 3 with :21 left in the period but, again, Cope beat the buzzer with a triple to make it 50-40 going into the fourth quarter.
And when Cope scored to start the fourth quarter, the advantage was 12 points. It eventually was 14 at 62-48 with 3:39 left. By then, the Rockets had been working the clock since about the seven-minute mark. Bryant had begun to press.
A 3 by Wilson helped Bryant gear up for a final push. Morris hit a free throw and, in turn, Griffin struck with a three-point play that got the lead into single digits with 2:52 left.
James missed a front end and Cozart flushed a 3 to trim the advantage to 63-57 with 2:18 to go. Over the next minute, Catholic converted 3 of 6 free throws three trips to the line. Bryant, however, had two empty possessions, failing to take advantage of the Rockets' spotty shooting from the line until Cozart hit a driving jumper with 1:10 to go that trimmed it back to 66-59.
Brad Kiernan hit a free throw with :56.3 showing. Wilson, in turn, missed a trey but Zach Cambron rebounded and got the ball out to Cozart for another 3 that had the Hornets within 5, 67-62.
After a Bryant timeout, James added a free throw. His missed second shot kept it a two-possession game but Cozart couldn't get either of his two shot attempts to fall on Bryant's subsequent possession. Kiernan rebounded and was fouled. With :19 to go, he converted twice to bump the margin to 8. Cozart hit a 3 but Johnson knocked down two free throws to seal the Hornets' fate.
LITTLE ROCK CATHOLIC 72, BRYANT 68
Score by quarters
Catholic 17 15 18 22 — 72
BRYANT 7 20 13 28 — 68
ROCKETS (11-9, 6-7) 72
Player fg-fga ft-fta reb fls pts
o-d-t
Kiernan 1-1 6-8 1-6 7 3 8
Cope 10-13 1-2 0-1 1 2 25
Johnson 2-5 3-5 1-0 1 1 7
E.James 3-8 3-9 2-0 2 4 9
Morris 5-6 7-9 3-8 11 1 17
King 1-2 0-0 0-0 0 0 2
Case 1-3 0-0 0-0 0 0 2
D.James 1-1 0-0 0-1 1 3 2
Team 0-2 2
Totals 24-39 20-33 7-18 25 14 72
HORNETS (7-19, 3-10) 68
Player fg-fga ft-fta reb fls pts
o-d-t
Griffin 8-12 6-8 2-0 2 4 26
Cozart 7-16 1-1 1-3 4 3 20
Wilson 3-5 2-2 0-2 2 3 11
Garner 2-8 0-0 1-2 3 4 5
Motto 1-1 0-0 0-1 1 3 2
Cambron 1-2 0-0 1-6 7 3 2
Nossaman 0-0 0-0 2-1 3 3 0
Moore 1-1 0-0 0-1 1 3 2
Trudell 0-1 0-0 0-0 0 0 0
Team 1-0 1
Totals 23-46 9-11 8-16 24 26 68
Three-point field goals: Bryant 13-26 (Cozart 5-9, Griffin 4-6, Wilson 3-5, Garner 1-6), Catholic 4-7 (Cope 4-5, Johnson 0-2). Turnovers: Bryant 12, Catholic 8.