YUKON, Okla. — Bryant's Melinda Murdock and Alexis Royal have qualified for the Junior Olympics with[more] their performances at the National Qualifying meet held last weekend.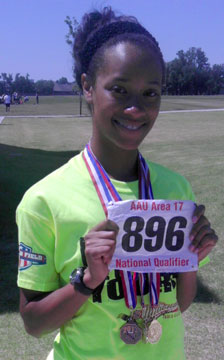 The duo will compete against the best track and field talent from around the country at the Junior Olympics, held at Eastern Michigan University, Aug. 1-3.
Murdock, who will be a senior this fall at Bryant High School, qualified in all of her events, winning the 800 meter run with a time of 2:18.32 and the 400 meter hurdles in 1:06.63. She also qualified in the 100 hurdles with a time of 15.87.
Royal, who graduate from Bryant High this spring and will be competing at Northwestern State University this fall, also qualified in all of her events. She was first in the triple jump, covering 35'9", and second in the 100 meter hurdles with a time of 15.35.