The annual Salt Bowl press conference was held on Tuesday for the first time at the Benton Civic Center in conjunction with a luncheon as well as a short three-on-three flag football game on a 30-yard field.
The luncheon was sponsored by the Benton Chamber of Commerce and was catered by Gina's Catering.
Shane Broadway served as the emcee with Bryant represented by head coach Buck James and seniors Jake Meaders and Darrick Rose Jr. Benton's contingent included head coach Brad Harris and seniors Gavin Wells and Peyton Hudgins.
Wells played on the Bryant freshman team with Meaders and Rose before moving to Benton.
Incidentally, Bryant alums Josh and Tadd Farmer along with Tanner Francis won the flag football game over Benton alums Brad Collatt, Jake Goheen and Trey Jordan.
The Salt Bowl will kickoff at 7:30 p.m., this Friday night at War Memorial Stadium in Little Rock.
Shane Broadway: "Since Benton is the home team, we're going to kick it off with Coach Buck James of the defending 7A State champions and currently ranked number one in the state of Arkansas. Please welcome, Coach Buck James.
James: "It's an honor to be here that's for sure. I think Saline County really has something going on. I think it's a diamond of the state of Arkansas. I understand the close proximity and what it takes to have this go on and to be able to do the things that we're able to do here. But, without this, our athletic programs would not be near what they are.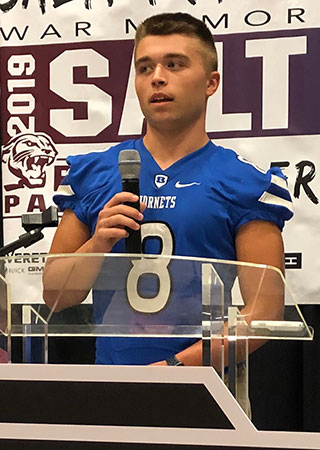 "I tell our people all the time, people move for math, science and social studies. I know that. And to have the caliber of football that we have and the caliber of athletics that we have in Saline County is unbelievable. From peewee baseball and football all the way to high school sports, it's really amazing what we're able to get accomplished here. It goes through a lot of the leaders we have in this community but also the parents and the school district and their leadership, to be able to do the things that we get to do here. I know that's probably the biggest reason that we live in Saline County, for our schools.
"With that being said, I know there's going to be a football game on Friday night and it's a great honor to be able to coach in this game because — I mentioned this many times going into last year and the last couple of years, that this is a very, very equal representation of what it takes to play in a State championship game. Then, lo and behold, both teams get a chance to play in it. And we both played on Saturday.
"I haven't discussed this much with Brad, but this is really an opportunity to get ready for that week. What it took for us to get there and the preparation that week wasn't nearly what it is to get ready for this week.
"We started this one week and a day after we won the State championship, getting ready for this game. So, there's a lot of time and a lot of preparation that goes into this ballgame and trying to develop your kids into a mental and physical disciplined athlete to be able to compete at a very high level.
"I don't know if people understand what it takes to be able to play the first ballgame and play at the level and intensity and the duration it takes to be able to play in a game like the Salt Bowl. It's quite a feat. And there's a lot of guys who've tried but they couldn't finish the race but, for those guys that do, it's an unbelievable experience. I can't imagine being a high school football player — and my last high school football game was winning a State championship — but I can't imagine what it's like for these guys to be able to play in a State championship caliber game the first game of the season.
"We went to North Carolina this year to play in 7-on-7 games and the first question and the most asked question was what about that Salt Bowl? How does that Salt Bowl work? It's an unbelievable thing.
"I think, if you talk to people around the state, it's something that a lot of people really don't understand, at how it's grown and how it keeps getting bigger, and how it gets so much attention. A lot of its Shane Broadway but it's also the leaders of our communities, the leaders of our schools. To be able to play a game of this caliber, it really goes nationwide. It's not just something that happens in Saline County.
"So, my hat's off to both teams and to both schools for what they're able to accomplish and what they're able to do for these kids. I mean it's more than just a game.
"For these guys, they live, eat and sleep football while it's football season. A lot of them play basketball. A lot of them play baseball. A lot of them have girlfriends. A lot of them have trucks. There's a lot of things that are important to them but, to be able to get them to do this and then to remember this the rest of their life, I think it's what high school athletics is supposed to be about.
"A little bit about our team — and I'm not going to get into too much of it because I think who we're playing is here with us. We have five returning starters on both sides of the ball. It's not a team that has a lot of wealth returning on the offensive and defensive lines. We have one offensive lineman returning. We have one defensive lineman returning. Tanner Wilson and Austin Bailey.
"That's been our big cog. That's what we've been working on, trying to get those guys ready to play a game. Our skill guys on offense are pretty much back, which is a good thing for us. And our defensive backfield and linebackers are pretty much intact with the loss of a couple of guys.
"So, our football team has some experience. Our special teams are really the same special teams that we played last year.
"The thing that we've had to do is make sure that complacency hasn't become part of our mindset. Then get those guys to play at a very, very high level.
"I brought two young men with us today. If you could put their body into a 6-foot-5, 300-pound guy, we'd have to let them out of jail everyday just to get them to show up to play. These guys are unbelievable.
"Jake Meaders, starting for us, was a quarterback as a sophomore. He's played receiver. He could play offensive guard if we need him to. He's a heck of a receiver and a 34-ACT guy. He really does a lot of good things for our football team. A very, very unselfish young man who has a heck of a future.
"Darrick Rose is one of our starting cornerbacks and he has his hands full this weekend, for sure. But our football team is represented by a lot of young men just like these two guys. We have some high caliber young men and some guys that really want to be good and perfect their craft and play at a high level and represent our school and our community at a very high fashion.
"Bryant football's come a long way, there's no doubt about it. But it didn't happen without great kids. And it didn't happen without people who understood what it took to get there.
"I just ride on the ship. I don't get to drive it very much, but I ride on it and I'm a big sail. I enjoy what I get to see and what I get to be a part of each and every day."
"I'm going to go ahead and turn it over to Jake Meaders."
Meaders: "I've grown up in Bryant my whole life so to even get to be a part of this and just playing in this game is a big deal to me because I remember when I was probably 5 of 6 years old, just being in the stands and thinking like those guys are grown men out there.
"Obviously, all the hours we put in every summer and everything, it definitely makes us look forward to this game week one and, obviously, against a great opponent like Benton, it makes things even better. Because a lot of these guys too — I've known Gavin and Peyton for a while now — so it's a lot of my friends that I get to play against too.
"Our coaches do a great job of getting us prepared because we are still 16-, 17-year-old kids. So, showing up to practice and doing what they say may not always be what we want to do but they do a good job of getting us motivated and getting us ready to play.
"So, I'm just ready for the game and ready to finally get out there on the field."
Rose: "I just want to start off by saying thank God for allowing me to be here today. Coming here since I was young, just like Jake — I've been here since kindergarten — growing up, playing with Jake and Gavin on little league. And coming up here my sophomore year and sitting the bench but enjoying the atmosphere and learning and experiencing the feel of the Salt Bowl atmosphere.
"And, now that I'm a senior, it's my last ride, I can't wait to get out there. And being the number one team is kind of pressure but, learning from being in North Carolina, I know we have to step up. Because out there, we were the number one seed and we came out thinking everyone was going to bow down to us. But everybody had a target on us, and we learned the hard way. We wound up losing and going home early.
"We don't want that to happen during the regular season. So, we're going to step up this year.
"As coach said, I do have a big job this weekend, guarding a couple of Benton receivers. But going against the best receiving corps in 7A in practice every day, I feel like I'm ready for it."
Broadway: "Now for the home team. We are honored to have Coach Brad Harris here, head coach of the defending 6A State runners-up, currently ranked number two and I've got a feeling soon to be ranked number one in 6A. Coach Brad Harris."
Harris: "Thank you, Shane, and thank everybody for coming out. What a great atmosphere. We typically do the Salt Bowl press conference on a Monday afternoon at War Memorial and there's just handful of people. My first year, in 2014, Coach (Scott) Neathery asked me to go when I was an assistant. I was expecting something like this, and it was a small press conference. So, I think this is a great addition for those that made the decision to do this.
"It also keeps Coach James and I from having to go out one more night together. I think we saw each other last year four or five times through the week and we were tired of looking at each other by the time Saturday night got there.
"But what a great atmosphere this game is and what a great viewing of people we have and the amount of support from two great communities. Like Coach James said I think Saline County has got it going on. When it comes to supporting their schools, supporting their athletics in general.
"Benton is the third school I've been at in my 23-year coaching career and, by far, hands down, one of the best schools I've ever coached at and have had the pleasure to be a part of. I'm sure Bryant is doing the exact same thing that we are with the support that they have.
"We're extremely excited to play in it again this year. This will be my sixth Salt Bowl and I think every year, it's grown. I think, in 2014, we had right around 20,000 people if I remember right. Then it went over 20,000 and then last year, what did we have Shane? 36 or 38,000? Something like that. Like Coach James said, it just continues to grow.
"And the legend of the Salt Bowl, anywhere you go, people ask you about the Salt Bowl. I told our guys yesterday, in our meeting, the one question that I get hit every time I go to Walmart, 'Coach, are we going to win the Salt Bowl this year?'
"If anybody knows anything about football and knows that I'm the head football coach, that's what I get hit with. It's not about how's your team going to be. They ask about the Salt Bowl. Okay? And there's so many people that will come to this one game and may not come to another game. They're going to wait for that Salt Bowl every year.
"It's a great, great game, a great outing, event — however you want to tag it. I'm just proud to be part of it as the head football coach and representing the Benton Panthers.
"A little bit about our team this year. We did finish up 6A State runners-up last year. We lost three games last year. We got beat by two State champions. Bryant got us in the first game and then Greenwood, the 6A State champion, beat us in the regular season and then the finals.
"We felt like we had a great year. We wish we could've ended it a little better last year and won that and brought two championship back to Saline County. It just wasn't in the works that day.
"This year, we've got a group of guys that have worked extremely hard to get back to where we were last year, where we finished.
"I'm as proud of this group of guys for the off-season that they've had, with where we started to where we are right now, as any team that I've ever had.
"As you can see, I brought two big guys with me. We're not a real big team this year. Last year, we were quite a bit bigger, more physical, more imposing-looking. This year, we're not quite as big but the work ethic in these guys that we have established over the last few years has really propelled them into a team that's going to be very competitive again this year.
"We have five returning starters on offense and three on defense. So, we're not quite as blessed as Bryant is with having the experience back, on the defensive side of the ball especially. But I'm very confident in the guys that we've got coming back on both sides of the football, that we're going to be able to compete Friday night but, also, for the 6A State championship again this year.
"One thing that I told Coach Neathery and our administration at Benton is, the game plan for Coach Harris is to have the Benton Panthers to build a program, to be playing during Thanksgiving week each year. And I feel like, if you can play in the semifinals of your classification, you've got a program. You're not a one-hit wonder. And, over the last five years that I've been at Benton, we've made the semifinals four of the last five years. We've won a playoff game every year.
"So that's kind of what we look at doing in establishing the tradition at Benton High School. This year, I don't see anything's going to change for the Benton Panthers. I really think we have a great chance to make a run, regardless of what happens Friday night.
"This is the biggest game of the year for us but, in the end, it means absolutely nothing in the major goal for us of winning a State championship. Do we want to win a Salt Bowl? Yes. Benton hasn't won one in 13 years. The last time was in 2005. They tagged it the Salt Bowl in 2000 and we've won one. So, the Salt Bowl has not been good to Benton.
"Years past, in the late '80's and '90's, Benton dominated the rivalry. And we feel like this year that we're right there on the cusp of it and, hopefully, we can continue being right there and, hopefully, we can take that away from them this year.
"I'm going to let two of my guys talk real quick. I brought with me Peyton Hudgins. He's a senior quarterback-slash-receiver. And, also, Gavin Wells, who's a receiver.
"I'm going to let Peyton talk first. To give you a little back story on Peyton, this is his first Salt Bowl, as a senior. We're fortunate this year — and we've got two more days to make it; we're going to keep our fingers crossed that he makes it to the Salt Bowl. He broke his collarbone his sophomore year in our scrimmage game and then, last year, broke it in our Maroon-Gray scrimmage game. So, he's pretty excited about getting to play in his first Salt Bowl."
Hudgins: "I just want to start by saying I'm honored to be here. Like Coach Harris said, this is my first Salt Bowl.
"It's kind of tough to have to go through those last two years and not be able to play in it because it's something I've dreamed of doing ever since I was little. But now it's finally here if I can make it through these last two days.
"I feel like this year our team is more prepared than we've ever been. We're very prepared just because of our coaches. All of our players are locked in.
"It's going to be a show Friday. That's all I can say."
Wells: "What's up, y'all? I'm Gavin. Hello, everyone.
"This is my third Salt Bowl to get to play in. I'm ready to go. I hope I get to go against Darrick the whole game. Most likely, it probably won't happen but that's what I'm hoping for.
"That's it. That's all I got. I'm not a big talker."