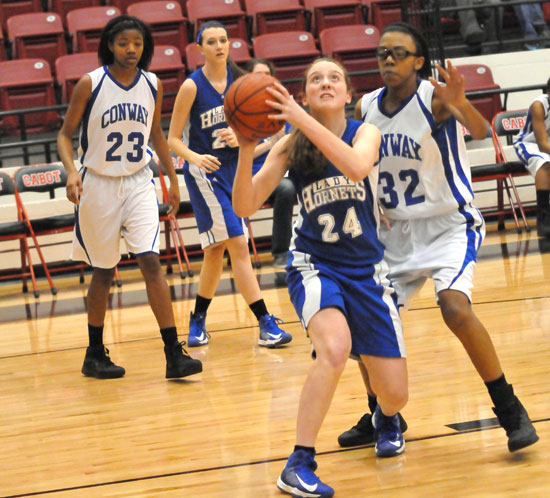 By Rob Patrick
Photos by Kevin Nagle
CABOT — The Bryant Lady Hornets freshman team came a long way this season. And, above[more] all else, particularly at the junior high level, being a better team at the end than at the beginning is no small thing. After all, junior high basketball is primarily about preparing players for the high school program.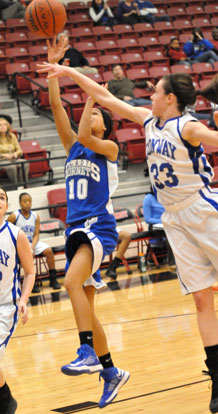 And this group of Lady Hornets, despite a season-ending 42-32 loss to the Conway White Lady Cats in the first round of the Central Arkansas Junior High Conference tournament on Wednesday, improved tremendously from start to finish.
"I'm extremely proud of the progress they've made from day one," stated Lady Hornets coach Nathan Castaldi. "I told them after the game, at Christmas, I think we were 3-9. To come back and play the second half the way we did shows the character that they have."
The Lady Hornets went 8-5 after that to finish 11-14.
"It would've been real easy at 3-9 not to come to work hard in practice and just kind of throw the season away," Castaldi continued. "But they didn't do that. They worked hard every day and got better. And that's them; that's all about them and their attitudes."
Drawing Conway White in the first round of the tourney was tough. It was the fourth meeting between the two teams, all of which the Lady Cats wound up winning.
But it wasn't easy for Conway White. The Lady Hornets, in fact, led much of the first half including 17-16 going into the final seconds. But a 3-pointer by Samantha Foster with :06 showing put the Lady Cats up by 2 at the break.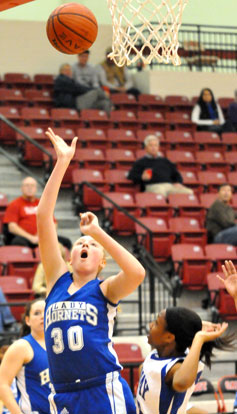 The start the second half, point guard Skyler Davis zipped a pass to forward Britney Sahlmann who hit an 8-footer to tie the game at 19. After Conway's India Lattimore knocked down a jumper from the elbow, however, the Lady Cats jumped into a more aggressive and physical press. A flurry of turnovers (and pleas from Castaldi for a few foul calls) resulted, producing a 10-0 run. The Lady Hornets suffered 15 of their 25 turnovers in the second half.
"Offensively, I think (the first half) was the best half of basketball we've played all year," Castaldi asserted. "We handled the ball well, handled the pressure well, always had the ball in the right spots for the right opportunities.
"(Conway White) stepped it up and got a lot of loose balls in the second half," he acknowledged. "They were just a step quicker."
The lead grew to 38-23 early in the fourth quarter before Davis ripped the nets for back-to-back 3's. The lead was down to 9 but Lattimore answered and the Lady Hornets were unable to get that close again.
Lattimore led all scorers with 11 points to go with nine rebounds. Hailey Estes finished with 10 points and Savannah Lowe 9 for Conway White.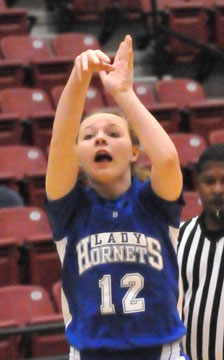 Rachel Miller paced Bryant with 7 points, 5 of which came in the first half. Davis, Anna Lowery and Sahlmann finished with 6 each, Anna Turpin 5 and Annie Patton 2.
The Lady Hornets played team ball, combining for 11 assists, unofficially.
Conway White led 7-4 midway through the first quarter but Sahlmann fed Lowery for a jumper in the lane to cut into the lead and, with :06.2 left in the quarter, Miller turned in a three-point play to give the Lady Hornets a 9-7 edge going in the second stanza.
After Conway White tied it, Davis fed Lowery for a layup and, moments later, Kailey Nagle whipped a pass to Lowery, who connected on an eight-foot jumper that had Bryant up 13-9.
Baskets by Lowe and Foster had Conway White back on top before Sahlmann answered off another assist from Davis. Journi Ingraham drained a 10-footer but Miller scored again inside, giving Bryant the 17-16 edge that was erased by Foster's trey.
But the third-quarter surge ensued and the Lady Cats led 34-23 going into the fourth quarter. Bryant went over four minutes without scoring and, at the 2:52 mark, had suffered seven turnovers in the same amount of time in which they'd attempted two shots — just one since Sahlmann's quarter-opening bucket.
With 1:32 left, Patton hit a short jumper off an assist from Sahlmann to break the drought. Foster hit a 3, however then Miller and Estes traded free throws.
A basket by Lattimore and free throws by Lowe produced the 38-23 lead that Davis whittled into from beyond the 3-point arc, forcing a Conway White timeout.
And the Lady Cats responded, closing out the win.
Conway White advances in the tournament to take on regular-season champion Cabot North on Thursday night at the Cabot High School gym.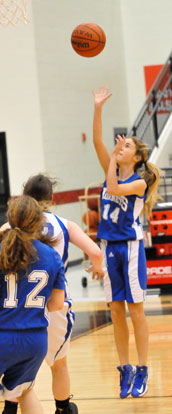 CONWAY WHITE 42, BRYANT 32


Score by quarters
BRYANT 9 8 6 9 — 32
Conway White 7 12 15 8 — 42
LADY HORNETS 32
Davis 2-8 0-0 6, Lowery 3-4 0-0 6, Nagle 0-1 0-0 0, Sahlmann 3-8 0-0 6, Turpin 2-2 1-2 5, Patton 1-1 0-0 2, Miller 2-3 3-6 7, Reeves 0-1 0-0 0, Keith 0-2 0-0 0, Hill 0-0 0-0 0, Bullington 0-0 0-0 0, McKnight 0-0 0-0 0, Gentry 0-0 0-0 0. Totals 13-30 4-8 32.
LADY CATS 42
Estes 3-9 4-5 10, Lowe 2-6 5-8 9, Lattimore 4-7 3-4 11, Foster 3-13 0-0 8, Brown 0-2 0-0 0, Ingraham 1-3 0-0 2, Mithcell 1-2 0-0 2, Smith 0-1 0-0 0. Totals 14-44 12-17 42.
Three-point field goals: Bryant 2-6 (Davis 2-6), Conway White 2-9 (Foster 2-4, Brown 0-2, Estes 0-1, Lowe 0-1, Mitchell 0-1). Rebounds: Bryant 22 (Sahlmann, Miller 4), Conway White 29 (Lattimore 9). Turnovers: Bryant 25, Conway White 16. Team fouls: Bryant 10, Conway White 8.