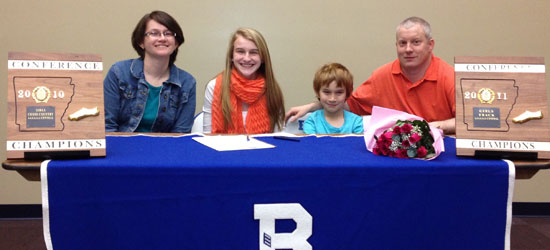 By Rob Patrick
When she was in middle school, Hannah Raney resisted an invitation to try out for[more] cross country.
"I'd always done outdoor sports and stuff but seventh-grade year, the cross country coach came up to me and said, 'I'd really like you to try out for cross country'," she recalled. "And I was like, 'No. I'm not signing up for cross country.' So I didn't do it in seventh grade but my eighth grade year, she said, 'Just try out and, if you hate it, you can quit.' So, eighth grade year, I tried out, made the team, fell in love with running and ever since then . . ."
She didn't need to complete the sentence because ever since then, she's been a standout. In a program that has been renowned for distance running for years under head coach Danny Westbrook, Raney developed into, according to her coach, "the best of the best."
And on Wednesday, Feb. 13, before her final outdoor track season commences in earnest, Raney signed an NCAA Division II letter of intent to continue her running career and her education at Southern Arkansas University.
She chose Magnolia school over the University of Central Arkansas in Conway and Arkansas State University in Jonesboro.
"UCA, I tried to convince myself, was close to home so I'd have to go there," she mentioned. "But then when it came down to what fit my personality and what screamed, 'Hannah', it was SAU because it's small town, country."
At the reception for Raney on Wednesday, Westbrook announced that he was going to go through some of her accomplishments and one of her teammates let out a "wow", knowing it might take a while. After the laughter died down, Westbrook acknowledged, "There's several."
Raney became the lead runner for the Lady Hornets as a freshman and has been out front since. She's set the school record for 5K cross country with a 19:17 and the holds the school's standard in the 3200 meters in track, a time of 11:42.
"If you know anything about the history of our program, that's huge," Westbrook stated. "We've had some great ones through here."
A four-year letterman in both cross country and track, she's led three 7A-Central Conference championship teams (2009, 2010 and 2011) and was named all-conference all four years on the cross country team, all-state thrice.
In 2012, she qualified for the Meet of Champs in the 3200 meters and as a member of the 4×800 relay team for BHS.
And, all four years, she represented the state in the annual Arkansas Cross Country meet against the best from Oklahoma. Last fall, she was paced the Arkansas contingent.
"Hannah Raney is one of the greatest competitors and hardest workers I have coached," declared Westbrook. "She has committed herself over the years to the hard training of distance running and is seeing that hard work pay off through being awarded this scholarship at SAU. Her leadership and exemplary work ethic will be greatly missed, but we wish her well in her future college career."
Asked what SAU coach Tim Servis expected of her, Raney related, "All four years I've been here I've kind of been the lead runner. At SAU, they said, 'Well, you're going to be a mid-pack' and that's what I wanted because I didn't want to be first but I didn't want to be last either. He said he sees a bunch of potential in me. I just have to work hard and I'll be just fine."
Her discipline and work ethic extends beyond her running as well. A member of the National Honor Society and Youth Alive, she has a 3.9 grade point average.
"I like the fact that, when you compete, you compete as an individual but you also compete as a team," she said about running. "And I like that fact that, for me, especially with all the AP classes and concurrent credit, it helps me stay relaxed and helps me not get too stressed."
She plans to go into nursing like her grandfather.