Editor's note: This is a regular feature profiling senior athletes at Bryant High School.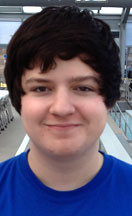 NAME: Nick Hoffpauir
PARENTS: Mark and Melanie Hoffpauir
SIBLINGS: Bethany Siems, 30
FAVORITE SUBJECT IN SCHOOL: Psychology
FAVORITE SPARE TIME ACTIVITY: Drumming for my church.
FAVORITE FOOD: Pizza
FAVORITE MUSIC ARTIST OR GROUP: All That Remains
FAVORITE MOVIE: Zero Dark Thirty[more]
FAVORITE TV SHOW: George Lopez
WHAT WAS YOUR FAVORITE TOY WHEN YOU WERE A KID? Any Star Wars toys
WHAT ARE YOUR PLANS AFTER HIGH SCHOOL? College to study Psychology or Accounting
OTHER THAN YOUR PARENTS, WHO'S HAD THE BIGGEST INFLUENCE ON YOUR LIFE? HOW? Probably Coach (Angel) Dale (not trying to suck up); she's taught me to work hard and push through during the tough times while also reminding out team that we are all equally important to the team no matter how we perform in our races.
WHAT'S YOUR FAVORITE THING ABOUT SWIMMING? Working hard during a race and dropping time in the race.
WHAT IS/ARE YOUR EVENT(S): 100 butterfly, 500 freestyle
WHAT'S YOUR APPROACH TO YOUR EVENTS? I do a lot of prep before. I like to stretch before hand and imagine myself actually swimming the race so that I can mentally prepare myself.
WHAT DO YOU THINK OF THE SEASON SO FAR? It has been one of the best seasons ever, probably because it's my senior year and I want to give it my all this year.
WHAT'S BEEN THE HIGHLIGHT TO THE SEASON SO FAR (team)? Seeing every swimmer improve in their events as time has progressed.
WHAT'S BEEN THE HIGHLIGHT TO THE SEASON SO FAR (personal)? Making a qualifying time for State finals in my 400 freestyle relay.
WHAT'S IT GOING TO TAKE FOR THE TEAM TO BE SUCCESSFUL THE REST OF THE SEASON? Work hard, giving every race our all, and being on time to every event.
TALK ABOUT YOUR SWIMMING NOW; WHAT ARE YOU MOST CONFIDENT IN YOUR ABILITY TO DO? Give each race my all when I don't feel well.
WHAT DO YOU WORK HARDEST TO IMPROVE ON IN PRACTICE? My technique, because with better technique comes better times for events.
WHEN YOU'RE THROUGH SWIMMING FOR BRYANT HIGH SCHOOL, WHAT DO YOU THINK YOU'LL LOOK BACK AND REMEMBER MOST FONDLY ABOUT THE EXPERIENCE? I could write and entire book on this subject. The joy of getting in the chilly water to swim every day, the way I connected with the coaches and coaching staff, and also, I'll remember all the life skills that swimming has taught me, along with the way it has helped shape me into the growing young man that I am today.