Photos courtesy of Valerie Nagle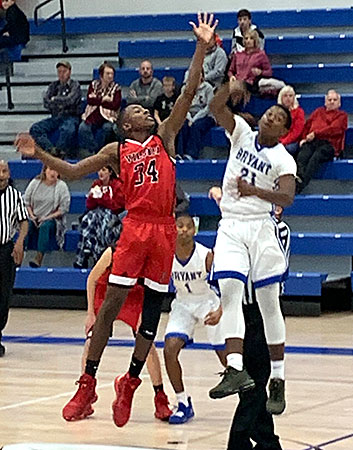 James Billingsley scored 16 points and Ivory Gilmore had 12 to lead the Bryant Hornets freshman team to a 48-38 victory over the Vilonia Eagles on Thursday night at Bryant Junior High.
The game wrapped up the annual Bryant Classic with the Hornets going 2-0. They'll host Lake Hamilton on Monday.
Vilonia led most of the first half. It was 11-8 at the end of the first quarter then 20-10 at the half.
"The. First half was a big struggle as we came out with a lack of energy and aggression," said Hornets coach Tyler Posey. "This led to a lot of turnovers and low-quality shots.
"After halftime, we were a completely different team and the intensity level was cranked up a notch," he noted. "This led to much easier baskets for us and we were able to create a lot of turnovers."
By the end of the third quarter, the Hornets had tied the game 31-31.
"We got hot from deep in the third quarter hitting five 3's in the period," Posey said. "We were able to close out the fourth with great free-throw shooting from James Billingsley."
Chris Gannaway added 8 points for the Hornets. Jordan Knox had 7.