By Rob Patrick
Photos by Kevin Nagle
BENTON — The Bryant White Hornets eighth grade team of Bryant Middle School put together[more] a 13-0 run to start the second half to turn a 14-11 deficit into a double-digit lead on the way to a 33-28 win over the Benton Junior Panthers Monday night.
The Hornets continued their unbeaten season, notching their ninth win going into tonight's game at Lake Hamilton.
Nine different players contributed to the scoring, led by Romen Martin's 12 points. Quentin Nimmer added 6, Brandon Harris 5. Kyle Sahr contributed 3 while Jake East and Hayden Knowles scored 2 apiece. Jonathan Allen, Cameron Coleman and John Winston pitched in with a free throw each.
The Hornets led most of both quarters of the first half only to have Benton surge to take the lead late in each stanza. In the first period, Bryant White was up 4-3 before Benton knocked down a 3 with :10 left in the quarter to gain its first lead.
Nimmer's layup tied the game and, later, it was 8-8 before Martin drilled a 3 with 3:30 left in the half.
But that was Bryant White's last scoring of the half. Benton scored the last 6 points of the quarter to take the lead again.
But the Hornets gained the upper hand for good with their third quarter blitz. Sahr hit a layup off a nice feed from Nimmer to start the half. Harris then drove for a basket to put Bryant White back on top, 15-14. Nimmer made a steal that Martin turned into a three-point play.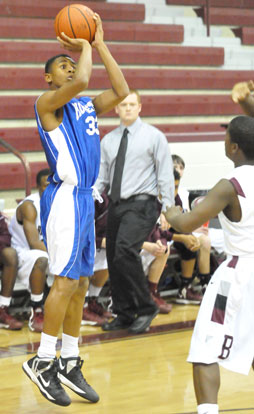 After a pair of misses at Benton's end, Martin fed Nimmer for a layup to make it 20-14 with 4:05 left in the period. It took nearly a minute before Martin scored inside. Coleman and Winston added free throws to extend the run to 13.
A three-point play at Benton's end with :54.4 showing snapped the Panthers dryspell but Hastings hit a driving jumper to answer, putting the Hornets up 26-17 going into the final period.
The Panthers trimmed the margin to 4 early in the quarter. Allen hit a key free throw to stem the tide and, after a Benton turnover, Harris drained a 3 to make it 30-22.
Benton responded with a three-point play to cut the margin to 5 but that was as close as the Panthers could get. Martin tacked on a free throw and, with 1:41 left, Sahr came up with a loose ball near midcourt and passed ahead to Martin for a layup to extend the margin to 33-25.