For more photos of this event by Kevin Nagle, go here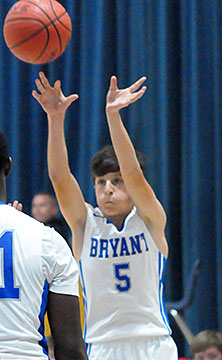 Aiden Adams pumped in 16 points and eight of the 10 Bryant Hornets freshmen who played contributed to the scoring in the team's season-opening 44-36 victory over the Searcy Lion Cubs at the Bryant Middle School gym Thursday night.
The Hornets surged in the third quarter to gain the upper hand for good. Searcy led 11-8 after one period then just 18-17 at the half. By the end of the third, Bryant had forged ahead 32-28.
"The guys played really hard and really made a lot of corrections from Monday's game," said head coach Tyler Posey, referring to a pre-season scrimmage at Maumelle. "We got into some  foul trouble  and had to battle through, but we had some guys step up for us."
Along with Adams' 16 points including a trio of 3's, Dylon Ruby scored 7, Brayden Godwin 6, Jalen Montgomery and Myles Aldridge 4 each with Ryan Riggs and Hayden Schrader pitching in with 3 apiece. Gavin Brunson hit a free throw.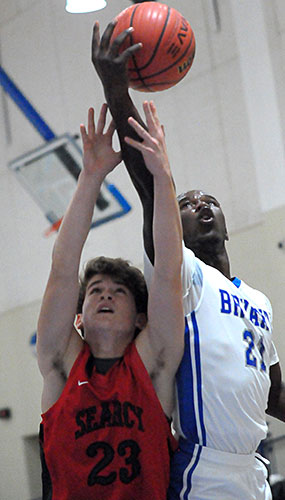 Schrader hit the boards for 11 rebounds including five on the offensive end. Aldridge collected 10 caroms with five offensive as well. Montgomery had four assists and Godwin had  four steals.
"Dylon Ruby came off the bench and really provided a huge spark for us with his defense and scoring," Posey said. "We turned up the pressure in the second half, leading to several key breakaways."
The Hornets host the annual Bryant Invitational Tournament starting Monday. They'll play Hot Springs Lakeside at 7:45 p.m. Other first-round games are Benton versus Malvern, Conway White against Hot Springs, and North Little Rock taking on Magnolia. Monday's  boys games will be played at the Bryant Middle School gym while the girls games are held at the high school. They'll trade locations on Tuesday. The tournament concludes on Thursday.