Editor's note: This is a regular feature profiling senior athletes at Bryant High School.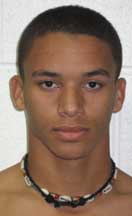 NAME: Caleb Thomas
PARENTS: Carla Thomas
SIBLINGS: None
FAVORITE SUBJECT IN SCHOOL: Math
WHAT DO YOU LIKE TO DO IN YOUR SPARE TIME? Music
FAVORITE FOOD: Steak
FAVORITE MUSIC ARTIST OR GROUP: August Burns Red
FAVORITE MOVIE: Troy[more]
FAVORITE TV SHOW: Family Guy
WHAT WAS YOUR FAVORITE TOY AS A KID? My bike, I guess
WHAT ARE YOUR PLANS AFTER HIGH SCHOOL? College at Ole Miss, mechanical engineering and worship leader.
OTHER THAN YOUR PARENTS, WHO HAS HAD THE BIGGEST INFLUENCE ON YOUR LIFE? My personal trainers. They made me get better, helped me get better.
FAVORITE THING ABOUT FOOTBALL: The intensity
POSITION: Cornerback and running back
WHAT DO YOU FEEL LIKE IS YOUR PRIMARY RESPONSIBILITY ON THE FIELD? Be the best I can be, do my job as well as I can, execute.
WHAT DO YOU THINK OF THE SEASON SO FAR? We've had a good season. We need to keep it up, keep our heads up, stay strong.
WHAT'S BEEN THE KEY TO INTO THE TEAM'S SUCCESS THIS YEAR? Teamwork and heart.
WHAT'S BEEN THE HIGHLIGHT TO THE SEASON SO FAR? Winning
WHAT'S IT GOING TO TAKE FOR THE TEAM TO BE SUCCESSFUL IN THE PLAYOFFS? Hard work, a lot of hard work. We have to be able to come together as a team and work together as a team and be one unit.
INDIVIDUALLY, WHAT ABOUT YOUR GAME ARE YOU MOST CONFIDENT ABOUT? I feel like, as a d-back, to be able to do my effectively because I've trained hard all season and I know what Northside runs.
WHAT DO YOU WORK HARDEST TO IMPROVE? Endurance, my game endurance. Being able to breathe, keep my legs strong.
AFTER YOU'RE THROUGH PLAYING FOOTBALL AT BHS, WHAT DO YOU THINK YOU'LL REMEMBER MOST FONDLY ABOUT IT? We've made conference champs three out of our four years in high school.