Editor's note: This is a regular feature profiling senior athletes at Bryant High School.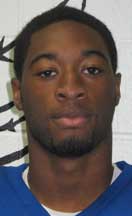 NAME: Chris Stephens
PARENTS: Rena and Eric Nash
SIBLINGS: I have three brothers and two sisters. Jordan Thomas, 19; Quincy Thomas, 18; Noel Thomas is 11 and Noelle Thomas is 6; Erica Nash is 11.
FAVORITE SUBJECT IN SCHOOL: Math
WHAT DO YOU LIKE TO DO IN YOUR SPARE TIME? Workout and hang out with my friends
FAVORITE FOOD: Spaghetti
FAVORITE MUSIC ARTIST OR GROUP: It's probably have to be Dre.[more]
FAVORITE MOVIE: Ace Ventura
FAVORITE TV SHOW: I don't really have one, just whatever comes on.
WHAT WAS YOUR FAVORITE TOY AS A KID? G.I. Joe
WHAT ARE YOUR PLANS AFTER HIGH SCHOOL? I plan to go to college and get my Business Management degree. I'd like to go to Fayetteville or Grambling.
OTHER THAN YOUR PARENTS, WHO HAS HAD THE BIGGEST INFLUENCE ON YOUR LIFE? Darren McFadden, because he's from Little Rock and he grew up and became a football player just like I wanted to be.
FAVORITE THING ABOUT FOOTBALL: Hitting people.
POSITION: Safety
WHAT DO YOU FEEL LIKE IS YOUR PRIMARY RESPONSIBILITY ON THE FIELD? To make sure nobody gets deep, make sure nobody out-runs me because I'm the last person, the only person back there.
WHAT DO YOU THINK OF THE SEASON SO FAR? It's been pretty good. This is my first year in Bryant. I just came from Central and now it feels good to win. That's what I like about it.
WHAT'S BEEN THE KEY TO INTO THE TEAM'S SUCCESS THIS YEAR? Teamwork.
WHAT'S BEEN THE HIGHLIGHT TO THE SEASON SO FAR? Every time on defense we get a three-and-out.
WHAT'S IT GOING TO TAKE FOR THE TEAM TO BE SUCCESSFUL IN THE PLAYOFFS? Don't turn the ball over and don't give up the big play.
INDIVIDUALLY, WHAT ABOUT YOUR GAME ARE YOU MOST CONFIDENT ABOUT? I think I've got the whole package. I'm very fast. I can catch. I'm not going to let anybody out-run me. I'm not going to let them catch over me.
WHAT DO YOU WORK HARDEST TO IMPROVE? Mainly just whenever we're against the scout team, they give us a good look and we can go over things, learn all the (other team's) plays and everything they're doing.
AFTER YOU'RE THROUGH PLAYING FOOTBALL AT BHS, WHAT DO YOU THINK YOU'LL REMEMBER MOST FONDLY ABOUT IT? Conference champions and however far we can make it in the playoffs.