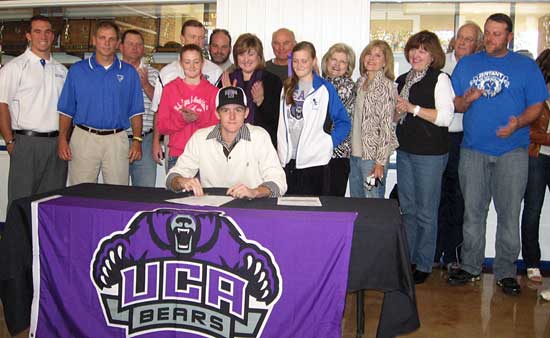 By Rob Patrick
Jordan Taylor is not an imposing figure when he walks onto a[more] baseball field. Lean and rangy, he kind of blends in with the rest of the guys.
When he heads out with his team for infield, perhaps a trained baseball eye would notice his ease and comfort on the field, his sound fundamentals. If he's on the mound that day: Snappy curve, good arm action on his change, decent fastball.
Once the game begins, however, and Taylor comes to the plate, well, that gets people's attention. His sweet, fluid swing from the left side is topped only by the way the ball jumps off his bat.
And then, when he takes the mound or takes the field, it's apparent. This is a ballplayer. One who will calmly do whatever is required to give his team a chance to win, whether it's battling on the mound or making the clutch defensive play.
"He just wins," noted Kirk Bock, his coach with the Bryant Hornets.
A key component to the Hornets' back-to-back runs to the Class 7A State championship game including the 2010 title, Taylor made it official Friday, signing to continue his baseball career and his education at the University of Central Arkansas starting next fall. He thus fulfills a commitment he made to Bears head coach Alan Gum a year ago even though Taylor has just finished his sophomore season.
Along with playing on those two State finalists, Jordan, the son of Wayne and Ranette Taylor, played on a pair of World Series teams, coached by his dad. As a 12-year-old, he was on a Bryant team that played in the Cal Ripken series in Maryland. As a 13-year-old, he was a member of a Bryant team that played in the Babe Ruth World Series in Virginia. Both teams finished third in the nation.
Last summer, he and the Bryant Black Sox Senior American Legion team reached the championship game of the State Tournament as well, losing in extra innings to a stacked Texarkana team in a winner-take-all finale.
"Probably one of the plays that I'll remember for a long time is in the (2010) State championship game and he preserved a perfect game for (Ben) Wells," Bock recalled. "There was a chopper up the middle and he came to his arm side, picked it up and threw the guy out — just a big-time play. We had a couple of those plays in that game but Jordan had a huge one right there. It wasn't going to make the difference in winning it or losing that game but it made a difference in whether it was a perfect game or not."
In 2011, he came through at the plate in the clutch in the State semifinals. The Hornets were trailing Little Rock Catholic with two out in the bottom of the sixth. After fouling off a 2-2 pitch, Taylor ripped a two-run single that gave his team a 7-6 lead. He then came on in relief in the top of the seventh with the potential tying and lead runs on base and recorded a strikeout that sent Bryant back to the State finals.
"I've seen Jordan since he was 6 years old and just kind of watched him go," said Darren Hurt, manager of the Black Sox team. "What they're getting is a kid that works. He's going to out-work anybody. He works his tail off. Any shortcomings he's ever had, he's worked hard at them and closed that gap. And he's just always been able to hit the baseball. "
"It's thanks to God," Taylor said. "Without Him putting people in the places to help me to get me developed and for Him giving me the talent to be able to do it, I thank Him for everything."
UCA head coach Alan Gum first saw Taylor after that sophomore season at BHS. Gum was visiting Bock, an old friend. The two often compare notes and discuss the latest drills and approaches to training, sharing the knowledge. Bock was set to show Gum some video of a drill the Hornets had started but the disk in the machine turned out to be Taylor hitting in the cage and doing some tee-work. Gum liked what he saw and told Bock the youngster needed to attend one his hitting camps at UCA.
"So I went to about a six-week, extensive hitting camp with UCA," Taylor recounted, "and about the fourth week during the camp he offered me a scholarship to cover tuition and fees. The next time we talked, he gave me the particulars and I went ahead and committed.
"He said he had big plans," he related. "He said he expected me to come in and be an impact player. I'm actually going to sign as a third baseman."
"(Gum)'s getting a solid two-way player," Bock said. "For UCA, he's going to play the corners but he's definitely going to be able to swing it. In time, I think he'll get back up on the bump too. It may not happen this year or next year but I bet that somewhere in his career he's going to crawl back up there because he's a winner and that's what you've got to have up there."
Added Hurt, "He gets up there and he just competes. And it doesn't matter to Jordan. He's the kind of kid that, a team can light him up one day and the next time you play them, he wants the ball because he believes he can get them the next time. He just always competes really hard."
"I was kind of hoping that bigger colleges would come in," Taylor admitted, "but when I started doing the hitting stuff at UCA, just the intensity and passion that Coach Gum brings — I mean he was in the cage with us, doing the drills. Just the intensity and passion he has for the game — it was like, man, I really like this. This feels right."
"They're getting a heck of a ballplayer," Hurt added. "When he was 8 years old, we saw it. He had something other kids didn't have, just that natural swing. He's had some great coaches along the way, hitting instructors, Coach Bock, and people who have tweaked that swing but his dad worked with him a lot. And he's just always, always been able to hit."
"It's a lot like (former Hornet) Kaleb Jobe (now at UALR), nice and easy and he gets it through there," Bock said of the swing. "Jordan's the same way. We teach but a lot of guys don't get it. He gets it. Of course, you've got to have natural rhythm and he has it. A lot of guys don't. I didn't. But the guys that do can go a long way."
In two seasons with Hurt's Black Sox team, Taylor has hit .392 (78 of 199) including .434 last summer. He's driven in 46, scored 52 runs and cracked 20 doubles. A lefty at the plate, Taylor throws right-handed and, as a pitcher, has had a 7-6 record with a 2.68 earned run average for the Sox. He's struck out 89 in 94 2/3 innings while walking just 20.
In three campaigns for the Hornets, he's 67 of 200 for a .335 average including .388 in 2011. He's driven in 55, scored 39 and hit 20 doubles while striking out just 22 times. On the mound, he's 13-4 with 106 strikeouts in 106 innings and a 2.97 ERA. As a freshman, he was 3-1 with an 0.75.
In fact, he was the first freshman to ever get a varsity start for the Hornets. He played second bases in the 2009 season opener, which was also Bock's debut at the school. Though freshmen hadn't been eligible for the varsity before that season, it's no less an accomplishment.
"It was a whole different ballgame because you get up there as a freshman and you're seeing guys throwing 90, 91, it's like, 'Wow, this is crazy,'" Taylor recalled. "It's just flying by. It was kind of scary but kind of not. Once the game started I really didn't think much about it."
"It was just his competitiveness," Bock explained. "He was willing to stick his nose in there and get it done. That's the reason we put him out there. Every day he walks out on that field, he doesn't always have his best stuff physically but he's always got it mentally."
He's developed into a team leader now.
"He's not a very vocal guy," said Bock. "He just does it by example. He's always one of the first ones there and the hardest working."
Asked about the highlights of his career so far, Taylor said, "I haven't really thought about it because when you're in the game, you just sort of do them and it really doesn't seem that big until everybody's just kind of building it up. Then it's like, well, I guess that's a pretty big deal.
"For the most part, I just take it and go, because for every good thing there's going to be bad things. What helps me keep going is knowing there are going to be better things to come after those bad things."
And there still could be plenty of good things for Taylor and his Hornets teammates this spring when they'll try to return to the State title game a third straight time.
"I expect it to be a really good season," he commented. "We're not perfect. We still can improve. But I think we should be back in the championship game if not win it.
"I'm just going back to work," he concluded. "I've got a scholarship now and I've got to prove that I'm able, show why Coach Gum gave it to me."