Editor's note: This is a regular feature profiling senior athletes at Bryant High School.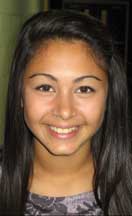 NAME: Jahaira Juarez
PARENTS: Angel and Bertha Juarez
SIBLINGS: I have one brother and one sister. His name is Angel and her name is Alejandra. He's 13 and she's 9.
FAVORITE SUBJECT IN SCHOOL: Math
WHAT DO YOU LIKE TO DO IN YOUR SPARE TIME? I work a lot but I usually just hang out with my friends.
FAVORITE FOOD: Pizza
FAVORITE MUSIC ARTIST OR GROUP: Domain[more]
FAVORITE MOVIE: Burlesque
FAVORITE TV SHOW: Rob Dyrdek's Fantasy Factory
WHAT WAS YOUR FAVORITE TOY AS A KID? I used to play with Barbie dolls a lot.
WHAT ARE YOUR PLANS AFTER HIGH SCHOOL? I'm probably going to attend UALR and I'm going to become a teacher.
OTHER THAN YOUR PARENTS, WHO HAS HAD THE BIGGEST INFLUENCE ON YOUR LIFE? I'd probably say my teammates and the friends I've made in cross country because we're all really close. Well, during races, they really motivate me and we keep each other stronger in the race to finish and race as best as we can.
FAVORITE THING ABOUT CROSS COUNTRY: Probably the bond we all get like at the end of seasons and during the season and everything. We just become really close.
WHAT'S YOUR APPROACH TO A RACE (Strategy/Preparation)? The few days before I try to drink a lot of water and make sure I get a lot of rest and just stretch before the race.
WHAT DO YOU THINK OF THE SEASON? I think we had a very good performance. We ran our best. It wasn't as successful as last season but we did get second in our conference.
WHAT'S BEEN THE HIGHLIGHT TO THE SEASON? Probably the conference race because I don't have to run another race again.
AFTER YOU'RE THROUGH RUNNING CROSS COUNTRY AT BHS, WHAT DO YOU THINK YOU'LL REMEMBER MOST FONDLY ABOUT IT? Probably Coach (Danny) Westbrook and all the things he tells us about getting ready for a race and, then, just all the people on the team.