Editor's note: This is a regular feature profiling senior athletes at Bryant High School.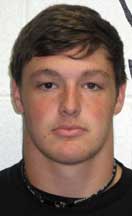 NAME: Jesse Johnson
PARENTS: Collette and Scott Johnson
SIBLINGS: I have a brother in the 10th grade, Jake Johnson, and a sister, Colleen Johnson, in the ninth grade
FAVORITE SUBJECT IN SCHOOL: Human Anatomy with Ms. Watson
WHAT DO YOU LIKE TO DO IN YOUR SPARE TIME? Hang out with friends or chill at home.
FAVORITE FOOD: Chicken
FAVORITE MUSIC ARTIST OR GROUP: Rap[more]
FAVORITE MOVIE: There's so many good ones. Friday Night Lights, that's a good one.
FAVORITE TV SHOW: Walking Dead
WHAT WAS YOUR FAVORITE TOY AS A KID? G.I. Joe.
WHAT ARE YOUR PLANS AFTER HIGH SCHOOL? Go to college and hopefully try to play football. UMD, the University of Minnesota-Duluth, is where I'm wanting to go and I'm not sure what I'm going to study, probably computer sciences and stuff like that.
OTHER THAN YOUR PARENTS, WHO HAS HAD THE BIGGEST INFLUENCE ON YOUR LIFE? My grandpa's had a big influence on me and my uncle. He played football with my dad. Just those two together have been big influences on me, just the way they tell their football stories. My uncle's had just as much coaching in my life as my dad has.
FAVORITE THING ABOUT FOOTBALL: Hitting people.
POSITION: Safety.
WHAT DO YOU FEEL LIKE IS YOUR PRIMARY RESPONSIBILITY ON THE FIELD? My primary responsibility is to stay deep, nobody gets behind you; secondary is just to back up on the run and forcing the run.
WHAT DO YOU THINK OF THE SEASON SO FAR? We're doing a lot better and we're getting better as the year goes on. We've made a huge step into it and we're shocking the state.
WHEN THE TEAM'S DOING WELL, WHAT'S IT DOING? We're clicking offensively and defensively. The defense is stopping them and the offense is getting the ball down the field and getting points.
WHAT'S BEEN THE HIGHLIGHT TO THE SEASON SO FAR? For me, as a defensive player, just the defense coming through, coming in there and bending but not breaking, just being able to stop them.
WHAT'S IT GOING TO TAKE FOR THE TEAM TO BE SUCCESSFUL THE REST OF THE SEASON? Just keep connecting on both sides of the ball, being able to stop them whenever we need a big stop and touchdown whenever we need touchdowns.
INDIVIDUALLY, WHAT ABOUT YOUR GAME ARE YOU MOST CONFIDENT ABOUT? Stop the pass, stop the run, being able to make big plays when big plays are needed.
WHAT DO YOU WORK HARDEST TO IMPROVE? Reading the keys and making sure I've got my responsibility down, making sure I know what to do and what the offense is going to run.
AFTER YOU'RE THROUGH PLAYING FOOTBALL AT BHS, WHAT DO YOU THINK YOU'LL REMEMBER MOST FONDLY ABOUT IT? Just probably our team, the brotherhood that we have, just how close I've become to everybody, being able to call them my brothers.