Editor's note: This is a regular feature profiling senior athletes at Bryant High School.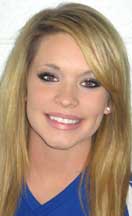 NAME: Peyton Thacker
PARENTS: Rebecca Thacker and Todd Thacker
SIBLINGS: I have two brothers. Justin is 22 and my little brother Ethan is 12.
FAVORITE SUBJECT IN SCHOOL: English
WHAT DO YOU LIKE TO DO IN YOUR SPARE TIME? Hang out with friends and play volleyball.
FAVORITE FOOD: Seafood
FAVORITE MUSIC ARTIST OR GROUP: I listen to anything[more]
FAVORITE MOVIE: Hangover
FAVORITE TV SHOW: Tosh.O
WHAT WAS YOUR FAVORITE TOY AS A KID? My bicycle
WHAT ARE YOUR PLANS AFTER HIGH SCHOOL? Go to Arkansas Tech and study to be a health administrator.
OTHER THAN YOUR PARENTS, WHO HAS HAD THE BIGGEST INFLUENCE ON YOUR LIFE? My grandparents. They encourage me about everything. They believe in me.
FAVORITE THING ABOUT VOLLEYBALL: Hitting.
POSITION: Right-side hitter.
WHAT DO YOU FEEL LIKE IS YOUR PRIMARY RESPONSIBILITY ON THE COURT? I'm there to hit the ball, block the ball and get anything close to me.
WHAT DO YOU THINK OF THE SEASON SO FAR? We're a really good team. We all get along really good. We're all there for each other. If one of us is down, we pick each other up. And we play good, play hard.
WHEN THE TEAM'S PLAYING WELL, WHAT'S IT DOING? We're all cheering. We get our energy up.
WHAT'S BEEN THE HIGHLIGHT TO THE SEASON SO FAR? We're second in conference right now and we're hoping to beat (first-place) Conway next week.
WHAT'S IT GOING TO TAKE FOR THE TEAM TO BE SUCCESSFUL IN THE PLAYOFFS? Work hard and be sure to be there on the court, ready to get whatever's there.
INDIVIDUALLY, WHAT ABOUT YOUR GAME ARE YOU MOST CONFIDENT ABOUT? Hit the ball.
WHAT DO YOU WORK HARDEST TO IMPROVE? My digging.
AFTER YOU'RE THROUGH PLAYING VOLLEYBALL AT BHS, WHAT DO YOU THINK YOU'LL REMEMBER MOST FONDLY ABOUT IT? Probably the teammates. If you're feeling down or you need someone to talk to, they're always there to encourage you. Or the coaches. They're there to help you pick yourself up whenever you're feeling down. They're always there for you.