Editor's note: This is a regular feature profiling senior athletes at Bryant High School.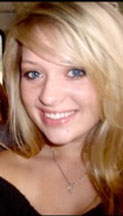 NAME: Aaryn Murdock
PARENTS' NAMES: Joe and Teri Murdock
SIBLINGS (NAMES/AGES): Joe Murdock II, 16
FAVORITE SUBJECT IN SCHOOL: History
FAVORITE SPARE TIME ACTIVITY: Watching movies, sleeping and being with friends
FAVORITE FOOD: Cajun chicken pasta
FAVORITE MUSIC ARTIST OR GROUP: Too many to name
FAVORITE MOVIE: Peter Pan[more]
FAVORITE TV SHOW: Pretty Little Liars
WHAT WAS YOUR FAVORITE TOY AS A KID? Barbie doll cash register
WHAT ARE YOUR PLANS AFTER HIGH SCHOOL? I plan to attend college to become an orthodontist.
OTHER THAN YOUR PARENTS, WHO HAS HAD THE BIGGEST INFLUENCE ON YOUR LIFE? HOW?
My grandparents have set wonderful examples of the kind of person that I would like to become.
FAVORITE THING ABOUT DANCE: Once you become part of the team, you are part of a family. I love
The friends I have made.
WHAT DO YOU FEEL IS YOUR REPONSIBILITY ON THE TEAM?
As a senior, I think it is important to set a good example, not only as a dancer but also as a person.
THOUGHTS ON SEASON SO FAR: I think that we are an exceptional dance team and have performed
incredibly this year.
WHAT'S BEEN THE HIGHLIGHT TO THE SEASON SO FAR? Performing at the Salt Bowl for my final
time; becoming so close to the other three seniors. We have been together since eighth grade almost
Every day. We have become best friends.
WHAT'S IT GOING TO TAKE FOR THE TEAM TO BE SUCCESSFUL AT NATIONALS?
Everyone needs to pull together as a team and continue to push themselves. We must remember that
we dance because we love it.
INDIVIDUALLY, WHAT ABOUT YOUR PERFORMANCES ARE YOU MOST CONFIDENT ABOUT?
I am most confidant in Hip Hop and performing with a team that I consider to be the best.
WHAT DO YOU WORK HARDESTTO IMPROVE?
Everything always needs improvement.
AFTER YOU'RE THROUGH DANCING/CHEERING AT BHS, WHAT DO YOU THINK YOU'LL REMEMBER MOST FONDLY ABOUT IT? I will never forget the life-long friends that I have made or the unforgettable
Memories.