Editor's note: This is a regular feature profiling senior athletes at Bryant High School.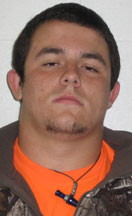 NAME: Blake Hobby
PARENT: Stephanie Hobby
SIBLINGS: None.
FAVORITE SUBJECT IN SCHOOL: History
WHAT DO YOU LIKE TO DO IN YOUR SPARE TIME? I like to go hunting, fishing and riding four-wheelers.
FAVORITE FOOD: Chinese
FAVORITE MUSIC ARTIST OR GROUP: I like country music. My favorite artist would have to be Justin Moore.[more]
FAVORITE MOVIE: Pearl Harbor, Top Gun, Beer For My Horses
FAVORITE TV SHOW: Michael Waddel's Outdoors
WHAT WAS YOUR FAVORITE TOY AS A KID? Toy guns
WHAT ARE YOUR PLANS AFTER HIGH SCHOOL? Hopefully play college ball, if not go to Camden to the fire-fighting training academy.
OTHER THAN YOUR PARENTS, WHO HAS HAD THE BIGGEST INFLUENCE ON YOUR LIFE? My grandpa and my uncle. I grew up without a dad and they were there to kind of help, to take me hunting and fishing.
FAVORITE THING ABOUT FOOTBALL: Contact, hitting people.
POSITION: Offensive lineman
WHAT DO YOU FEEL LIKE IS YOUR PRIMARY RESPONSIBILITY ON THE FIELD? Protect the quarterback.
WHAT DO YOU THINK OF THE SEASON SO FAR? I think we're doing good. It could be a little better but we're going to continue to do good.
WHEN THE TEAM'S PLAYING WELL, WHAT'S THE KEY TO THAT? We're all focused and working hard and on the same page.
WHAT'S BEEN THE HIGHLIGHT TO THE SEASON SO FAR? The Salt Bowl.
WHAT'S IT GOING TO TAKE FOR THE TEAM TO BE SUCCESSFUL THE REST OF THE SEASON? Keep working hard, pushing through. We've got to focus on being a team and not just playing for yourself but for the team.
INDIVIDUALLY, WHAT ABOUT YOUR GAME ARE YOU MOST CONFIDENT ABOUT? Just working hard and trying to keep the quarterback from getting sacked. Working on my goals and doing good.
WHAT DO YOU WORK HARDEST TO IMPROVE? Protection of the quarterback.
AFTER YOU'RE THROUGH PLAYING FOOTBALL AT BHS, WHAT DO YOU THINK YOU'LL REMEMBER MOST FONDLY ABOUT IT? Just the brotherhood, how well we play together.