Editor's note: This is a regular feature profiling senior athletes at Bryant High School.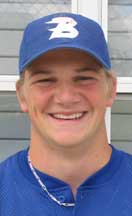 NAME: Brady Butler
DATE OF BIRTH: April 24, 1992
PARENTS: Tammy and Jerry Butler
SIBLINGS: I've got a brother, Brandon, and a sister, Bethany. My brother's 22 and my sister's 19.
FAVORITE SUBJECT IN SCHOOL: Math
WHAT DO YOU LIKE TO DO IN YOUR SPARE TIME? Just hang out.
FAVORITE FOOD: Steak
FAVORITE MUSIC ARTIST OR GROUP: That's probably be Eric Church[more]
FAVORITE MOVIE: Wayne's World.
FAVORITE TV SHOW: I'm not sure.
WHAT WAS YOUR FAVORITE TOY AS A KID? I'd ride my little tricycle a lot. That's probably it.
WHAT ARE YOUR PLANS AFTER HIGH SCHOOL? Go to Henderson and just be a student, maybe walk on and play football. I want to major in Math and become a Math teacher and a football coach.
OTHER THAN YOUR PARENTS, WHO HAS HAD THE BIGGEST INFLUENCE ON YOUR LIFE? Probably my brother. He just always pushes me to do the best I can, stay into what I'm doing and be dedicated.
FAVORITE THING ABOUT BASEBALL: Just the competitiveness and probably hitting. That's my favorite thing to do in baseball.
POSITION: First base.
WHAT DO YOU FEEL LIKE IS YOUR PRIMARY RESPONSIBILITY ON THE TEAM? I'm mainly in the lineup because of my hitting but they put me over at first base because I have a bad shoulder. I feel like I've worked really hard to get better at groundballs and everything. So I feel pretty comfortable. I can pretty much knock anything down at first base. If I can't catch it, I'll at least keep it on the infield most of the time.
WHAT'S YOUR APPROACH AT THE PLATE? Get on base anyway I can.
WHAT DO YOU THINK OF THE SEASON SO FAR? We started off real good. Everybody kind went through a slump at the same time but I think we're starting to break out of it. Hopefully we'll end up playing our best. I think we will.
WHAT'S BEEN THE HIGHLIGHT TO THE SEASON SO FAR? Up to our having a big win against Van Buren, it was probably going down to Florida and competing against all of those really good schools.
WHAT'S IT GOING TO TAKE FOR THE TEAM TO BE SUCCESSFUL THE REST OF THE SEASON? Everybody's just going to have to play for each other and their approach at the plate's got to be totally different. It's just got to be get on base, do anything you can to get it to the next guy.
INDIVIDUALLY, WHAT ABOUT YOUR GAME ARE YOU MOST CONFIDENT ABOUT? Used to it was hitting. I mean I still have confidence in my hitting. I don't have any doubts about myself when I go to the plate. But I feel like I'm most confident at first base, catching grounders and everything.
WHAT DO YOU WORK HARDEST TO IMPROVE? My hitting. We do a lot of hitting and that's my main thing.
AFTER YOU'RE THROUGH PLAYING BASEBALL AT BHS, WHAT DO YOU THINK YOU'LL REMEMBER MOST FONDLY ABOUT IT? I'll probably remember the 5 o'clock practices in the morning.