Editor's note: This is a regular feature profiling senior athletes at Bryant High School.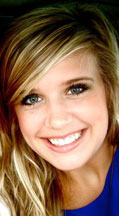 NAME: Brooke Kenney
PARENTS' NAMES: Pam Kenney
SIBLINGS: None
FAVORITE SUBJECT IN SCHOOL: History
FAVORITE SPARE TIME ACTIVITY: Watching movies
FAVORITE FOOD: Pasta
FAVORITE MUSIC ARTIST OR GROUP: John Mayer
FAVORITE MOVIE: A Walk To Remember[more]
FAVORITE TV SHOW: Pretty Little Liars
WHAT WAS YOUR FAVORITE TOY AS A KID? Princess dress-up clothes
WHAT ARE YOUR PLANS AFTER HIGH SCHOOL? I plan to attend Louisiana Tech to major in Speech
Pathology.
OTHER THAN YOUR PARENTS, WHO HAS HAD THE BIGGEST INFLUENCE ON YOUR LIFE? HOW?
My grandma has had a big influence on my life. She's such a strong and independent lady that would do
absolutely anything to help her loved ones. She's so supportive of my dancing and has attended
Nationals with my mom every year.
FAVORITE THING ABOUT DANCE:
My favorite thing about dance has been cheering for my school during the games and all the
friendships I've made with my past and present teammates
WHAT DO YOU FEEL IS YOUR REPONSIBILITY ON THE TEAM?
I feel it's my responsibility to lead the team in a positive way.
THOUGHTS ON SEASON SO FAR:
The team has worked extremely hard to accomplish our goals throughout the year and we have all
become so close. Our final goal for this year is to do our best at Nationals, and we intend to do so.
WHAT'S BEEN THE HIGHLIGHT TO THE SEASON SO FAR?
The highlight of this season has been the relationships I have developed with my teammates,
especially the seniors. We have danced together since eighth grade and our friendship has grown
outside of dance.
WHAT'S IT GOING TO TAKE FOR THE TEAM TO BE SUCCESSFUL AT NATIONALS?
It's going to take a ton of hard work and dedication from every member on the team along with
focus and positivity.
INDIVIDUALLY, WHAT ABOUT YOUR PERFORMANCES ARE YOU MOST CONFIDENT ABOUT?
I'm most confident about my energy and facials. I enjoy performing for an audience. The crowd
motivates me to perform with high energy.
WHAT DO YOU WORK HARDESTTO IMPROVE?
I work hardest to improve my technique and endurance for performances and competitions.
AFTER YOU'RE THROUGH DANCING/CHEERING AT BHS, WHAT DO YOU THINK YOU'LL REMEMBER MOST FONDLY ABOUT IT? I'll remember all of the football games, and how much fun I had with the team
every Friday night.