Editor's note: This is a regular feature profiling senior athletes at Bryant High School.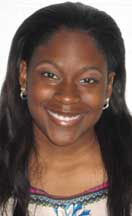 NAME: Candice Ball
PARENTS: Syreeta Ball and Dexter Carter
SIBLINGS: I have two brothers. One is 12 and the other one is 1. Everett Ball and Elan Ball
FAVORITE SUBJECT IN SCHOOL: History
FAVORITE SPARE TIME ACTIVITY: Party with my friends
FAVORITE FOOD: French fries
FAVORITE MUSIC ARTIST OR GROUP: Hip-hop and R&B.[more]
FAVORITE MOVIE: The Patriot and Be Cool
FAVORITE TV SHOW: The Bad Girls Club
WHAT WAS YOUR FAVORITE TOY AS A KID? Play-doh and Barbies.
WHAT ARE YOUR PLANS AFTER HIGH SCHOOL? I'm going to college. I'm going to do my first year at Pulaski Tech then get my degree in Psychology at UCA.
OTHER THAN YOUR PARENTS, WHO'S HAD THE BIGGEST INFLUENCE ON YOUR LIFE? HOW? My friends because when I'm down, they bring me up. No matter what I'm going through, they're always there for me. They push me to go further in life.
WHAT'S YOUR FAVORITE THING ABOUT TRACK? Running, getting all my frustrations out, beating somebody on the track.EVENTS? I run the 400, the 4×400 and sometimes the 200.
WHAT APPROACH DO YOU TAKE TO YOUR EVENTS? When I get ready, I just try to get focused. We pray before we run, giving my ability to God to do my best.
WHAT DO YOU THINK OF THE SEASON SO FAR? Man, we beastin'. When I say beastin' I mean we're doing good. We're going to win the whole season.
WHAT'S BEEN THE HIGHLIGHT TO THE SEASON SO FAR? Winning our home meet again.
WHAT'S IT GOING TO TAKE FOR THE TEAM TO BE SUCCESSFUL THE REST OF THE SEASON? As long as we keep doing what we're doing and keep our minds focused, we're going to be good.
TALK ABOUT YOUR EVENTS NOW; WHAT DO THINK IS YOUR BIGGEST ASSET? WHAT ARE YOU MOST CONFIDENT IN YOUR ABILITY TO DO? My favorite is the 200 but, according to coach (Danny Westbrook), I'm better at the 400.
WHAT DO YOU WORK HARDEST IN PRACTICE TO IMPROVE ON? I try not to give up. I try to finish all my workouts with as much as I can.
WHEN YOU'RE THROUGH RUNNING TRACK AT BRYANT HIGH SCHOOL, WHAT DO YOU THINK YOU'LL LOOK BACK AND REMEMBER MOST FONDLY ABOUT THE EXPERIENCE? The fun times we've had picking on coach.