Editor's note: This is a regular feature profiling senior athletes at Bryant High School.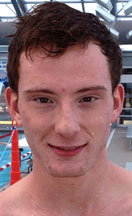 NAME: Casey Ball
PARENTS: Mark and Colleen Ball
SIBLINGS: Andrew, 16; Trevor, 13; Alex, 11; Jessica, 22.
FAVORITE SUBJECT IN SCHOOL: English
FAVORITE SPARE TIME ACTIVITY: Teaching myself music and guitar, piano, singing.
FAVORITE FOOD: Red beans and rice, and shrimp
FAVORITE MUSIC ARTIST OR GROUP: A Day To Remember, Mayday Parade[more]
FAVORITE MOVIE: None

FAVORITE TV SHOW: Heroes
WHAT WAS YOUR FAVORITE TOY WHEN YOU WERE A KID? A Miss Piggie stuffed animal
WHAT ARE YOUR PLANS AFTER HIGH SCHOOL? Speech Pathology or major in Music.
OTHER THAN YOUR PARENTS, WHO'S HAD THE BIGGEST INFLUENCE ON YOUR LIFE? HOW? My jobs and teachers.
WHAT'S YOUR FAVORITE THING ABOUT SWIMMING? It is a sport that can be extremely difficult and I love the physical challenge.
WHAT IS/ARE YOUR EVENT(S): Backstroke and 200 free
WHAT'S YOUR APPROACH TO YOUR EVENTS? That for each event I swim they represent me, so I need to do the best I can.
WHAT DO YOU THINK OF THE SEASON SO FAR? It's going well. I'm definitely going to miss this.
WHAT'S BEEN THE HIGHLIGHT TO THE SEASON SO FAR (team)? The highlight of this year has definitely been spending time with my friends on the team. Getting to know them better has been an experience I won't forget.
WHAT'S BEEN THE HIGHLIGHT TO THE SEASON SO FAR (personal)? None
WHAT'S IT GOING TO TAKE FOR THE TEAM TO BE SUCCESSFUL THE REST OF THE SEASON? To work together and give 100 percent, never give up and work together.
TALK ABOUT YOUR SWIMMING NOW; WHAT ARE YOU MOST CONFIDENT IN YOUR ABILITY TO DO? My backstroke and sprint events
WHAT DO YOU WORK HARDEST TO IMPROVE ON IN PRACTICE? My endurance has always been something that I've had to work on. I've never been on a year round team, so every year it is a struggle.
WHEN YOU'RE THROUGH SWIMMING FOR BRYANT HIGH SCHOOL, WHAT DO YOU THINK YOU'LL LOOK BACK AND REMEMBER MOST FONDLY ABOUT THE EXPERIENCE? When I look back I will always remember the feeling I get before each meet. The moment when the chlorine-soaked air hits you as you go through the doors and the nervous anxiety to accomplish my best in each event seems to overwhelm me. And then the moments before each event when I'm on the blocks overlooking the water, the eerie calm that falls over me. It's these moments that I will look back on most fondly because once I graduate, I will never experience this again.