The Bryant Lady Hornets will be hosting the Class 7A State Tournament beginning Thursday, May 10. For brackets, go here.

Editor's note: This is a regular feature profiling senior athletes at Bryant High School.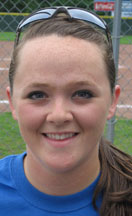 NAME: Jessie Taylor

PARENTS: Chris and Tammy Taylor

SIBLINGS: I have a little sister named Emma. She's 13. And a little brother named Jake and he's 4.

FAVORITE SUBJECT IN SCHOOL: Science

WHAT DO YOU LIKE TO DO IN YOUR SPARE TIME? Sleep

FAVORITE FOOD: Probably Chicken Alfredo

FAVORITE MUSIC ARTIST OR GROUP: Adele

FAVORITE MOVIE: Bridesmaids[more]

FAVORITE TV SHOW: Grey's Anatomy

WHAT WAS YOUR FAVORITE TOY AS A KID? I had a stuffed Barney that I carried with me everywhere and I cried if I didn't have it.

WHAT ARE YOUR PLANS AFTER HIGH SCHOOL? I'm going to UCA to play softball. I'm majoring in Biology.

OTHER THAN YOUR PARENTS, WHO HAS HAD THE BIGGEST INFLUENCE ON YOUR LIFE? Kevin Bruick; he's been my softball coach since I was like 10 and he taught me how to hit. He's just been a really good coach and person in my life.

FAVORITE THING ABOUT SOFTBALL: Winning.

POSITION: I'm a catcher.

WHAT'S YOUR APPROACH AT THE PLATE? My approach at the plate, especially this year, is just to take advantage of every pitch that I get that's good because, for some reason, I'm not getting a lot of good pitches this year. So I have to be patient and react to the ones that are actually good pitches.

WHAT'S YOUR APPROACH TO CATCHING? I'm trying to figure out how to play the batter. I'm looking at their feet. I'm looking at how they're standing, their confidence, and I'm just trying to figure out what pitch to call.
WHAT DO YOU THINK OF THE SEASON SO FAR? I think it's pretty awesome. We're undefeated.

WHY HAS THE TEAM BEEN SO GOOD? Because I think we're just taking it one game at a time and we're not second-guessing ourselves. We know out each other plays and we're confident in each other.

WHAT'S BEEN THE HIGHLIGHT TO THE SEASON SO FAR? We clinched conference the other night and, other than that, when we went to Van Buren, that was a really fun tournament. We got to stay in a hotel.
WHAT'S IT GOING TO TAKE FOR THE TEAM TO BE SUCCESSFUL AT STATE? We're just going to have to not get ahead of ourselves; just take it one game at a time and keep playing like we're playing, just jump on people early in the game.
TALK ABOUT YOUR GAME. WHAT ARE YOU MOST CONFIDENT IN YOUR ABILITY TO DO? Batting.
WHAT DO YOU WORK HARDEST IN PRACTICE TO IMPROVE ON? Mostly, just my power; when I'm hitting I'm just trying to make sure that I'm keeping all my mechanics good and everything, just driving through the ball.
AFTER YOU'RE THROUGH PLAYING SOFTBALL AT BHS, WHAT DO YOU THINK YOU'LL REMEMBER MOST FONDLY ABOUT IT? Definitely everyone that I've played with, my class, my fellow seniors. I'm going to remember the seniors from when I was a freshman forever. I'm just going to remember everybody that I played with and all the great times we had.