Editor's note: This is a regular feature profiling senior athletes at Bryant High School.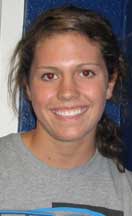 NAME: Jordan Chadwick
DATE OF BIRTH: Oct. 21, 1991
PARENTS: Michelle Gladden and Steve Gladden is my step-dad then Bobby Chadwick and Kim Chadwick is my step-mom.
SIBLINGS: I have one brother John David then I have a bunch of step-siblings, Eric Gladden, Aaron Gladden, Lauren Gladden, Crystal Dutil, Tony and Torey Glass
FAVORITE SUBJECT IN SCHOOL: Math
FAVORITE SPARE TIME ACTIVITY: Watch
TVFAVORITE FOOD: Mashed potatoes.
FAVORITE MUSIC ARTIST OR GROUP: I like John Mayer. [more]
FAVORITE MOVIE: I'm going to go with Big Daddy
FAVORITE TV SHOW: Glee
WHAT WAS YOUR FAVORITE TOY AS A KID? Barbies.
WHAT ARE YOUR PLANS AFTER HIGH SCHOOL? Go to UCA, pre-med.
OTHER THAN YOUR PARENTS, WHO'S HAD THE BIGGEST INFLUENCE ON YOUR LIFE? HOW? I guess all the coaches here. They took an interest and they pushed me.
WHAT'S YOUR FAVORITE THING ABOUT TRACK? The competition.EVENTS: The 100 hurdles, the 400 and sometimes the 300 hurdles, and then the 1600 meter relay.
WHAT APPROACH DO YOU TAKE TO YOUR EVENTS? It's basically all the same, just go out and run as fast as I can.
WHAT DO YOU THINK OF THE SEASON SO FAR? I think we've done really good. I mean everybody has done so well. And we've gotten first and second in our first two meets so that's awesome.
WHAT'S BEEN THE HIGHLIGHT TO THE SEASON SO FAR? Definitely the mile relay when we had to beat Cabot to win the meet.
WHAT'S IT GOING TO TAKE FOR THE TEAM TO BE SUCCESSFUL THE REST OF THE SEASON? Everyone is just going to have to get all the points that they can. I'm going to have to score more points. Everybody's just going to have to keep getting better at what they do and moving up places.
TALK ABOUT YOUR EVENTS NOW; WHAT DO THINK IS YOUR BIGGEST ASSET? WHAT ARE YOU MOST CONFIDENT IN YOUR ABILITY TO DO? I feel more comfortable in the 400 and the 300 hurdles because I'm not a really quick person. It takes me a long time to get going. I like to have some time to get going.
WHAT DO YOU WORK HARDEST TO IMPROVE ON IN PRACTICE? Just endurance, being able to last, do as many things in the meet and last, be just as good as I would be in the beginning.
WHEN YOU'RE THROUGH RUNNING TRACK AT BRYANT HIGH SCHOOL, WHAT DO YOU THINK YOU'LL LOOK BACK AND REMEMBER MOST FONDLY ABOUT THE EXPERIENCE? Just everybody. We're so close. There are two or three people on the team that are my best friends so, definitely, running with them.