The Bryant Lady Hornets will be hosting the Class 7A State Tournament beginning Thursday, May 10. For brackets, go here.
Editor's note: This is a regular feature profiling senior athletes at Bryant High School.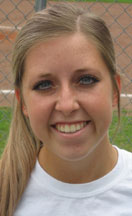 NAME: Kayla Sory
PARENTS: Ken and Joann Sory
SIBLINGS: I have an older sister, Vicki Evans, who's 32, and I have an older brother, Chris Sory, who is 28.
FAVORITE SUBJECT IN SCHOOL: Chemistry
WHAT DO YOU LIKE TO DO IN YOUR SPARE TIME? Sleep
FAVORITE FOOD: Chicken
FAVORITE MUSIC ARTIST OR GROUP: Justin Timberlake
FAVORITE MOVIE: Horrible Bosses[more]
FAVORITE TV SHOW: 90210
WHAT WAS YOUR FAVORITE TOY AS A KID? Probably, Barbies
WHAT ARE YOUR PLANS AFTER HIGH SCHOOL? I'm going to Henderson to play softball and I'm going to major in pre-Physical Therapy.
OTHER THAN YOUR PARENTS, WHO HAS HAD THE BIGGEST INFLUENCE ON YOUR LIFE? My brother; I've always kind of looked up to him because he was the one in my family who played all the sports. My sister was the cheerleader. So I grew up with him at the field, I saw what he was doing and I wanted to be just like that. If something's wrong or I'm doing something wrong, he's usually the first one to tell me how to fix it. He probably knows how to tell me to fix it better and communicates with me better than anybody.
FAVORITE THING ABOUT SOFTBALL: The people I play with and winning. I don't like losing.
POSITION: Centerfield
WHAT'S YOUR APPROACH AT THE PLATE? They try to pitch around J.T. (Jessie Taylor) a lot because she's a power hitter so I know, if they're pitching around her they're probably going to go right at me. So I always have to be ready for that. I always have to step in there thinking they're coming right for me because they've pitched around her. I've got to move base-runners. I can hit for power but I hit for average and moving runners so that's what I'm thinking.
WHAT'S YOUR APPROACH IN THE FIELD? Not really take charge in the outfield but since I'm the only senior out there I feel like the mom of the outfield. I'm constantly, 'We got to do this, we got to do this, we got to do this.' And I know I've got to get a good jump on the ball because I'm not the fastest. But I feel like if I can get a good jump on the ball I have a better chance. I'm backing people up and letting them know where the ball is.
WHAT DO YOU THINK OF THE SEASON SO FAR? I think it's going really well. We haven't had a bad season up to this but I think right now we're going good. We're strong and we're staying strong even if our competition isn't necessarily strong, we don't play down to other peoples' levels. We're just staying focused and we're doing what we need to do and what we're expected to do and what we know we can do.
WHAT'S BEEN THE HIGHLIGHT TO THE SEASON SO FAR? Probably being undefeated this far into the season. We only have four games left, at the most, four games and I think the fact that we're undefeated and we have gone so strong through the season is definitely a big highlight.
WHAT'S IT GOING TO TAKE FOR THE TEAM TO BE SUCCESSFUL AT STATE? Just keep doing what we're doing. We've all got to stay focused. We've got to keep working hard. We can't let up because we're doing good now. We have to focus and keep going strong.
TALK ABOUT YOUR GAME. WHAT ARE YOU MOST CONFIDENT IN YOUR ABILITY TO DO? Probably reading the ball in the field; I see the way the infield's set up and know what pitches Peyton (Jenkins) is throw so I can kind of move my outfielders to where they need to be.
WHAT DO YOU WORK HARDEST IN PRACTICE TO IMPROVE ON? My range, probably; because I'm not the fastest but I feel like if I can see the ball quick and get a good jump on it then I have a better chance. I can't just lollygag in the outfield. In practice, I have to hustle harder than I would if I was faster to build up that range.
AFTER YOU'RE THROUGH PLAYING SOFTBALL AT BHS, WHAT DO YOU THINK YOU'LL REMEMBER MOST FONDLY ABOUT IT? Definitely the people I've played with; not only this year but since I was 5 years old, then a freshman in high school. All the people I've played with and the impact they've had on me and the relationships I've built.