Editor's note: This is a regular feature profiling senior athletes at Bryant High School.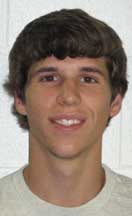 NAME: Kevin Nalley
PARENTS: Shelly Asmussen and Scott Nalley
SIBLINGS: I have two sisters. Amanda Nalley, she's 19, and Bailey Bremer, she's 11.
FAVORITE SUBJECT IN SCHOOL: Human Anatomy
FAVORITE SPARE TIME ACTIVITY: Hunt or fish or anything outside.
FAVORITE FOOD: Mexican.
FAVORITE MUSIC ARTIST OR GROUP: Eric Church[more]
FAVORITE MOVIE: Inception.
FAVORITE TV SHOW: That's 70's Show.
WHAT WAS YOUR FAVORITE TOY AS A KID? I had dinosaurs everywhere I went.
WHAT ARE YOUR PLANS AFTER HIGH SCHOOL? I'm going to UCA and, hopefully, be a physical therapist
OTHER THAN YOUR PARENTS, WHO'S HAD THE BIGGEST INFLUENCE ON YOUR LIFE? HOW? Probably my grandpa. He's always been somebody I can talk to about anything.
WHAT'S YOUR FAVORITE THING ABOUT TRACK? Just the satisfaction of completing a hard workout or a new goal you reached.
EVENT? I run the mile, sometimes the two-mile.
WHAT APPROACH DO YOU TAKE TO YOUR EVENTS? I usually stretch and then I like to jog a lot before the race to get warmed up. Strategy-wise, just try to hold on to a fast pace.
WHAT DO YOU THINK OF THE SEASON SO FAR? It's not quite as good as I want it to be. It's had its ups and downs but I'm still getting better so I think I'll all right.
WHAT'S BEEN THE HIGHLIGHT TO THE SEASON SO FAR? For me, it'd be the Cabot meet. I got 10th in the two-mile and ran almost my fastest ever in the two-mile.
WHAT'S IT GOING TO TAKE FOR THE TEAM TO BE SUCCESSFUL AT CONFERENCE AND STATE? Everybody's got to step up and have good races in all their events.
TALK ABOUT YOUR EVENT NOW; WHAT DO THINK IS YOUR BIGGEST ASSET? WHAT ARE YOU MOST CONFIDENT IN YOUR ABILITY TO DO? Well, I'm a distance runner so, I guess, just the endurance factor on that, the mental fortitude, I guess.
WHAT DO YOU WORK HARDEST IN PRACTICE TO IMPROVE ON? Just working my butt off to be able to hold a fast pace as long as possible.
WHEN YOU'RE THROUGH RUNNING TRACK AT BRYANT HIGH SCHOOL, WHAT DO YOU THINK YOU'LL LOOK BACK AND REMEMBER MOST FONDLY ABOUT THE EXPERIENCE? Just the teammates and hanging out and goofing off, having a good time, I guess. Always pushing each other.