Editor's note: This is a regular feature profiling senior athletes at Bryant High School.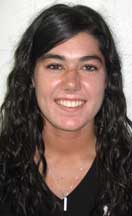 NAME: London Abernathy
PARENTS: Richard and Paula Abernathy
SIBLINGS: I have a brother, Tyson Abernathy, who's 20.
FAVORITE SUBJECT IN SCHOOL: Human Anatomy
WHAT DO YOU LIKE TO DO IN YOUR SPARE TIME? Blow bubbles.
FAVORITE FOOD: Steak
FAVORITE MUSIC ARTIST OR GROUP: The Eagles
FAVORITE MOVIE: Footloose[more]
FAVORITE TV SHOW: Secret Life
WHAT WAS YOUR FAVORITE TOY AS A KID? A toy truck
WHAT ARE YOUR PLANS AFTER HIGH SCHOOL? To go to ASU and be a pediatrician.
OTHER THAN YOUR PARENTS, WHO HAS HAD THE BIGGEST INFLUENCE ON YOUR LIFE? My brother. He's always supported me and encourages me to do my best.
FAVORITE THING ABOUT SOCCER: My teammates.
POSITION: Defender.
WHAT DO YOU FEEL LIKE IS YOUR PRIMARY RESPONSIBILITY ON THE FIELD? To not let them score.
WHAT DO YOU THINK OF THE SEASON SO FAR? It's going really good.
WHEN THE TEAM'S PLAYING WELL, WHAT'S IT DOING? Everybody's doing their job and nobody's letting down.
WHAT'S IT GOING TO TAKE FOR THE TEAM TO BE SUCCESSFUL THE REST OF THE SEASON? Everybody doing their job and working hard.
INDIVIDUALLY, WHAT ABOUT YOUR GAME ARE YOU MOST CONFIDENT ABOUT? Not letting them score.
WHAT DO YOU WORK HARDEST TO IMPROVE? My touches.
AFTER YOU'RE THROUGH PLAYING SOCCER AT BHS, WHAT DO YOU THINK YOU'LL REMEMBER MOST FONDLY ABOUT IT? My teammates, all the friends and all the good times we've had.