Editor's note: This is a regular feature profiling senior athletes at Bryant High School.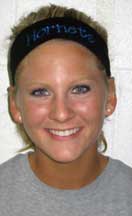 NAME: Maggie Hart
PARENTS: Mark and Brenda Hart
SIBLINGS: I have two sisters. Sarah Hart is 21, Morgan Hart is 23.
FAVORITE SUBJECT IN SCHOOL: Human Anatomy
WHAT DO YOU LIKE TO DO IN YOUR SPARE TIME? Pick flowers
FAVORITE FOOD: Larry's Pizza
FAVORITE MUSIC ARTIST OR GROUP: N'Sync
FAVORITE MOVIE: The Hunger Games[more]
FAVORITE TV SHOW: My Future Wedding
WHAT WAS YOUR FAVORITE TOY AS A KID? Barbies
WHAT ARE YOUR PLANS AFTER HIGH SCHOOL? To go to ASU and study radiology.
OTHER THAN YOUR PARENTS, WHO HAS HAD THE BIGGEST INFLUENCE ON YOUR LIFE? My oldest sister because she used to play soccer and she's helped me a lot with what I need to do.
FAVORITE THING ABOUT SOCCER: The people.
POSITION: Center mid.
WHAT DO YOU FEEL LIKE IS YOUR PRIMARY RESPONSIBILITY ON THE FIELD? To distribute the ball.
WHAT DO YOU THINK OF THE SEASON SO FAR? We started out really good. We're 4-0, so we're doing good.
WHEN THE TEAM'S PLAYING WELL, WHAT'S IT DOING? We're playing our one-touch passing game on the ground and we're jelling.
WHAT'S BEEN THE HIGHLIGHT OF THE SEASON SO FAR? The Central game. It was a real good game for us.
WHAT'S IT GOING TO TAKE FOR THE TEAM TO BE SUCCESSFUL THE REST OF THE SEASON? For us to all come out and play the game we know how to play and each of us do our job. It takes every player doing the job on the field.
INDIVIDUALLY, WHAT ABOUT YOUR GAME ARE YOU MOST CONFIDENT ABOUT? Passing.
WHAT DO YOU WORK HARDEST TO IMPROVE? Playing the wings more in the game.
AFTER YOU'RE THROUGH PLAYING SOCCER AT BHS, WHAT DO YOU THINK YOU'LL REMEMBER MOST FONDLY ABOUT IT? The team and the funny stuff we do.