Editor's note: This is a regular feature profiling senior athletes at Bryant High School.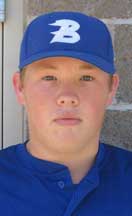 NAME: Matt Neal
DATE OF BIRTH: June 16, 1992
PARENTS: Chip and Beverly Neal.
SIBLINGS: I've got one brother, Garrett Neal. He's 21.
FAVORITE SUBJECT IN SCHOOL: Math
WHAT DO YOU LIKE TO DO IN YOUR SPARE TIME? Just play games.
FAVORITE FOOD: Watermelon
FAVORITE MUSIC ARTIST OR GROUP: Josh Turner.[more]
FAVORITE MOVIE: Step-Brothers.
FAVORITE TV SHOW: NCIS
WHAT WAS YOUR FAVORITE TOY AS A KID? A remote control car.
WHAT ARE YOUR PLANS AFTER HIGH SCHOOL? Go to college at the University of Arkansas at Monticello. I plan to study Wildlife Management.
OTHER THAN YOUR PARENTS, WHO HAS HAD THE BIGGEST INFLUENCE ON YOUR LIFE? It's probably be my brother. I'm trying to copy what he's been doing because he's been doing good.
FAVORITE THING ABOUT BASEBALL: I just love playing it.
POSITION: Pitcher.
WHAT DO YOU FEEL LIKE IS YOUR PRIMARY RESPONSIBILITY ON THE TEAM? Throw strikes and let them hit the ball.
WHAT DO YOU THINK OF THE SEASON SO FAR? I think we've been doing good. We kind of doubted ourselves a little bit but we're catching back up. We've got more confidence at the plate. We're not thinking about it too much.
WHAT'S BEEN THE HIGHLIGHT TO THE SEASON SO FAR? Finishing third in Florida.
WHAT'S IT GOING TO TAKE FOR THE TEAM TO BE SUCCESSFUL THE REST OF THE SEASON? We've got to stay confident at the plate and quit thinking about it, just hit the ball.
INDIVIDUALLY, WHAT ABOUT YOUR GAME ARE YOU MOST CONFIDENT ABOUT? I like just throwing the ball and letting them hit it, letting the defense do good.
WHAT DO YOU WORK HARDEST TO IMPROVE? I try to work on my picks, my pick-off moves.
AFTER YOU'RE THROUGH PLAYING BASEBALL AT BHS, WHAT DO YOU THINK YOU'LL REMEMBER MOST FONDLY ABOUT IT? Getting to shag in practice.