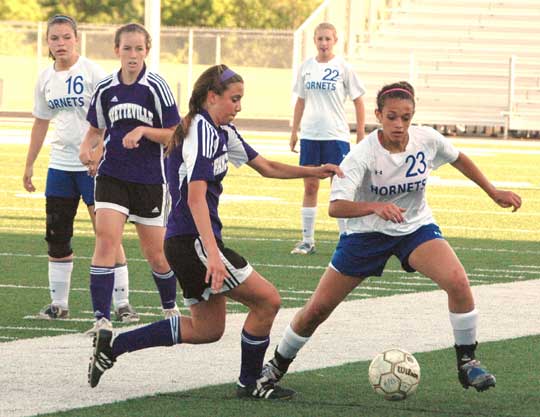 ROGERS — In their first two games of the 2010 Class 7A State tournament, the Bryant Lady Hornets soccer team just flat got after it. They scrapped and battled, took both games to overtime then to shootouts and won.
Advancing to the semifinals was something no previous Lady Hornets team had done. Running their win total to 17 was likewise a high water mark for the program.[more]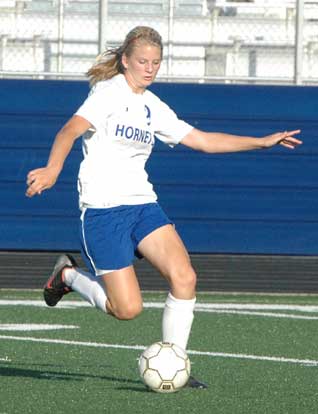 On Sunday, appropriately enough, they rested. And, on Monday, they made the long return trip to Rogers to face the tradition-rich Fayetteville Lady Bulldogs with a trip to the State championship game on the line.
While the rest was no doubt welcome, it might just be that, given the time, the Lady Hornets might've just realized what exactly they were accomplishing. A team with just two seniors that both played sparingly because of major injuries, the Lady Hornets were in uncharted waters for them.
Why, the last time a Bryant girls team even won a State tourney game (2006), most of this group was in middle school, some in elementary.
And here they were challenging a team that had been in the finals the previous season from a program that had produced four straight State championships from 1998 to 2001 and had been State runner-up in 2002, 2004 and 2006 as well as 2009.
It was a simple case of been-there-done-that against look-where-we-are.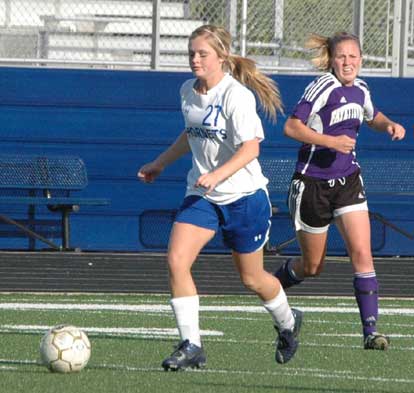 Which, of course, made it no less disappointing that the Lady Hornets absorbed a 3-1 loss to end their season.
Fayetteville, meanwhile, advances for a re-match in the State championship game, against 7A-West Conference rival Bentonville, which won the title last year.
"Fayetteville's a good team and best of luck to them," said Lady Hornets coach Julie Long. "That'll be a good game between them and Bentonville. They move the ball really well and we were kind of on our heels. They were bigger and more physical and taller. That's just something that comes from having a young team."
The Lady Hornets finish 17-8 on the season and anxious for next year.
"It's encouraging for the team to know that they did so well this season and that, basically — we'll be missing (seniors) Haley (Montgomery) and Emily (Smith) next year — but they have a lot to build on," Long added. "Our seniors will be missed, for their leadership. I know both of them were injured this season and they didn't have the season that they wanted but they were a part of our success.
"The girls deserve all the credit. They put in the time and they've worked from day one for me. If they keep it up, this program is going to go places. And they know that and they're excited about it.
"Before the game," she recounted, "one of the girls came up to me and said, 'We can't lose because it's 365 more days until the next time we get to do this.' And after the game, one of them came up and said, 'Can we start practicing tomorrow?' like let's start again now. And that's just the attitude that these girls have. They make my job fun and easy just because they want to be doing it and want to be successful.
"After the game, I addressed the match a little bit but I told the girls, "I'm not going to sit here and dwell on that, not after the season we just had.' That wasn't the ending that I would like as far as even going out and playing the way we can. If we'd lost and just played our game that would've made it a little better but I wasn't going to dwell on that after we had basically broken every record for our school. I'm so proud of the season these girls had. They exceeded everybody's expectations.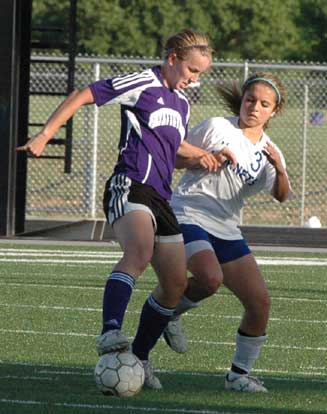 "And before the game, I told the girls that," Long mentioned. "I said, 'Just come out here and let's have fun because you've already passed expectations. You guys have no pressure on you.'
Still, the coach admitted that it wasn't the same team that had played the first two games, beyond the fact that they were without junior starter Tarra Hendricks who had been hit with a red card during Saturday's win over Fort Smith Southside.
"We didn't come out with the intensity that we had the first two games and that could be for a number of reasons," Long related. "They'd been on the bus all day. But that's just one of those things that's not in your control and you just have to play with it and deal with it. It's rough when the teams you're playing are driving like 10 minutes (instead of 3½). It was a disadvantage but that's not an excuse.
"We just didn't play with the same intensity we had," she reitereated. "And, after having two games with the intensity as high as it was and both going overtime, it's hard to come out with a third. The girls were playing hard. They never quit. They just didn't bring the intensity they normally have. It wasn't the same team.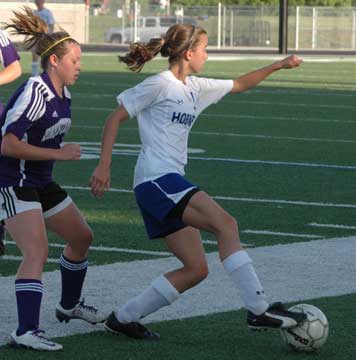 "We were really kind of flat but it wasn't that the girls weren't going hard. Some of them were just so nervous at the beginning of the game. They'd never been in that situation. And the first 20 minutes, it was just kind of spastic, just crazy. They were so nervous, and the adrenaline. They were running everywhere. We weren't playing as a team. I turned to Coach (Jason) Hay and said, 'We've got to calm down.'"
While the Lady Hornets were getting accustomed to their situation, Fayetteville took a quick lead, getting a goal in the first five minutes of action.
"It was a fluke goal," Long related. "A girl got a touch on it but (goalkeeper) Kaitlyn Miller was there. Then it ricocheted off somebody and went in. It was just unlucky for us."
The 1-0 lead held until halftime but early in the second half, Fayetteville added two more goals in short order.
Early in the season, at the Northwest Arkansas Invitational Tournament, Fayetteville had handed Bryant a 3-0 loss but with about 10 minutes to go on Monday, the Lady Hornets broke through with a goal.
"We had a free kick right outside the 18 and Sarenity (Gomez) crossed it to Maggie Hart and she one-touched it into the back of the net," Long said.
"Some of the girls really stepped up and played," she noted. "Like Erica Selig, she played her tail off for me. She really stepped up. And all the girls, particularly after we scored, it became a high intensity game. They got a little life, but there was only about 10 minutes left in the game and you can't make up for the other 70 minutes that had already been played."
Lesson learned and filed away for future use.