Editor's note: This is a regular feature profiling senior athletes at Bryant High School.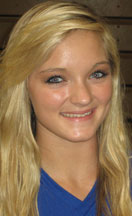 NAME: McKenzie Rice
PARENTS: Willie and Connie Rice
SIBLINGS: Hannah (17) and Aaron (20)
FAVORITE SUBJECT IN SCHOOL: English
WHAT DO YOU LIKE TO DO IN YOUR SPARE TIME? Spend time with my friends and boyfriend.
FAVORITE FOOD: Chinese
FAVORITE MUSIC ARTIST OR GROUP: Keith Urban
FAVORITE MOVIE: Bridesmaids[more]
FAVORITE TV SHOW: Drop Dead Diva
WHAT WAS YOUR FAVORITE TOY AS A KID? My Build-A-Bear Fluffy.
WHAT ARE YOUR PLANS AFTER HIGH SCHOOL? Attend college.
FAVORITE THING ABOUT VOLLEYBALL: Hitting
POSITION: Outside hitter
WHAT DO YOU FEEL LIKE IS YOUR PRIMARY RESPONSIBILITY ON THE COURT? Cover for my teammates
WHAT DO YOU THINK OF THE SEASON SO FAR? It's amazing! We're playing together and we're all a big family.
WHEN THE TEAM'S PLAYING WELL, WHAT'S IT DOING? Playing together
WHAT'S BEEN THE HIGHLIGHT TO THE SEASON SO FAR? Beating Benton
WHAT'S IT GOING TO TAKE FOR THE TEAM TO BE SUCCESSFUL THE REST OF THE SEASON? Staying together and working hard
INDIVIDUALLY, WHAT ABOUT YOUR GAME ARE YOU MOST CONFIDENT ABOUT? Hitting
WHAT DO YOU WORK HARDEST TO IMPROVE? Healing my shoulder, shoulder strength
AFTER YOU'RE THROUGH PLAYING VOLLEYBALL AT BHS, WHAT DO YOU THINK YOU'LL REMEMBER MOST FONDLY ABOUT IT? How together my teams have been all four years I've been here. Every season I've loved every one of my teammates. Leaving them will be one of the hardest moments of my life.