Editor's note: This is a regular feature profiling senior athletes at Bryant High School.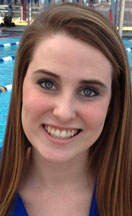 NAME: Mollie Robinson
PARENTS: Randy and Kristin Robinson
SIBLINGS: Tiffany Robinson, 15; Stanley Robinson, 11.
FAVORITE SUBJECT IN SCHOOL: Math
FAVORITE SPARE TIME ACTIVITY: Movie watching
FAVORITE FOOD: Crab legs
FAVORITE MOVIE: Stardust
FAVORITE TV SHOW: White Collar[more]
WHAT ARE YOUR PLANS AFTER HIGH SCHOOL? Attend the University of Arkansas at Fayetteville and study Interior Design
OTHER THAN YOUR PARENTS, WHO'S HAD THE BIGGEST INFLUENCE ON YOUR LIFE? HOW? Jesus saved me from eternal death.
WHAT'S YOUR FAVORITE THING ABOUT SWIMMING? Good exercise
WHAT IS/ARE YOUR EVENT(S): 100 back
WHAT DO YOU THINK OF THE SEASON SO FAR? We have all been sick.
WHAT'S BEEN THE HIGHLIGHT TO THE SEASON SO FAR (team)? Getting to know each other.
WHAT'S IT GOING TO TAKE FOR THE TEAM TO BE SUCCESSFUL THE REST OF THE SEASON? Practice and all get well.
TALK ABOUT YOUR SWIMMING NOW; WHAT ARE YOU MOST CONFIDENT IN YOUR ABILITY TO DO? Swim a mile non-stop.
WHAT DO YOU WORK HARDEST TO IMPROVE ON IN PRACTICE? My technique
WHEN YOU'RE THROUGH SWIMMING FOR BRYANT HIGH SCHOOL, WHAT DO YOU THINK YOU'LL LOOK BACK AND REMEMBER MOST FONDLY ABOUT THE EXPERIENCE? The relationships made.