Editor's note: This is a regular feature profiling senior athletes at Bryant High School.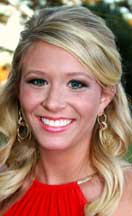 NAME: Morganne Gillespie
PARENTS: Jay and DeDe
SIBLINGS: Cole, 12
FAVORITE SUBJECT IN SCHOOL: Algebra 3
FAVORITE SPARE TIME ACTIVITY: Teaching dance, dancing
FAVORITE FOOD: Spaghetti
FAVORITE MUSIC ARTIST OR GROUP: Christian Contemporary
FAVORITE MOVIE: Sweet Home Alabama
FAVORITE TV SHOW: Toddlers and Tiaras
WHAT WAS YOUR FAVORITE TOY WHEN YOU WERE A KID? Tickle Me Elmo
WHAT ARE YOUR PLANS AFTER HIGH SCHOOL? I plan to attend the U of A and major in Biology, then go to grad school and get a marine biology degree.
OTHER THAN YOUR PARENTS, WHO'S HAD THE BIGGEST INFLUENCE ON YOUR LIFE? HOW? My Bub, Trey Shaw. He always encourages me, supports me, and loves me unconditionally. He has basically been my older brother all my life.
WHAT'S YOUR FAVORITE THING ABOUT SWIMMING? I want do my best because it's a personal achievement as well as a team achievement.
EVENT(S): One meter dive, 100 free style, 100 breaststroke
APPROACH TO YOUR EVENTS? I try to relax by just hanging with teammates and other school swimmers.
WHAT DO YOU THINK OF THE SEASON SO FAR? I've been really impressed with my personal improvements as well as my team.
WHAT'S BEEN THE HIGHLIGHT TO THE SEASON SO FAR (team)? Seeing how close one team can get in one short season.
WHAT'S BEEN THE HIGHLIGHT TO THE SEASON SO FAR (personal)? Making new friends and coming so far in diving.
WHAT'S IT GOING TO TAKE FOR THE TEAM TO BE SUCCESSFUL THE REST OF THE SEASON? Continuing to support each other as a whole team not individuals.
TALK ABOUT YOUR SWIMMING NOW; WHAT ARE YOU MOST CONFIDENT IN YOUR ABILITY TO DO? I'm most confident in my breaststroke and diving but my freestyle has come a long way. So I guess you could say I'm more confident in it as well.
WHAT DO YOU WORK HARDEST TO IMPROVE ON IN PRACTICE? Shaving time in swim and perfecting my dives.
WHEN YOU'RE THROUGH SWIMMING FOR BRYANT HIGH SCHOOL, WHAT DO YOU THINK YOU'LL LOOK BACK AND REMEMBER MOST FONDLY ABOUT THE EXPERIENCE? On the swim/dive team, no one judges their teammates by their age, who their friends are, or how good of a swimmer/diver they are. Everyone loves each other equally and wants everyone to succeed. Even when racing side by side, we wish our teammates luck because no matter which swimmer wins, the team succeeds.