Senior Sox bounce back as Grant blanks Houston
EDITOR'S NOTE: Because the look back at each day in Bryant athletic history has been so favorably received during the time when there was no sports during the COVID-19 shutdown, BryantDaily.com will continueposting past stories of Bryant athletics either posted on BryantDaily.com (from 2009 to the present) or published in the Bryant Times (from 1998 to 2008).
Photos courtesy of Bridgette Grant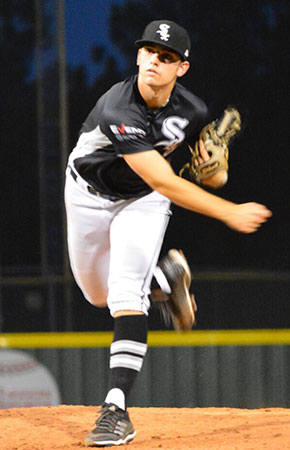 MEMPHIS — Logan Grant fired a two-out shutout over six innings and Matthew Sandidge drove in two runs as the Bryant Black Sox Senior American Legion team bounced back from a disappointing loss earlier in the day with an 8-0 win over Houston High School of Memphis, an extended-season team, at the annual Keith Hagan Memorial All-America Classic.
The Sox competed pool play 3-1. They were set to play the Memphis Tigers (Perritt) and the East Coast Diamonds on Monday.
Grant and the Houston started were locked in a scoreless duel over the first three innings. Houston singled with one out in the top of the first then didn't manage another hit until a single to open the bottom of the fourth.
Grant struck out nine and walked four during his outing.
The Sox had taken a 1-0 lead in the bottom of the fourth. Cade Drennan singled and courtesy runner Konnor Clontz took second on a balk and third on a wild pitch. He scored on a groundout by Brandon Hoover.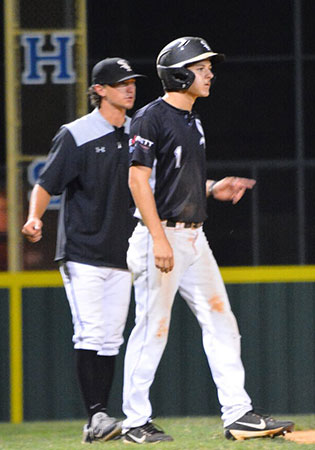 In the home fifth, Logan Catton drew a lead-off walk and took second on a wild pitch. Coby Greiner got a bunt down and beat it out for a single as Catton took third. Logan Chambers singled to make it 2-0 then Greiner was awarded home on a balk.
With one out, Drennan moved Chambers to third with a grounder to short. A wild pitch allowed him to score.
Grant struck out the side around a one-out walk in the top of the sixth and the Sox tacked on as the home half unfolded.
Scott Schmidt reached on an error to start the final uprising. Peyton Dillon walked before Sandidge singled in both as the throw to the plate was off line. Sandidge wound up at third and scored by beating the throw to the plate on Catton's grounder to short.
With one out, Catton took second on a wild pitch as Chambers drew a walk. Wright loaded the bases with a free pass so when Catton scored as Drennan's grounder to short was misplayed, the Sox had a run-rule win.