Senior Sox sweep twinbill from Zone rival Oilers
EDITOR'S NOTE: In this time of COVID-19, with no sports action, BryantDaily.com will be posting past stories of Bryant athletics either posted on BryantDaily.com (from 2009 to the present) or published in the Bryant Times (from 1998 to 2008).
Photos courtesy of Paul Dotson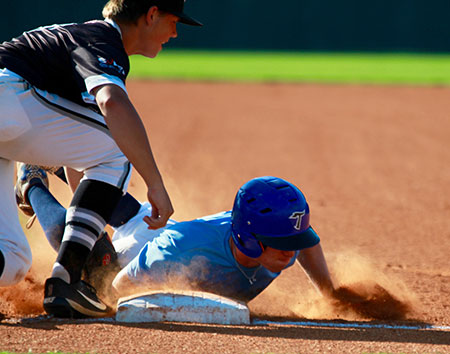 With one catcher, Dylan Hurt, unavailable and another, Jake Wright, competing at Xtra Innings in Jonesboro, Bryant Black Sox Senior American Legion manager Darren Hurt had a problem. Who was going to catch in Tuesday night's doubleheader against the El Dorado Oilers?
Hurt called up Junior Sox catcher Cade Drennan to start and called on Ryan Riggs, a member of the Bryant 14-year-old Babe Ruth All-Stars, to finish up.
And it turned out just fine. Nothing got past them.
Meanwhile, in 12 innings — the five-inning first game and the seven-inning nightcap — El Dorado catchers allowed 14 wild pitches and three passed balls.
The Sox took advantage of an Oilers' error, eight walks and two hit batsmen with 12 hits in the opener to produce a 17-0 win. In the nightcap, they took advantage of 13 walks, a hit batsman and five errors with seven hits in a 13-2 victory.
Bryant improved to 13-3 overall, 5-0 against Zone 4 teams while running their current win streak to 10 straight going into Wednesday night's home contest against Cabot.
Not only did Drennan and Riggs perform well behind the dish, in the first game, Drennan contributed a sacrifice fly to cap off a six-run first and, in the fourth, worked a walk and wound up scoring. He was robbed of a hit on a liner to right in the second game while Riggs, entering in the fifth, got to the plate — a 14-year-old in a Senior American Legion contest — fouled off a tough 3-2 pitch and earned a walk to keep a seventh-inning rally going as the Sox scored two final runs.
In the first game, Myers Buck threw four scoreless innings before giving way to Logan Allen who completed the shutout.
In game two, Aaron Orender started and, through four innings, gave up a pair of runs, one earned, while limiting El Dorado to three hits. He finished by retiring nine of the last 10 batters he faced.
Boston Heil relieved in the fifth and set down nine of the 10 he faced to get the three-inning save.
Bryant 17, El Dorado 0
Scott Schmidt and Jake East each had three hits. Schmidt drove in four and East scored three times. Alex Shurtlff added two hits and three runs batted in. Eight of the nine starters hit safely.
Buck faced six batters in the first two innings. He surrendered a one-out walk in the first but, moments later, picked him off first.
Meanwhile, the Sox were piling up a 9-0 advantage. The six-run first started in ominous fashion for the Oilers as Seth Tucker walked on four pitches and East was struck by a 3-2 delivery from starter Colton Sellers. A wild pitch moved them up to second and third before Orender sliced a single to right that chased both home.
Logan Chambers followed with a gap-shot to left-center that resulted in an RBI double as Orender scored all the way from first.
Another wild pitch had Orender at third. Shurtleff singled him in.
Hoover walked then Schmidt singled in a run and, after a pitching change, Drennan came through with his sacrifice fly.
In the second inning, East singled and stole second. Allen was hit by a pitch then a passed ball put them at second and third. Orender drew a free pass to load the bases. With the infield in, Chambers yanked a grounder to first. There might've been a play at the plate but the first baseman, Colton Pratt, bobbled the ball and took the out at first as East scored.
Shurtleff followed with a sacrifice fly to left and, after Hoover waited out the second of his three walks in the game, Schmidt singled in Orender.
George Otwell singled to open the third inning, the Oilers' first hit. Bryce Ware placed a push bunt towards second for an infield hit. Chad Butler sacrificed them to second and third then Robbie Robertson was plunked to load the bases. But Buck induced Myles Jones to hit a grounder to Schmidt at second resulting in an inning-ending doubleplay.
In the fourth, Reagan Cates led off with a single for the Oilers and Hunter Brantley walked but Buck set down the next three without allowing the base-runners to advance.
To start Bryant's eight-run fourth, Shurtleff, Hoover and Schmidt cracked consecutive singles to plate a run. Drennan walked to load the bases for Tucker who delivered an RBI single to left. East singled in another run before Allen ripped a single past the El Dorado third baseman to make it 14-0.
After Butler became the Oilers' third pitcher, Orender hit a grounder to second. The throw to try to get a force at second was mishandled and East scored.
Grayson Prince drew a walk to load the bases again and Shurtleff delivered his second sacrifice fly of the game to make it 16-0. Hoover walked then Schmidt capped off the scoring-fest with a sacrifice fly.
Allen pitched around a pair of singled in the top of the fifth to close out the run-rule win.
Bryant 13, El Dorado 2
Shurtleff and Hoover each had two hits and three RBIs. Orender singled, walked three times and scored three runs.
The Sox, as the visiting team, took a 1-0 lead in the top of the first. Tucker was hit by the second pitch of the game from Robertson, advanced on a wild pitch and Allen's groundout. He scored on another wild pitch while Orender was working a four-pitch walk.
But Robertson kept it at that then worked around an error and a walk in the second.
The Oilers tied it in the home first. Jones was hit by a 3-2 pitch with one out and moved to second when Cates reached on an error. They worked a double steal as Pratt stuck out. The run scored on an errant pickoff throw to third.
With Cates at third, East made a nice play to his left to rob Brantley of an RBI hit and ending the inning.
In the second, Coby Greiner made a nice play at third and Hoover dug out his rushed throw to first to retire Joe Lowe. Logan Disotell and Casey Chandler followed with the first two Oilers' hits. Butler followed with a swinging bunt that Orender fielded nicely. But when he turned to make a throw to third he found the base uncovered as Greiner charged to make the play if it got past the pitcher. Orender turned towards first but it was too late to get the batter.
The unsuccessful fielder's choice had the sacks full for El Dorado. Robertson picked up an RBI with a groundout to Greiner at third. Jones then tapped back to Orender and the inning ended with the Oilers up 2-1.
In the top of the third, the Sox surged back into the lead. East led off with a solid single to center then Allen's grounder to third was booted. Orender beat out a bunt single and the bags were packed. Shurtleff singled in a run then so did Hoover. Orender scored on a passed ball, making it 4-2.
With one out, Prince walked and, with two out, Tucker's grounder up the middle was misplayed as Disotell tried to field the ball and step on second for the force that would've been the third out. Both Shurtleff and Hoover scored as the ball rolled into centerfield, capping off the five-run uprising.
With the help of a fine play on a pop in shallow right by Tucker, the second baseman, Orender retired the Oilers in order in the bottom of the third.
The Sox tacked on in the fourth. Orender walked and, with two down, Hoover doubled him home. An errant pick-off throw from Lowe, the El Dorado catcher, allowed Hoover to take third. After Prince's third walk, Hoover scored on a passed ball to make it 8-2.
Orender finished his stint on the mound by working around a two-out single to Chandler in the bottom of the fourth.
East walked with one out in the top of the fifth. Allen hit a fly to right that was dropped. Orender walked for the third time to load the bases for Shurtleff who rolled a single through the right side to plate two. Hoover grounded into a force at second as Orender scored to make it 11-2.
Heil retired the first six batters he faced as the game went to the seventh inning. Allen walked to lead off the top of the frame. A wild pitch got him to second. Schmidt singled and a wild pitch allowed Allen to score. Schmidt would up at third after another errant delivery. Hoover and Riggs walked to load them up again. Schmidt scored the final run when Buck grounded into force at third.
Disotell singled to start the bottom of the seventh but Heil set down the next three to finish the Oilers off.