Hornets, Cyclones tie
EDITOR'S NOTE: Because the look back at each day in Bryant athletic history has been so favorably received during the time when there was no sports during the COVID-19 shutdown, BryantDaily.com will continueposting past stories of Bryant athletics either posted on BryantDaily.com (from 2009 to the present) or published in the Bryant Times (from 1998 to 2008).
By ROB PATRICK
BRYANT TIMES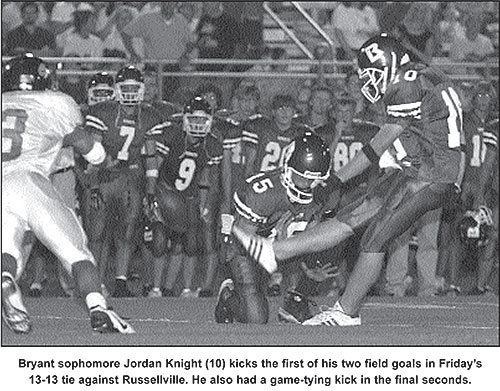 Most high school football coaches would prefer that the sophomores on their team play on Tuesday nights and only in blowouts on Fridays. Give them a chance to get used to the speed of the game at the high school level, get their feet on the ground, gain some experience so they can step up as juniors and seniors.
But when almost half of your squad is made up of sophomores, like Paul Calley's Bryant Hornets this season, chances are that's just not going to be an option. You're going to have to rely on some of them to see meaningful playing time and hope they can come through.
And, already this season, defensive end Nathan Probst, center Chad Hinson and linebacker Jared Szabad have certainly come through as starters for the Hornets. On Friday, Sept. 16, against the Russellville Cyclones, another pair stepped up.
Sophomore kicker Jordan Knight, who hit his first varsity field goal to end the first half, booted a 36 yarder in the final seconds as the Hornets forged a 13-13 tie after leading for most of the game. Knight's kick was set up by Anthony Mask's 36-yard completion to sophomore Jake Jackson, who made a splendid catch despite being interfered with at the Russellville 29.
Mask followed up with a 10-yard toss to senior Jon Isbell who was injured on the play. Isbell, struggling to get out of bounds, kept his balance by putting his left hand on the ground only to have his arm hit. He was, however, still able to stop the clock.
Mask took a couple of shots into the end zone which narrowly missed being completed and, with :06.3 left, Knight came on for the dramatic field goal against the wind.
The tie left both teams 1-1-1 on the season, going into their conference openers. The Hornets host Little Rock Catholic on Friday, Sept. 23.
"We had a big drive there at the end with a couple of big plays," stated Bryant head coach Paul Calley. "J.J. made a good catch and Isbell made a good catch to get us within field goal range. I was happy to see that. And I was happy to see Jordan get the ball through the uprights.
"The kids weren't real happy, they weren't real sad like you should be after a tie," he added. "But we didn't want to go into this week with a loss. I was just glad we were able to get back down the field, get that three points and tie it up."
Russellville had taken the lead with :40.7 on the clock. Quarterback Eli Cranor sneaked in from the 1 to cap an impressive 87-yard march in which the Cyclones converted third-down plays three times. A 20-yard pass from Cranor to Derek Owens got Russellville to the 1.
That drive came on the heels of Russellville's other scoring march, a six-play, 60-yard drive on which Cranor and Owens combined for a 23-yard pass to set up their 18-yard connection for the score with 8:24 left to play.
Russellville converted it's point-after following the initial TD but, on the go-ahead score, kicker Matt Johnston was wide, leaving the door open at 13-10 for the Hornets to tie it with a field goal.
The Hornets lost precious seconds on the ensuing kickoff when offsetting penalties negated the runback. But they gained a few when the second kickoff went out of bounds without anyone touching the ball. Bryant gained possession at its own 35 with :32.7 to go.
The Hornets had Russellville shut out for more than three quarters.
"The fourth quarter, Russellville went to kind of a max-protect look and limited to two receiver routes," said Bryant defensive coordinator Steve Griffith. "That gave Cranor more time to throw the football.
"We tried to confuse them a lot with changing coverages in the first half but they finally, in the fourth quarter especially, went to a two-tight, two-flanker maximum protect set and just kind of isolated one receiver," he explained. "They were just able to get him open through there and, with a play fake, kind of held our rush just a little bit. They did a good job of executing and made a couple of plays."
Though Cranor had not been sacked in the game, he had been hurried repeatedly through most of the game, allowing him only to check one or two receivers before having to get rid of the ball.
A similar problem stalled Bryant's offense after a first-possession touchdown drive.
"They were getting pressure (on the quarterback) with three people just like Benton did," said Calley, referring to Bryant's season-opening game. "That makes it hard to stand in there and wait for your receivers to come open. It forced us to step up in the pocket, step out of the pocket, scramble. And a couple of times we made big plays doing that but, for the most part, they limit the number of receivers you can go to, cuts it down to one, maybe two."
And with three people rushing the passer, that left eight to cover the receivers.
Mask was able to complete 10 of his first 12 passes. He was 25 of 42 for 221 yards in the game. Cranor was 26 of 46 for 274 yards. Cranor was 11 of 17 on his team's two fourth-quarter scoring drives.
"But we had a couple of opportunities to get picks that we came mighty close to getting," Griffith mentioned. "That was key because we could've stopped those drives if we could've picked off a couple of those balls, come up with some big plays."
Between Russellville's touchdowns, the Hornets moved the football. Zach Kellum picked up a first down with a pair of runs then a penalty pushed the Hornets back 5 yards. A pass interference penalty kept the drive alive though as it reached the Russellville 48.
On the next play, Mask scrambled for 5 yards only to have a penalty negate the run. This time, the Hornets couldn't recover. They got back to third-and-9 after a short completion to Dustin Holland but the third-down pass fell incomplete and they were forced to punt with just under five minutes to play.
And when Cody Williams punted the Cyclones back to the 12, it looked like a longshot that Russellville would drive for a go-ahead score.
"We had some timely penalties," Calley acknowledged. "A couple of times we were moving the ball and were in fairly good shape and we get a penalty. It's frustrating."
In fact, a penalty cost the Hornets another three points that, in retrospect, would've been crucial to victory. Leading 7-0, the Hornets drove from their own 26 to the Russellville 10. Despite a first-and-goal there, they couldn't get it in the end zone. A holding penalty on third-and-goal pushed them back to the 24 so the 13-yard completion from Mask to Holland that followed only got them near the original line of scrimmage.
Knight came on and appeared to have his first varsity field goal from 31 yards out only to have it negated by a procedure penalty. Five yards further back, Knight tried again and, though he had enough leg, the kick was wide.
The Hornets defense forced a short punt and, with :26.2, left, Mask led his team to within field goal range again. He scrambled for 14 yards and got out of bounds then he completed a 20-yard pass to Holland and a 7-yard toss to Isbell to get it to the 18. With :04 to go, Knight booted the 35-yard three-pointer and Bryant led 10-0 at the half.
The Hornets' touchdown drive covered 80 yards in 12 plays after Russellville had reached the Bryant 39 and stalled, pooch-punting into the end zone.
After driving to the Cyclones' 30, the Hornet drive was put in doubt when Mask was sacked back to the 41. But, on the next play, the senior quarterback hooked up with Holland for a 38-yard completion. A play later, Mask found Isbell on the left boundary for the touchdown.
While Bryant went without a first down in its first two possessions of the second half, Russellville drove to the Hornets 18 only to have Probst knife through to drop running back Jeremy Timmons for a 5-yard loss on third down. A fourth-down pass fell incomplete and Bryant took over.
The two teams traded punts until Russellville appeared to get a big break late in the third quarter. Punting from deep in their own end against the wind, Owens got off a short kick that the officials ruled touched one of the Bryant players trying to block. Cory Baxley covered the ball at the Cyclones 47 and, after it was initially awarded to Bryant, the officials ruled it belonged to Russellville.
So, instead of Bryant getting the ball 47-yards away from paydirt, Russellville had new life.
But the defense stepped up for the Hornets. The Cyclones couldn't gain a yard and had to punt again. This time, however, Bryant gained possession at its own 18. They were able to nudge the ball out to the 34 but now Williams was punting into the wind and a 26-yard kick gave Russellville the ball at its own 40, setting up the first touchdown drive. Still, they had to convert a fourth-and-5 to keep the drive alive after Bryant's Zach Kitchens almost made an interception on a third-down throw. Cranor's 14-yard pass to Brandon Brown kept the drive going and a play later, Russellville was on the board.