Special teams put Hornets in position to shackle Sheridan
EDITOR'S NOTE: Because the look back at each day in Bryant athletic history has been so favorably received during the time when there was no sports during the COVID-19 shutdown, BryantDaily.com will continueposting past stories of Bryant athletics either posted on BryantDaily.com (from 2009 to the present) or published in the Bryant Times (from 1998 to 2008).
By ROB PATRICK
BRYANT TIMES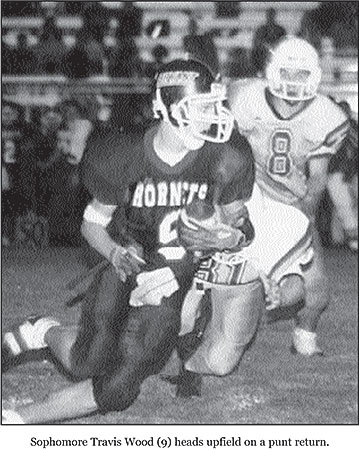 The Bryant Hornets wanted to block a punt against the Sheridan Yellowjackets when the two teams renewed their rivalry for the 31st time on Friday, Sept. 20. To that end, they stacked everyone at the line of scrimmage except a lone safety, sophomore Travis Wood.
Now, thanks to a pretty stingy defense led by middle linebacker Jon Newlin's 15 tackles, the Hornets forced Sheridan to punt nine times. They came pretty close to a block on a couple of occasions but never got one.
However, there was a nice side effect of the tactic. Forced to give punter Phillip Reed maximum protection, the Yellowjackets special teamers had to make sure they got a piece of someone before they headed downfield to cover the kick. That proved problematic for the admittedly speed-challenged Jackets.
Wood, with lots of room most of the time, and at other times with a little daring, repeatedly produced quality returns that set his team up with exceptional field position. It was an advantage the Hornets held most of the game, starting eight of their 13 possessions in Sheridan territory and three others within 10 yards of midfield. The offense's average starting point was Sheridan's 48.
That translated into a 38-14 victory that improved the Hornets to 3-0 on the season heading into their first AAAAA-Central Conference contest against Little Rock Catholic at War Memorial Stadium.
Wood wound up returning seven punts for a total of 119 yards. He also intercepted a pass and returned it 19 yards to set up a touchdown, returned a kickoff to set up a scoring drive and caught a pass during the Hornets' final touchdown march in the third quarter.
It was that kind of night for several of the Bryant skill people. Senior A.J. Nixon can through with his best game of the season so far, grabbing eight of quarterback Lance Parker's 18 pass completions for 142 yards. He also helped out in the backfield with junior Scott Peeler out of action with a broken bone in his hand. Nixon carried the ball on three sweeps, gaining 55 yards and scoring a touchdown.
More versatility: Brandon St. Pierre ran for two touchdowns and passed for another, finishing with 24 yards on seven rushes and catching six passes for 25 more.
With Peeler unable to play (he'll try it with a protective cast against Catholic), Parker, the Hornets' leading rusher this season, limited his scrambling to just six carries but still picked up 41 yards. Peeler has been Parker's back-up at quarterback so the Hornets can ill-afford an injury to their starting signal-caller. Parker finished 18 of 33 through the air for 213 yards.
And Parker was sacked just once as the Bryant offensive line was buoyed by the return of senior tackle Kurt Sterling.
The Hornets scored on each of their first three possessions and they didn't have far to go. The first series was set up by a 22-yard punt return by Wood. With a personal foul penalty tacked on against Sheridan, the Hornets set up offensive shop at the Jackets' 36.
On the first play, St. Pierre took a handoff from Parker, rolled right and pass to Zach Cardinal who was behind the Sheridan defense. Todd Bryan kicked the extra point and Bryant led 7-0.
Wood's pass interception ended Sheridan's next possession. He returned to the Jackets' 23 and, moments later, Nixon was sweeping left end with an escort right into the end zone.
Bryan was unable to add the extra point when Wood had difficulty getting the ball down for the hold.
Sheridan was forced to punt again after picking up just one first down. This time, Wood returned 18 yards to the Bryant 42. In eight plays, Bryant scored again. The big play was a 24-yard pass play from Parker to Cardinal to convert a third-and-11 from the 41. The junior receiver picked up a chunk of the yardage running after the catch.
Nixon hauled in a pair of passes around another run as the Hornets reached the 5. Parker rolled out on a third-and-goal and kept for the touchdown. Parker and Nixon then combined on the two-point conversion to make it 21-0 with the second quarter just under way.
Another punt, another good return by Wood and the Hornets were threatening again. But an interception at the Sheridan 12 by Shay Bell prevented a fourth straight score.
Sheridan took advantage by getting its first score. Frustrated by the Bryant defense and a handful of poorly times penalties, the Jackets had been unable to get much from their bread-and-butter running game out of the dead-T. Facing a second-and-17 at their own 38 after a holding penalty negate a scramble by quarterback Nick Baker who just avoided a sack, the Jackets went to the air. Baker threw deep on a fade route to Aaron Redd, who out-positioned Bryant defender Brad Parker. When Parker's try for an interception failed Redd hauled in the pass and raced to a touchdown.
An extra point attempt failed.
But after Bryant was forced to punt for the first time Baker and Redd struck again, this time burning Wood for a 53-yard TD. Again the Bryant defender appeared to be in position for an interception only to have Redd out-maneuver them.
The scoring play happened just two plays after the Hornets had missed a chance to drop Baker for a big loss. The 6-4 quarterback scrambled to get back to the line of scrimmage. On a third-and-three at their own 43, the Jackets picked up a first down as Baker hit fullback Jonathan Mahoney with a pass for a 4-yard gain.
After the touchdown, Baker and Redd teamed up on a pass completion that secured a two-point conversion and suddenly Bryant's 21-point lead was down to 7 with 2:28 left in the half.
But that touchdown produced the last first down that the Bryant defense allowed. Sheridan managed just one first down in the second half and that came on a fake punt.
And the Bryant offense geared it up again before halftime. A 22-yard kickoff return by Wood put the Hornets 42 yards away from the end zone. Two plays later, the Hornets overcame a holding penalty with a 44-yard connection from Parker to Nixon to set up a 2-yard TD run by St. Pierre, making it 28-14 at the half.
Bryant got into position to add to the lead on its first two possessions of the second half but a fumble foiled the first drive at the Sheridan 25 and the second drive ended with a missed field goal from 34 yards out.
The third Bryant series, however, produced a touchdown. Parker completed 5-of-5 passes including a 23-yarder to Nixon that reached the 3. From there, St. Pierre scored again. Bryan booted it to 35-14.
Sheridan's fake punt midway through the fourth period, actually broke for a 64-yard touchdown but most of that was negated by a holding penalty. The Jackets stalled at midfield and, on a third-and-15, Josh White sacked Baker for a loss of 12.
That was as close as Sheridan got to scoring in the second half. Bryant brought on sophomore quarterback Bryan Griffith and other reserves with 4:42 left to play. Behind good runs by Griffith and halfback David Lister, they drove to the Sheridan 13 where Bryan added a 30-yard field goal to cap the victory.